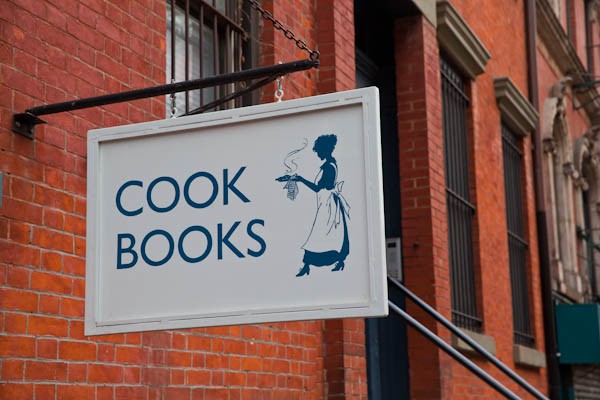 Nothing will stop Bonnie Slotnick from offering the love of cookbooks to the public.  Not even after recently losing her original shop of 17 years in the West Village of New York City.  Bonnie found a new location in the East Village and everyone followed her.  Bonnie is a legend in the cookbook world and wherever she goes, people will follow who come for many reasons.  Some people hope to find a recipe like their grandmother's, one that was never written down, or maybe they want to learn to cook or learn about food history; maybe a person wants to find a cookbook to take them back to a time they remember with fondness around the kitchen table.  Whatever the reason, Bonnie has the uncanny ability to sense what a person needs and will find it for them.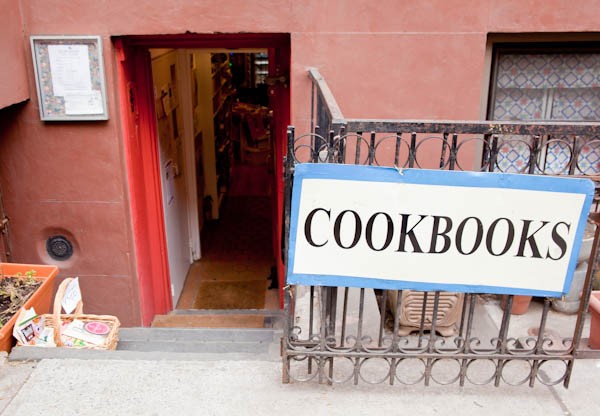 I have read about Bonnie Slotnick Cookbooks over the years and every time I have been in New York City there was either no time to go or it was closed at the only time I could have gone.  I wasn't going to let that happen again.  And after being there a few weeks ago, it will never happen again.  I instantly fell in love with this charming shop.
How can one not love a place that offers free cookbooks before even walking down the steps?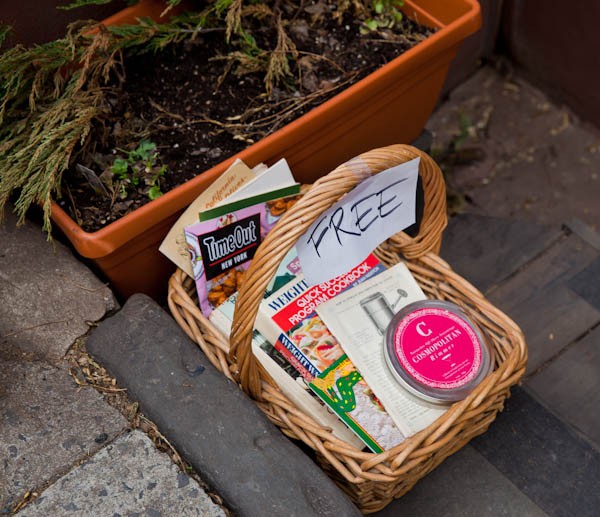 But walk down those steps and you will find a cookbook paradise.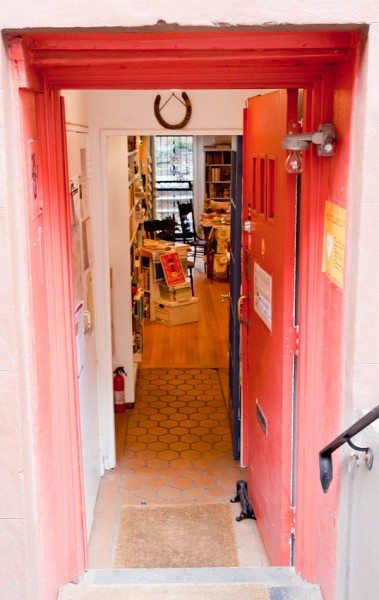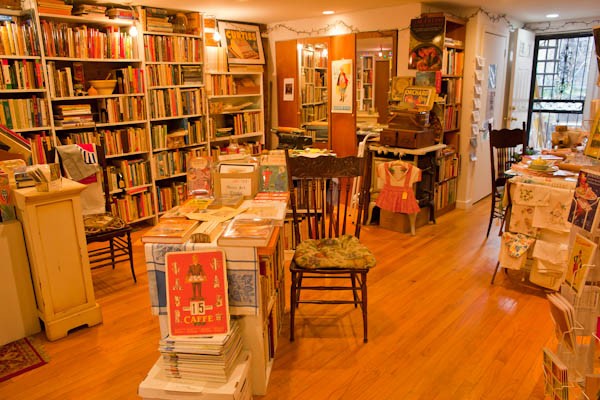 My head was spinning.  I didn't even know which part of the room to begin.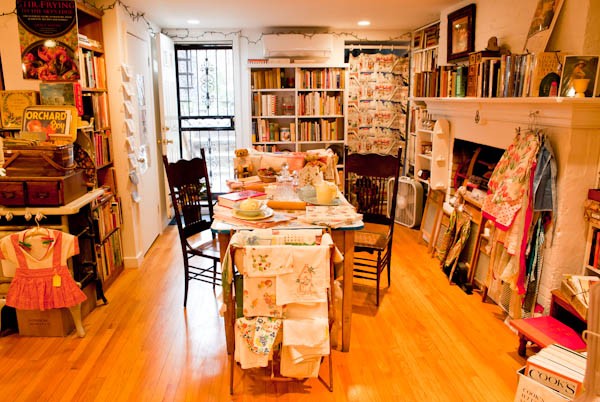 Looking straight ahead was a dining table topped with linens, dishes, and gadgets.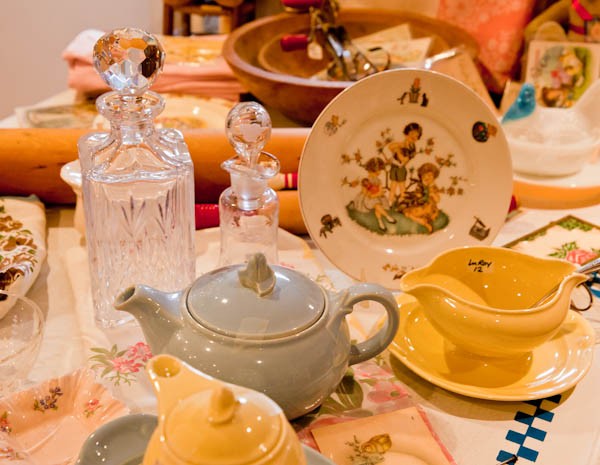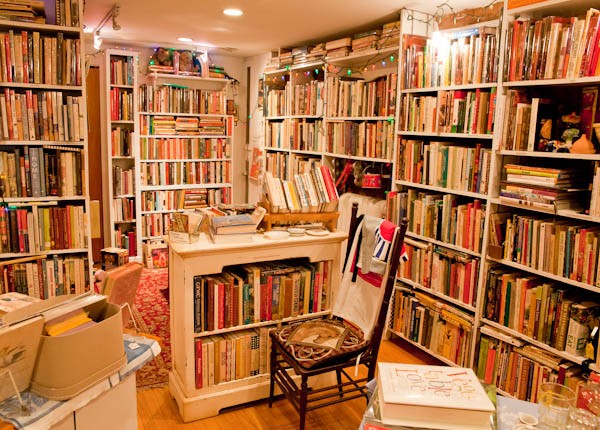 I spent a lot a time back in this corner, talking occasionally to several other customers.  There was a section with Midwest cookbooks where I chatted with a woman about Chicago foods and restaurants.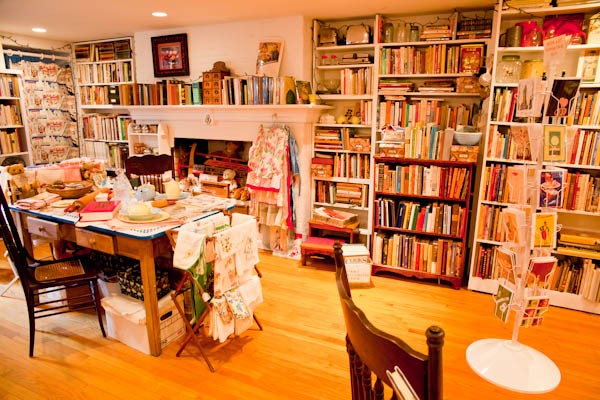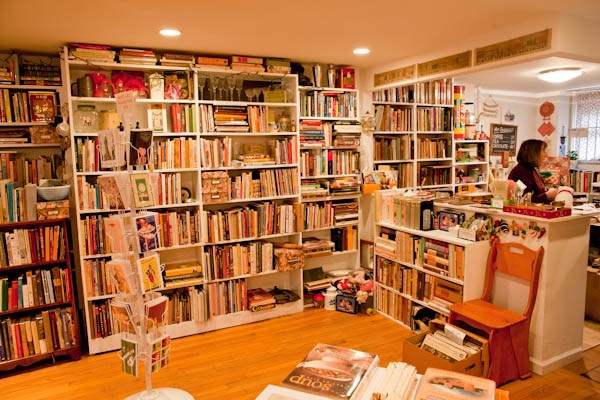 Here is Bonnie behind her checkout area and desk.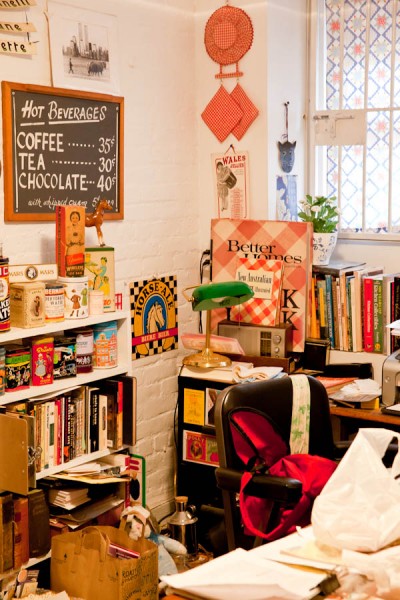 Right in front of the check out area is a bookcase lined up with various publications of The Joy of Cooking.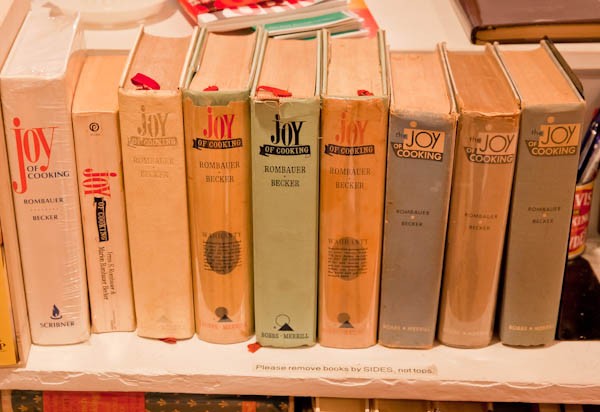 Bonnie, of course, has a 1931 first edition, of which only 3,000 were printed and very rare.  And she even let me look through it.  I felt like I was holding gold.  She once sold a first edition for $4,000 so I guess I came pretty close.
My Pillsbury Bake-Off friends will be thrilled to know Bonnie has many Pillsbury publications and all the Bake-Off contest books.  Those boxes are filled with the contest books.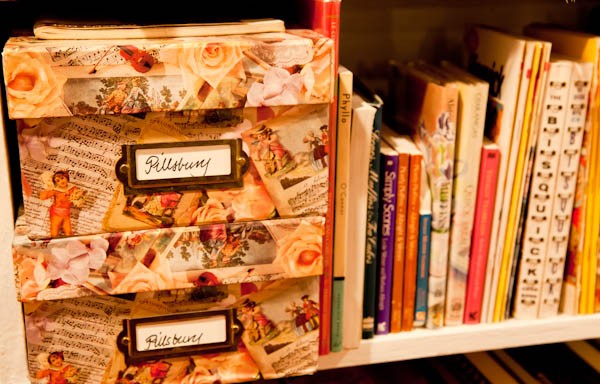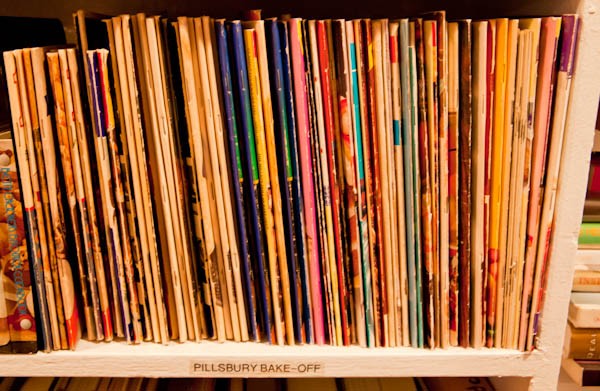 More contest books here.
And lo and behold, what did we find but the Bake-Off contest book where Kristina and her recipe were featured from her first Bake-Off when she was twelve years old.  Kristina made the remark how funny it was to find herself in a vintage book store.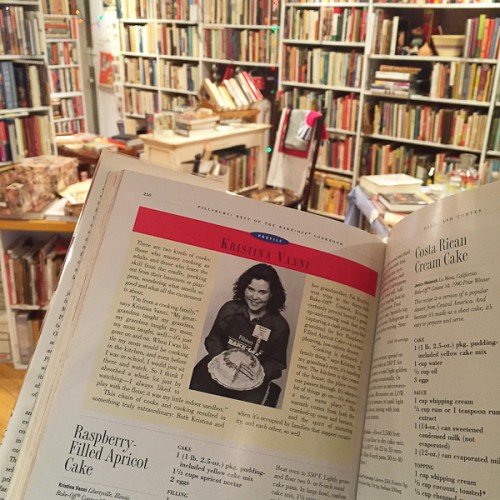 Near the back of the shop we found a large area with Betty Crocker books.  The 1950 Betty Crocker Cookbook is still a best seller, known as "Big Red" in the cookbook world for its bright red cover.  Everyone wants this book and Bonnie gets many requests for it.  The Betty Crocker Cooky Book is also highly requested.  Shoved partially behind some of the books, something shiny caught my eye.  I moved a few books and there was a find – a Betty Crocker pie tin!  I didn't know they existed.  Yes, I bought it.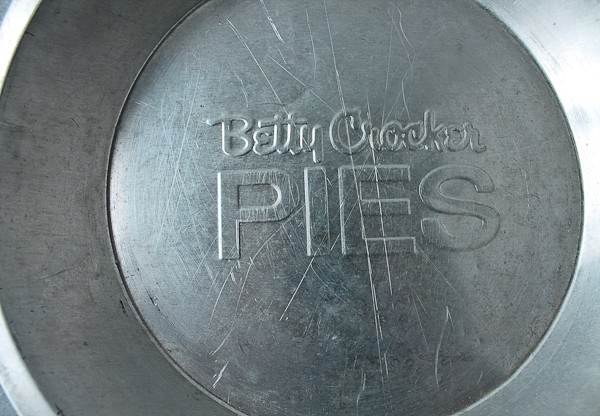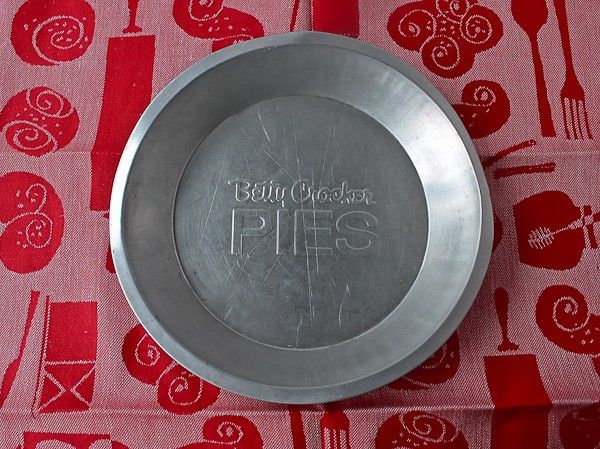 In the same area as the pie tins was something you could not miss, and I hoped it was for sale.  Alas, it was not. Bonnie said someone found it for her as a gift.  What a great gift.  How I would love this for the Culinary Cellar. The spoon is much bigger than it looks here – it's huge!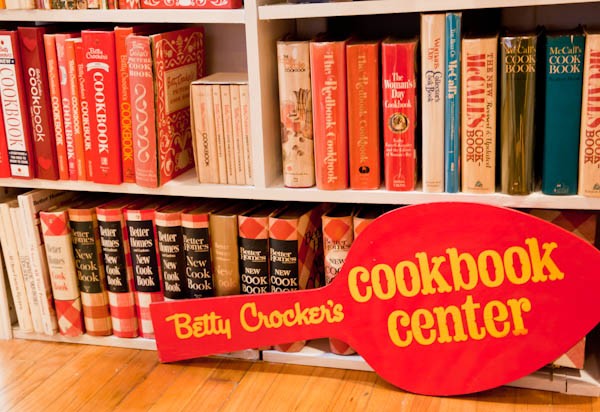 To the left of this bookcase is a back door that leads out into a courtyard.  Bonnie said she holds events out there, especially in the summer when she can use the grill for cooking.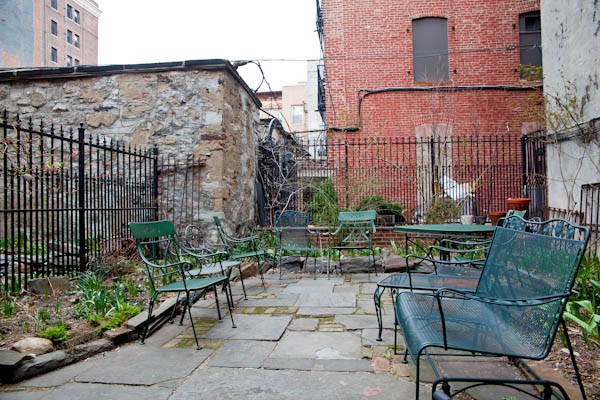 As much as Kristina and I didn't want to leave, we had two more cookbook stores to visit before the end of the day.  I handed Bonnie my pile of goodies and she commented on a couple of them.  First of all, I loved this one: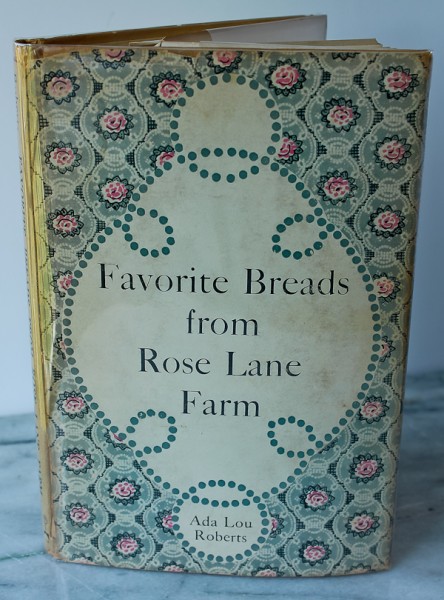 It seemed very special, with its lovely cover, great-sounding recipes inside, not to mention it was a bread cookbook of which I love and have many, and it was from a place called Rose Lane Farm.  I even loved the author's name.  Bonnie then said to me, "Did you see who owned this book before you?"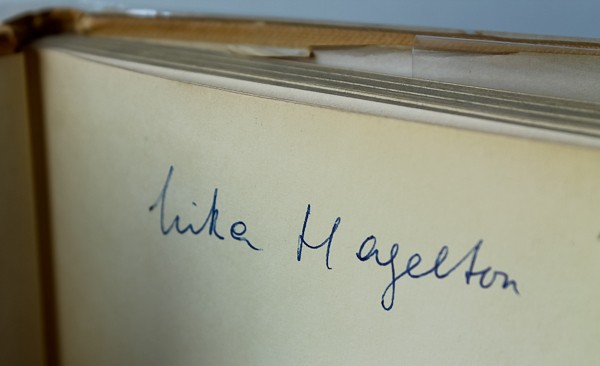 Nika Hazelton. Oh my. I have her cookbooks and adore them.  Now I have a book that Nika Hazelton selected for her own collection.  I was thrilled.  You will be seeing this book again in my blogs.
I then handed Bonnie a manila packet I found on a table that had written on the front:  "Recipe Clippings. $5." Those of you who know me, know that I go crazy for old recipe clippings.  Not only that, Bonnie said she had two more packets of them.  I quickly found them and bought all three.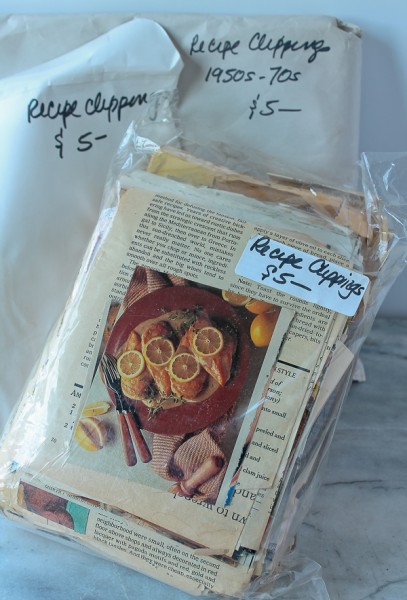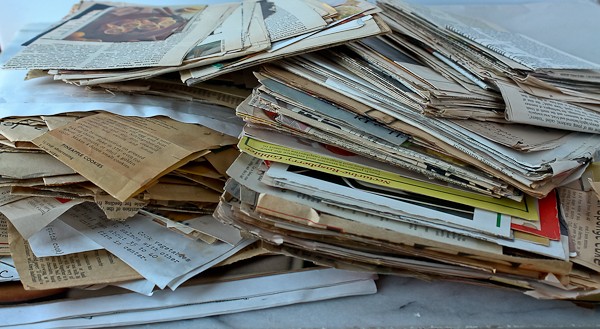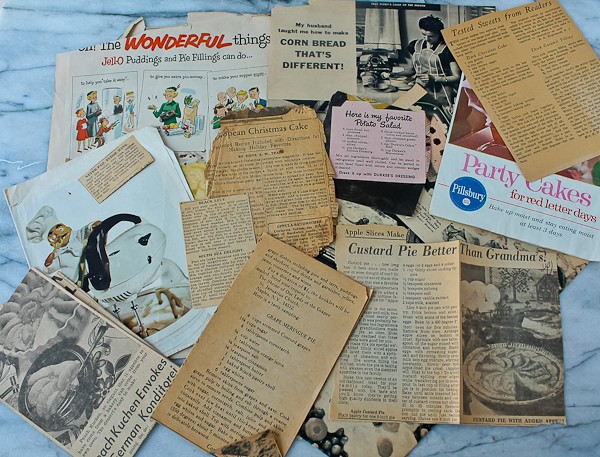 A very small sample of what was inside.  It took me three days to go through them all and I found some of the greatest recipes from the late 1940's to the late 1980's.  I wish she would have had more of these!
As we headed out, I noticed a framed quote that perfectly describes Bonnie Slotnick's environment.  I can't begin to tell you how true it is.  You will know what I mean when if you come here, meet Bonnie, talk with others, read and feel the books.  It's a calming, relaxing place that will carry you temporarily to another world where you will learn that food is truly the universal language.