Cookbook-only stores are a rarity in the USA, as in only a handful.  Like under fifteen.  Some lists will say under ten, depending on which article you may find.  There are other cookbook stores around the world, but even when adding those, sadly they are still few and far between.  There are many stores with cookbook sections, but cookbook-only is hard to find.  I have found that the cookbook-only stores are always filled with happy people.  Everyone chats with the next person about a book or recipe, swapping cookbook stories or what they are making for dinner that night.  I've never seen anyone grumpy while looking at cookbooks.
I am on a mission to visit every cookbook-only store in the USA, at least to start.  Maybe the world too.  But I'll start here first.  Since there aren't that many, I think I will be able to accomplish that goal.  I have already been to and written about the incredible Kitchen Witch in New Orleans (the original, not the new one yet); Omnivore Books on Food in San Francisco, and Ben Kinmont in Sebastopol, California.  These were written within the last couple years but it was time to find some more.  And the time was just a couple weeks ago.
While in New York City recently, my daughter Kristina, who lives in Manhattan, suggested it was time to start my next journey as there are three cookbook stores in Manhattan and one in Brooklyn.  We brought up a map on the computer and plotted our course.  We decided to begin in Greenpoint, Brooklyn at Archestratus Books and Foods, one of the newest cookbook-only stores in the country!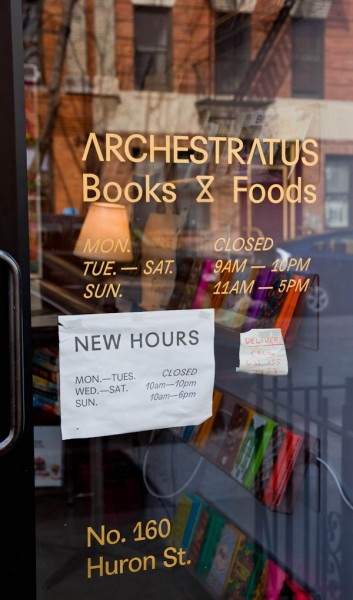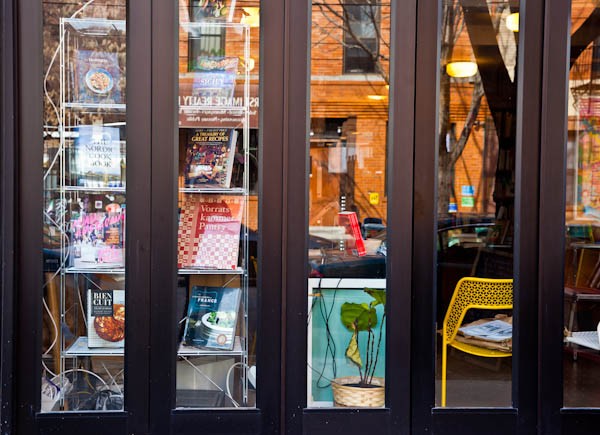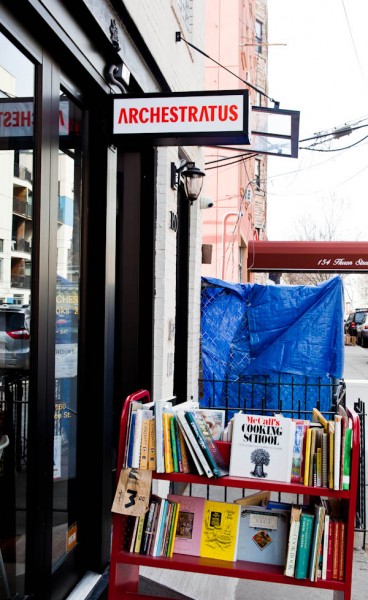 We called an Uber to pick us up and we were on our way.  We decided not to eat breakfast or have coffee as the website said the store offered both!  Now we were really excited.  As we headed down the little side street, it immediately reminded me of going to Omnivore Books in San Francisco.  We pulled up to Archestratus and the first thing we noticed was a shelf and bin of sale books outside for $3.00.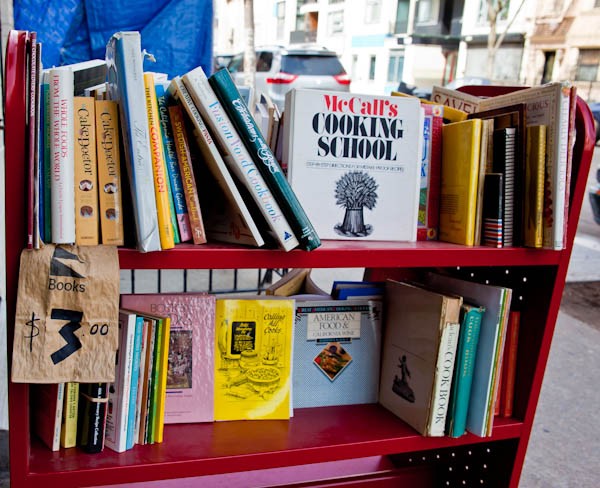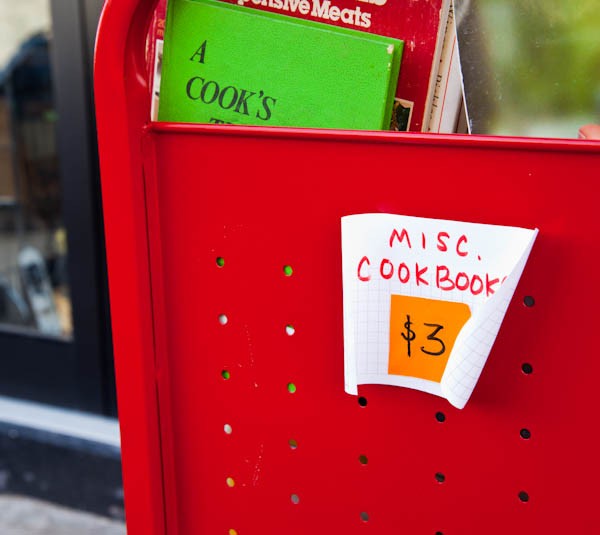 I made a quick mental note of what books I saw here, but I really wanted to get inside and explore.  I always love that first look when I open the door of a cookbook store, scanning the room and getting a feel for it.  Oh, this one was easy.  I loved it.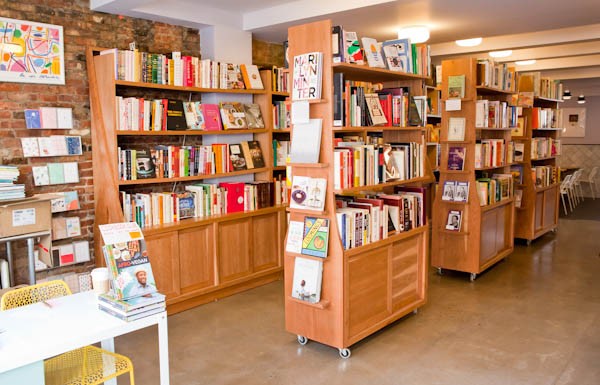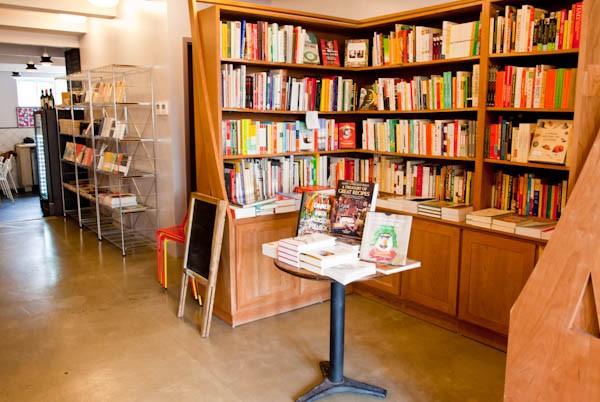 It sort of reminded me of my own shelves and I felt instantly at home.  I started browsing the books and found many familiar titles that I already owned and then also instantly knew the owner and I were on the same cookbook mindset.  Owner Paige Lipari approached me and asked if I needed some help.  Yep, we would be buds.  I already knew.  Paige thinks about food as a way to look at the world.  Sigh.  Not only that, she is Sicilian and there is a little kitchen in the rear where she prepares Sicilian goodies and dinners.  Okay, I am not leaving. For a long time.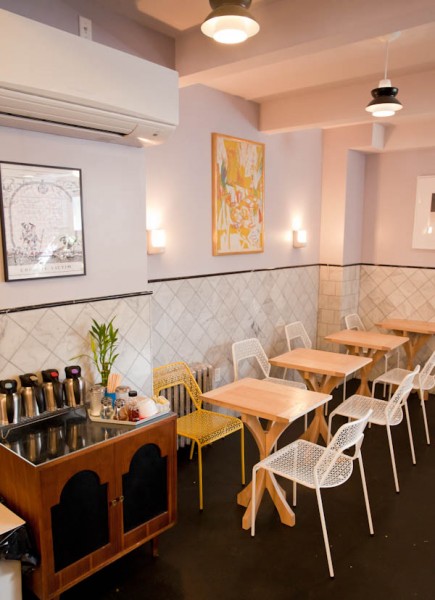 Kristina and I sat down in the dining area and ordered coffee and Italian biscuits with ricotta salata, sun-dried tomatoes, and lots of other good things.  Heavenly.  I wish I had a photo for you but we ate them too fast.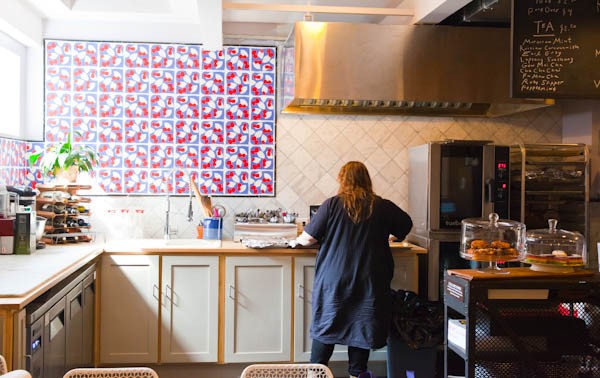 Here is Paige making something else wonderful, like these pastries…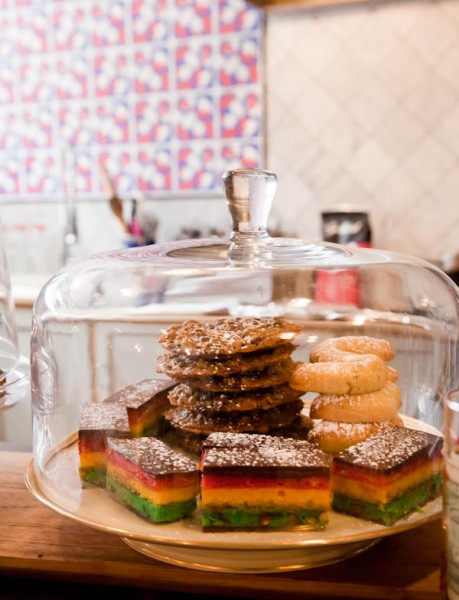 Now it was time to get down to business.  I started at the front of the store and worked my way back.  Along the way, Paige would bring me all kinds of books saying, "Do you have this one?" Yes.  "How about this one?"  Yes.  We knew we were cookbook soul mates.  But then I started finding all kinds of books that I didn't have.  Actually started finding too many, meaning how am I going to carry them?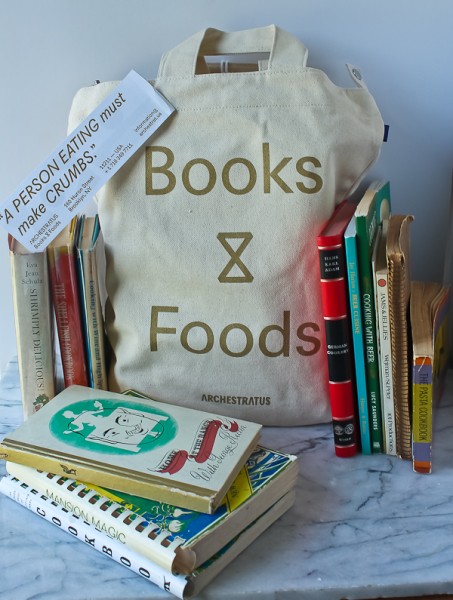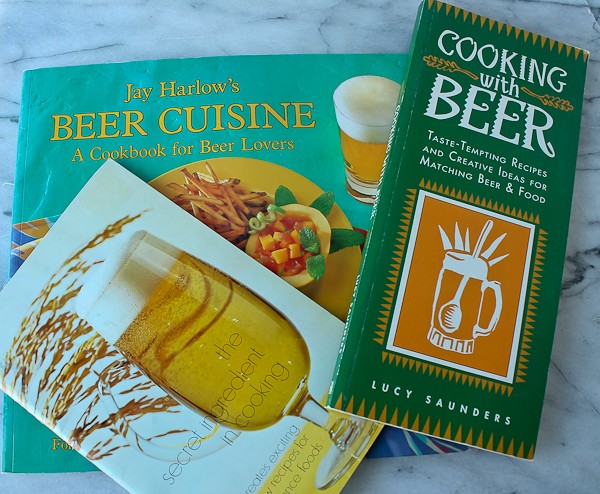 I don't like drinking beer, but I love cooking with it.  I found three good ones.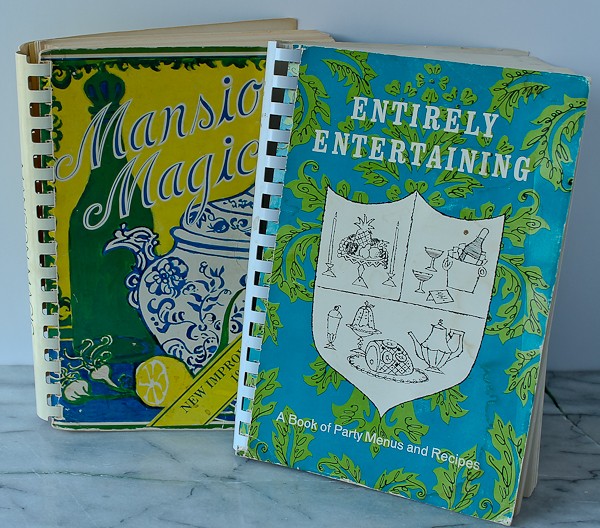 Love community and church cookbooks!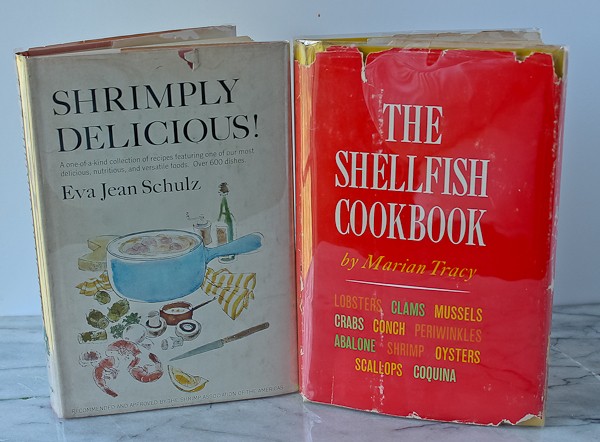 Love seafood cookbooks.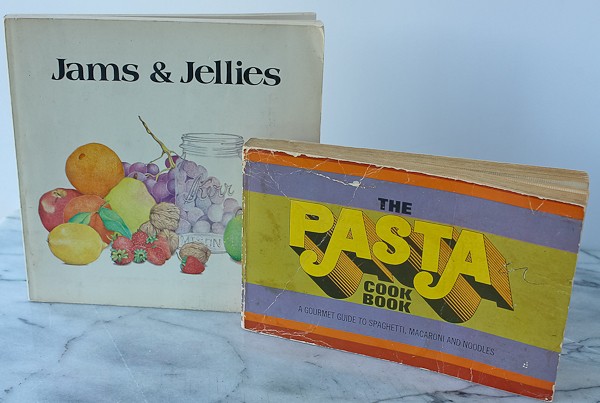 The Pasta one is a Nitty Gritty book.  I always loved those.  I never pass up a good jam, jelly, or preserving book.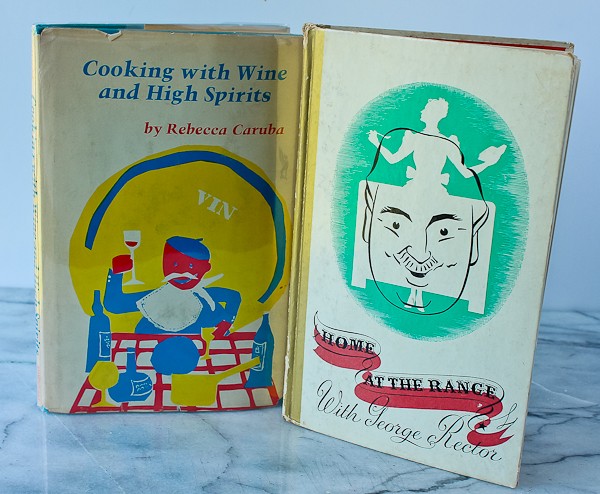 Don't you love these covers?  Both of these have great recipes.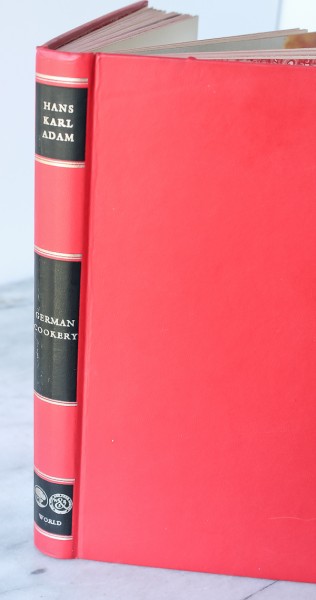 I don't have enough German cookbooks.  This was a good one.  The first thing I always look up in a German cookbook is the recipe for Dresdner Stollen, of which I am obsessed at finding the best recipe.  Another one of my goals is to attend the Stollen Festival in Dresden, Germany.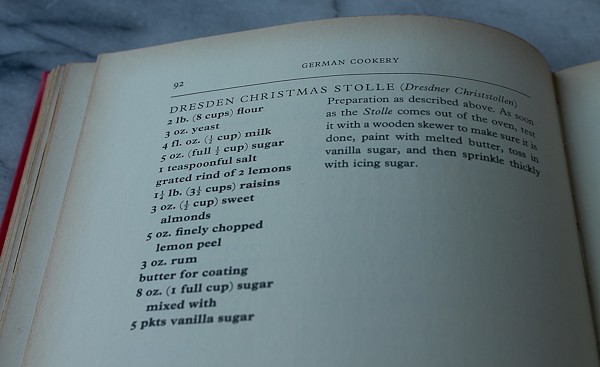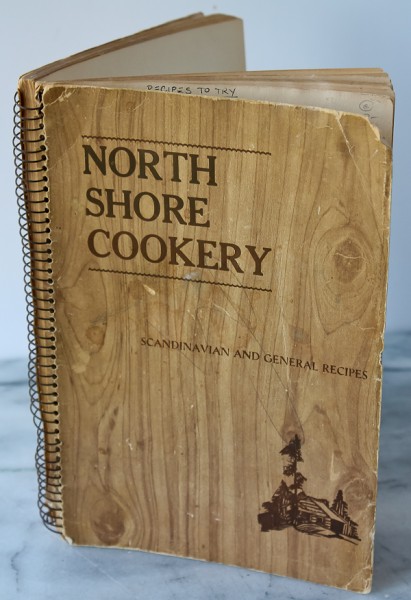 Here was one of my favorite finds.  I alway look for Finnish, Nordic, and Scandinavian cookbooks or ones that have recipes from those areas.  I found this little gem that was a church cookbook from Minnesota.  The previous owner had written on the first page, "The recipes of the following women are supposed to be outstanding."  You can bet I looked them up!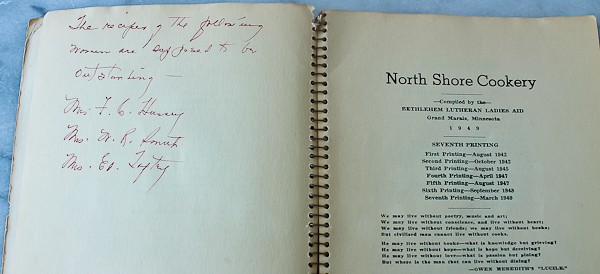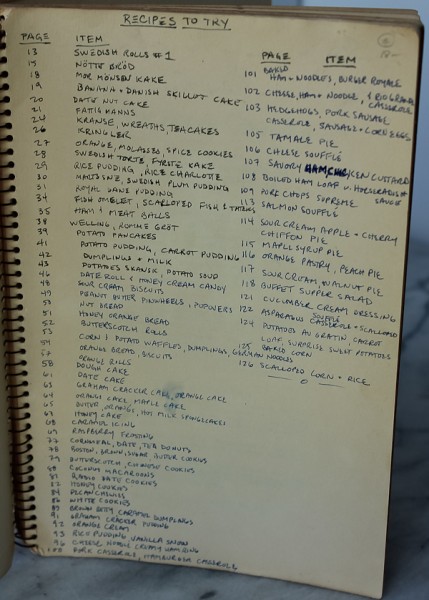 And look at this!  Someone wrote down all the recipes she wanted to try!  How I wish I knew if she ever made them all.  I'll be going down her list.
Don't you want to visit here?  If you do, not only will you have these shelves to investigate, great food to eat all the time (even Sicilian dinners every Thursday night!), but you can join a cookbook club and all kinds of other activities.  Paige is passionate about what she does and it is clear that she is a great addition to her neighborhood and to the cookbook-only store world.  Read more about Paige and her store in the New York Times.  Check out her Facebook page to see what activities are happening and see more photos of Paige's food.  You can also follow Archestratus on Twitter and Instagram.
Archestratus is place you must go if you love cookbooks and good food.  Tell Paige I said hi and that I'll be back, hopefully sooner than later.  Watch for future blogs from the above cookbooks!
Coming up Monday:  Our next stop is Bonnie Slotnick Cookbooks.  More fun to come all next week!