On a small side street along Cesar Chavez Street  in San Francisco you will find the pint-sized Omnivore Books on Food, my second in a series of cookbook stores of the world.  Those who love cookbooks already know that the store is legendary. It has hosted the likes of Alice Waters, Grant Achatz, Thomas Keller, Eric Ripert, Hubert Keller, Marcus Samuelsson, and Ferran Adria. This cozy store has everything from antique books to the latest best seller.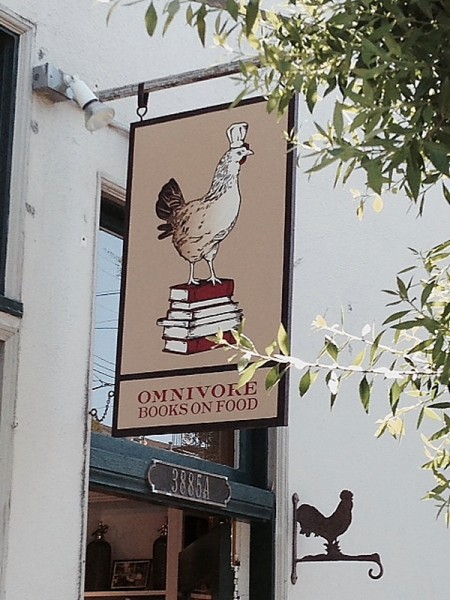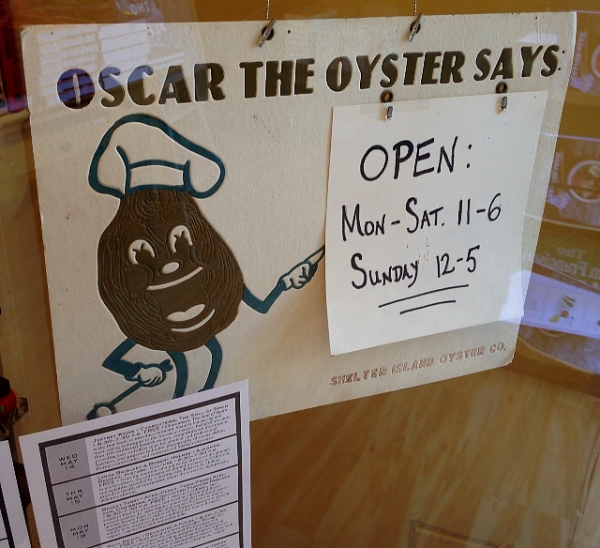 Come on in and watch the video.  It won't take long!  It's about as big as my daughter's studio apartment in New York City.
The first items to greet you on the left are the chicken in the window and a large piece of machinery hanging from the ceiling, which owner Celia Sack informed us was an item used in this former butcher shop.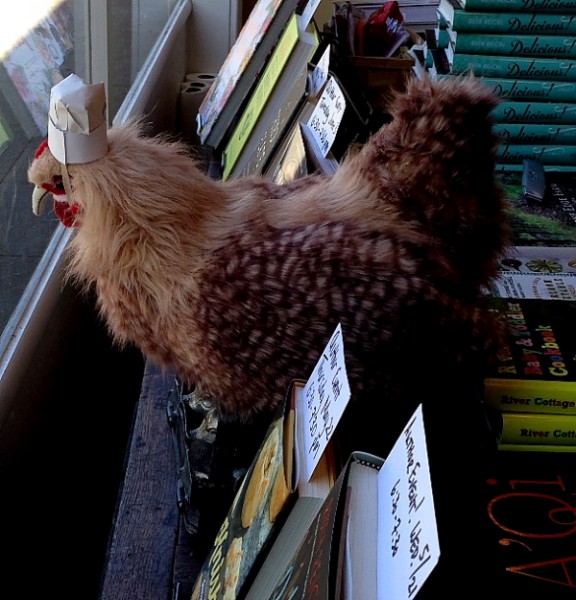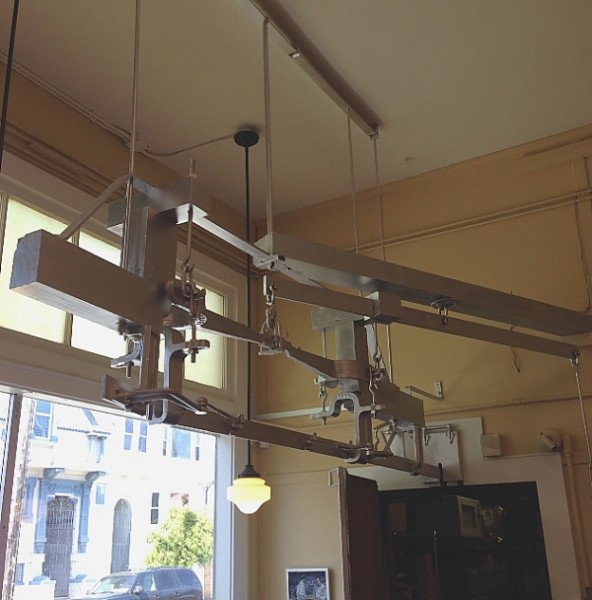 Straight ahead was a wall of cookbooks.  Nothing could drag me out of this place for at least a couple hours.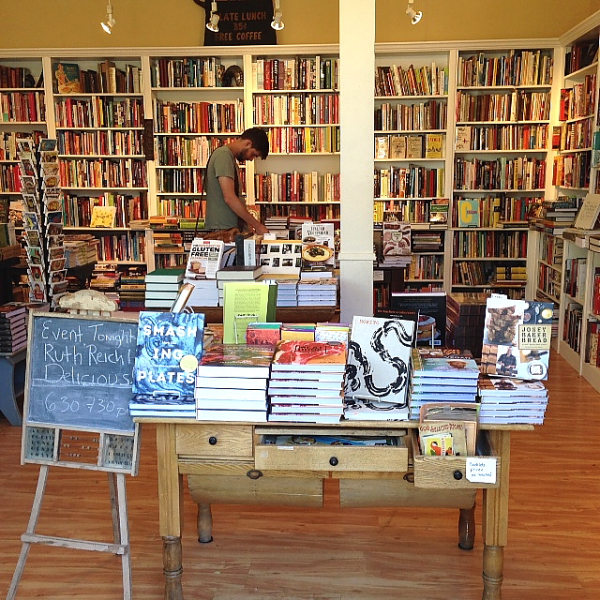 Glancing down, I noticed the chalkboard sign and my heart sank as I read that Ruth Reichl was going to be there at 6:30 that evening, and my daughter Kristina and I had reservations at The Slanted Door at 5:30.  Such bad timing.  She would be signing her latest book, Delicious, which I noticed the chicken was guarding a pile of at the front of the store.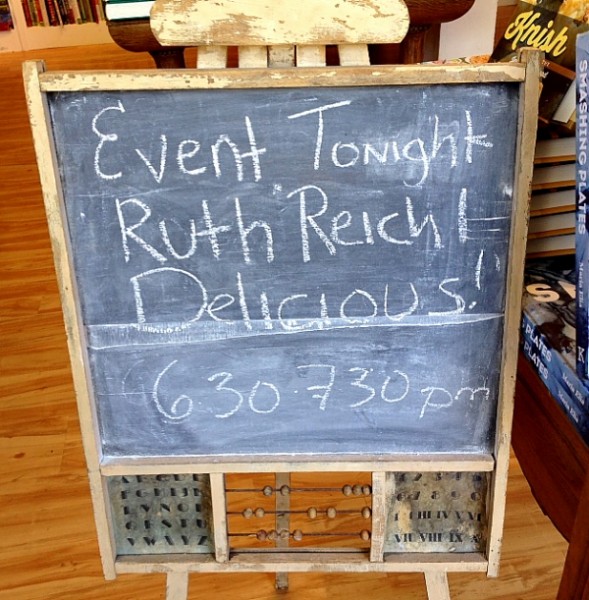 Now it was time to get into some serious searches.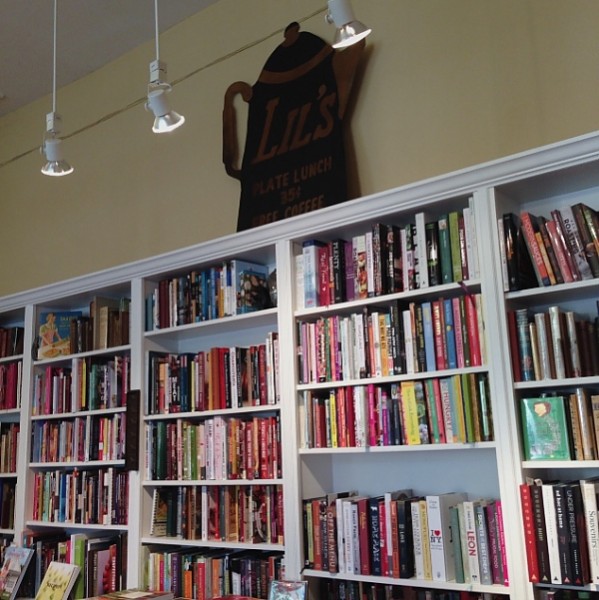 See anything you like?
Kristina and I studied each shelf, making comments here and there, but mostly we were mesmerized with it all, as we always are in cookbook stores.  I could have filled a couple suitcases worth of books, but had to stop at a few.  I bought one on Swedish breads and pastries, a great canning and preserving book, and one just about cinnamon rolls (how about a Szechuan Pepper Cinnamon Roll with a Fresh Ginger Glaze, or a Tarte Tatin Cinnamon Roll with Creme Fraiche?)  I am already writing future blogs in my head…
Be sure and visit the store site, join the cookbook club, subscribe to the newsletter, and follow them on Facebook and Twitter. Also check out the events and see which author will be visiting and signing books next.  June is filled with about fourteen authors.  If you see an event that you would love to attend, but can't, you can buy a signed copy online and they will ship it to you!
In the meantime, keep thinking cinnamon rolls:  cinnamon-blueberry, chocolate-cinnamon, cardamom, Mexican chocolate,  pear-caramel, Rocky Road, or whole wheat-black walnut.  If your mouth is watering, you can go order it online right now.