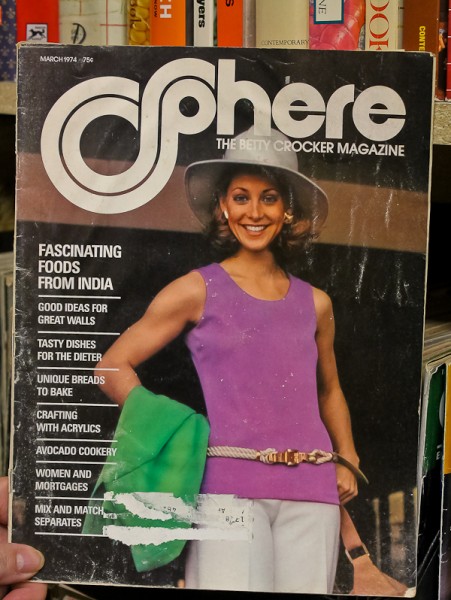 I just realized that March is over tomorrow and I hadn't posted the monthly Sphere Magazine report!  Where does the time go?  We still have some lingering cold here and there in the Chicago area and even had a bit of snow last week, but Spring will be here soon because the robins are out.  Or we will skip Spring and go right to Summer which also can happen here.
This month's Sphere is thinking the same way, as they are still offering wonderful hearty breads to bake, but also bright and sleeveless Springlike clothes to make as those on the cover.  The breads included a dill-onion-rye that I would love to try, a sweet potato bread, molasses cornbread, navy bean bread using a cup of cooked navy beans, an unusual shredded wheat bread with some wheat germ added, and another rye bread with celery and celery seeds.  There is a long section on Indian cooking with a menu consisting of about 10 courses, followed by an article on diet food!  For the Indian cooking, there is even a pattern on how to make your own sari to wear at a dinner party.  Sphere always went all out in their dinner party articles, from decorating to clothes, and of course elaborate menus.
The section I decided to pick a recipe from was about cooking with avocados, everything from drinks to desserts, including cream of avocado soup, mini avocado appetizers, avocado cream in orange shells, avocado and eggs, and a drink called "The Alligator" that has limeade and rum along with a whole avocado. I selected another recipe, avocado-tostado salad because it's basically just a taco salad as we know it and my husband loves taco salad.  It sounded close to mine but instead of serving with some sour cream to spoon on top, this one has a dressing of mayo and sweet pickle relish.  It was good but I think I will stick with sour cream and if I made this again, I would make it much spicier and add some cilantro.  I was thinking back to 1974 and I don't think cilantro was even sold in the average grocery store back then.  We are so lucky to have such varieties of food nowadays.  But here is Sphere's 1974 version of taco salad.  Feel free to jazz it up!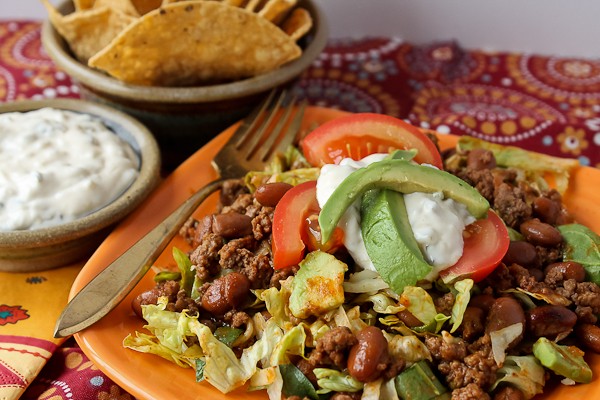 Avocado-Tostado Salad
Author:
Sphere Magazine, March 1974
Ingredients
1-1/2 pounds ground beef
1 can (15 or 16 ounces) chili beans (the kind packed with spicy liquid)
¾ teaspoon seasoned salt
1 teaspoon chili powder
1 small head lettuce, torn into bite-sized pieces
½ of an 8 ounce bag spinach, torn into bite-sized pieces
3 medium tomatoes, cut into eighths
4 ounces hot pepper cheese, shredded
2 large avocados, one diced, one cut into thin slices
1 small onion, chopped
1 package tortilla chips, for serving
½ cup mayonnaise
1 Tablespoon sweet pickle relish
Instructions
Cook and stir ground beef until no longer pink; drain off fat. Add chili beans with liquid, seasoned salt, and chili powder. Cover and simmer for 10 minutes.
Meanwhile, place lettuce, spinach, tomato wedges, cheese, the diced avocado, and onion in a large salad bowl. Add hot ground beef mixture and toss.
Spoon into individual bowls or dishes and surround each with tortilla chips and top with the avocado slices. Mix the mayonnaise and pickles relish together and serve with salad. Pass extra chips and dressing.
Note: This salad is best served immediately. Serves 6.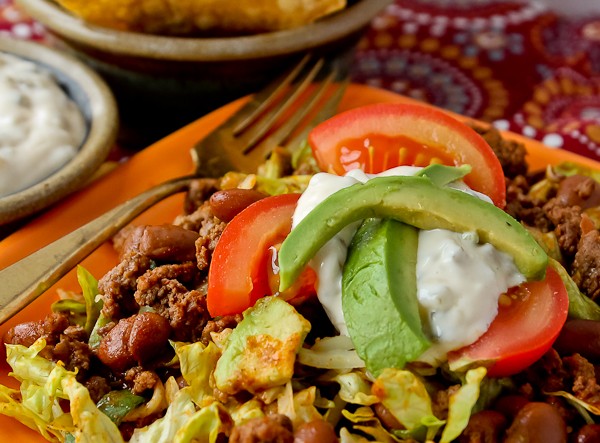 Be sure to come back Friday and into next week when I will have my posts about the cookbook stores of the New York City area.  First stop- Brooklyn.  And what a place it is.  I can't wait to tell you about them all!