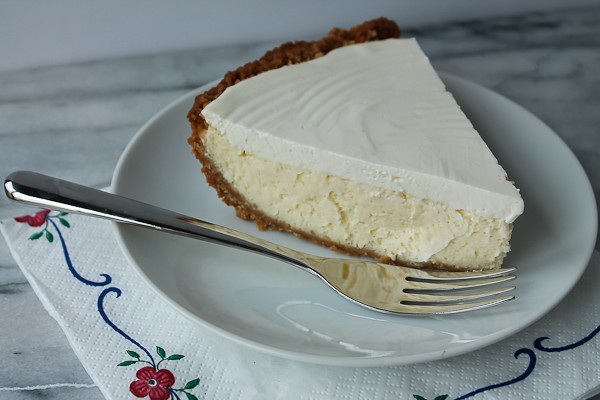 I can't recall the exact date but it was at least twenty-five years ago when I was asked to judge a local cooking contest.  This delicious and simple cheesecake won either the dessert category or the entire contest.  I actually don't remember.  All I do remember is that it was very easy, tasted wonderful, and I haven't made it since that contest.  For some reason it popped in my head while I was planning our Easter dinner, which this year would be only Bill and me.  We settled on grilled salmon, asparagus with lemon and dill, buttered tiny new potatoes, but we couldn't decide on a dessert.  Bill wanted something creamy and that's when this came out of nowhere in the recipe files of my brain.  Thinking I would never find it, and considering how my Culinary Cellar is a mess at the moment, I didn't hold much hope at finding the recipe.  But there it was, a little yellowed and stained right in my filing cabinet where it should be.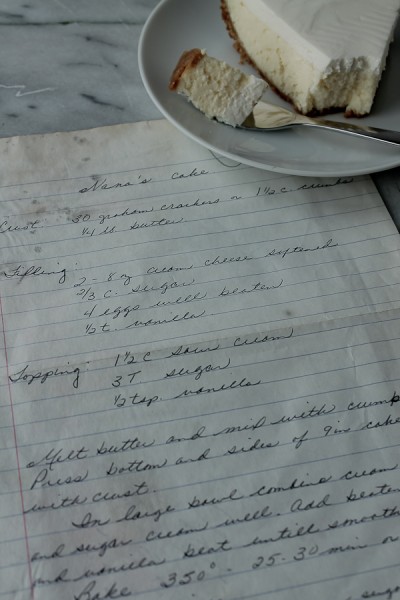 I don't have the woman's name, but here it is in her handwriting.  She told me it was her Nana's favorite dessert and a favorite in the family.  It calls for the cheesecake to be baked in a 9-inch cake pan, but I used a 9-inch pie plate because I thought it might lift out easier for me to photograph it.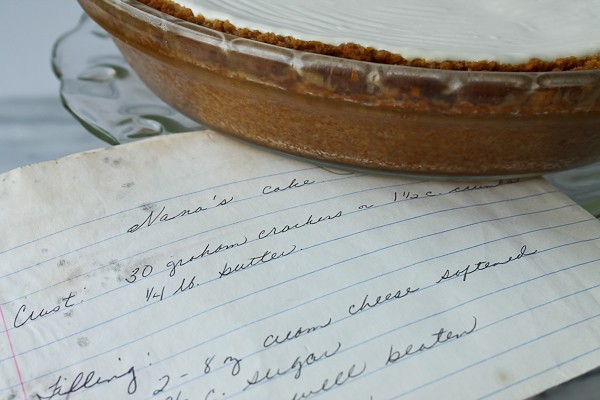 It really is a very simple cheesecake but so delicious and not quite as sweet as most cheesecakes and very creamy. I remember the woman telling me it was served as is, and I agree with her.  It doesn't need anything, although since it is Spring, I'm sure a few fresh strawberries would look beautiful.  Some people like cherry topping and it does make a pretty contrast, but I really think it's best on its own. Bill tried it with the topping as he has a big sweet tooth, and even he agreed it was better just on its own.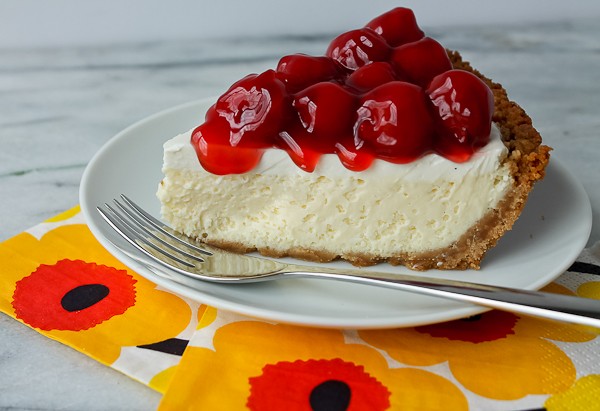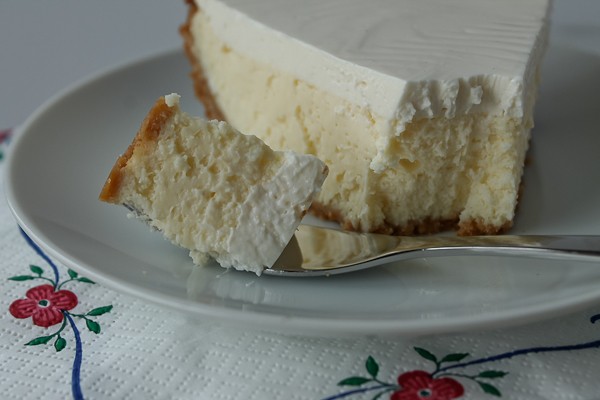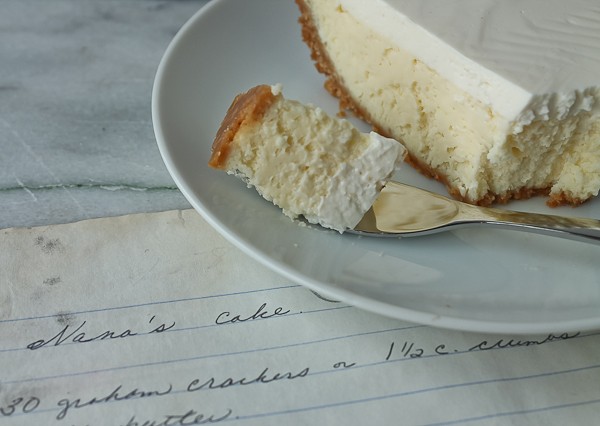 Nana was right.  It's best just plain.
Nana's Cake
Ingredients
Crust:
1-1/2 cups graham cracker crumbs (30 crackers, crushed fine)
¼ pound (1 stick) butter
Filling:
Two 8-ounce block-style packages Original Philadelphia Cream Cheese, room temperature
⅔ cup sugar
4 large eggs, well-beaten
½ teaspoon vanilla extract
Topping:
1-1/2 cups sour cream
3 Tablespoons sugar
½ teaspoon vanilla extract
Instructions
Heat oven to 350 degrees.
For Crust: Prepare graham cracker crumbs and set aside. Melt butter in saucepan; stir in crumbs and mix well. Transfer to a 9-inch cake pan or 9-inch pie plate. Press crumbs evenly onto bottom and up sides of pan. Set aside.
For Filling: In large bowl of electric mixer combine cream cheese and ⅔ cup sugar until light and fluffy, scraping sides of bowl often. Add beaten eggs and vanilla. Beat until smooth. Pour mixture into prepared cake or pie plate. Bake for 25 to 30 minutes or until firm. (I found mine took about 34 minutes with the center just set).
Remove from oven and place on wire rack for 20 minutes. Increase oven temperature to 375 degrees.
For Topping: While cheesecake is cooling for the 20 minutes, stir together the topping ingredients in a bowl until smooth and well-combined. After the 20 minutes, spread the sour cream mixture gently and evenly over the cream cheese layer. Bake at 375 degrees for an additional 5 minutes. Remove and cool on a wire rack. When cooled, place in refrigerator for at least 6 to 8 hours to chill. (I made it the day before and it was perfect!)
 P.S.  Happy Birthday today to my wonderful friend, Lisa Keys!!  I miss you!