Much of the country has experienced an arctic chill this past week.  We received a little snow here in the Chicago area, but north of us in parts of Wisconsin and especially Upper Michigan, were very hard hit.  Our relatives in Michigan were plummeted with a few feet of snow.  This is all to be expected living in the Midwest.  You would think so, right?  But here is what drives me crazy about some Chicagoans.  Every single winter, some people who have lived here for decades, act so surprised and sometimes angry that it is snowing.  Really?  Guess what people, you live here, you know this happens.  So you know what I say?  Shut your trap and make a pot roast!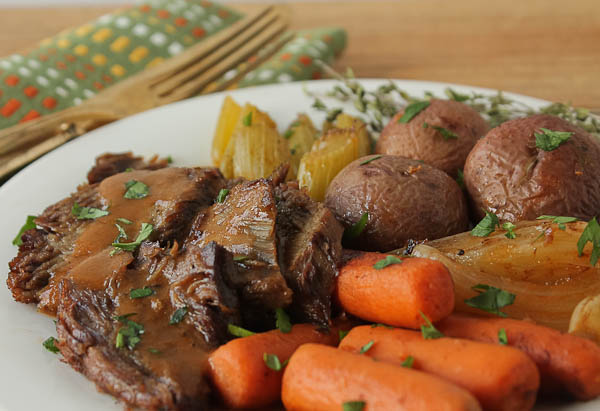 I chose to make a pot roast at our first snow because it's one of the meals I remember from childhood winters growing up not too far from where I live now.  It was a small house for our rather large family, but it was cozy, always smelled good, and I have nothing but good memories of winter days.  By the way, my mom made that big Christmas star on the house out of aluminum foil, some pieces of wood, and Christmas lights.  Mom was the Martha Stewart of Sunnyside Avenue.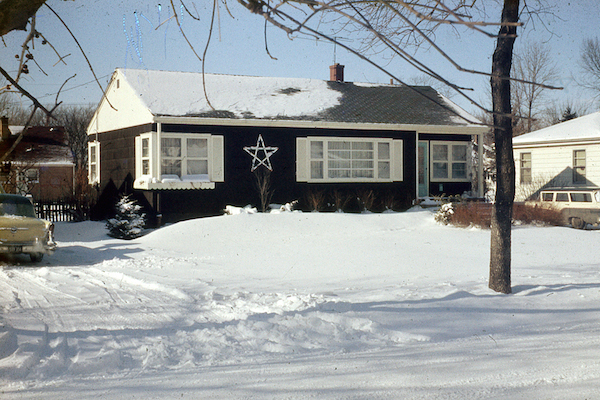 My brother Alan may not have all of my fond memories because he had to shovel the snow!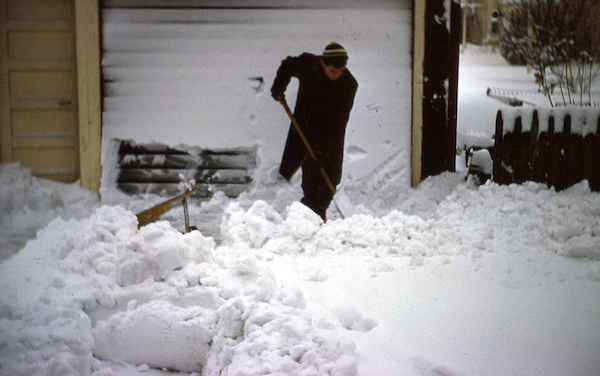 I suppose I love the snow because I grew up with it.  My best friend Linda and I would take every chance to sled down the hill at a park behind our house, even if it was only flurries!  I don't think I made it down the hill…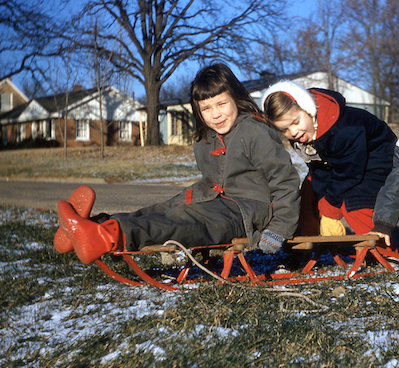 Anyway, enjoy the snow, get cooking, and you have no excuse because this is the world's easiest pot roast.  It is very forgiving; you can throw in almost anything you want and it will still be wonderful.  It has a couple quirky ingredients to make it fun, then go from there.  You don't even need to brown the meat and it still turns a beautiful color.  So quit griping about the inevitable snow, make the pot roast, and enjoy the view outside and the aroma inside.
Snowy Day Pot Roast
Ingredients
3 to 3-1/2 pound beef chuck pot roast
⅔ cup vegetable juice cocktail (V-8)
1 envelope (1.12 ounces) instant meat marinade
1 bag (1.5 pounds) small whole new potatoes or fingerling potatoes
1 bag (1 pound) baby carrots
3 stalks celery
2 medium onions
For gravy later: ½ cup cold water mixed with 2 Tablespoons all-purpose flour
Instructions
Trim excess fat from the pot roast; discard fat. In a Dutch oven stir together the V-8 and meat marinade mix. Place pot roast in marinade and let stand for 15 minutes, turning meat halfway through. Scrub potatoes and carrots. Cut celery into 1-inch pieces; set all aside. Peel onions and cut into wedges. Add onions to Dutch oven with meat.
Place Dutch oven over burner on high heat. When liquid boils, reduce heat to low and it boils gently. Cover and cook for 40 minutes. Add potatoes, carrots, and celery. Cover and cook an additional 1-1/2 to 2 hours or until meat and vegetables are tender.
Transfer roast and vegetables to a serving platter; cover with foil to keep warm. For gravy, pour the liquid from the pan into a 2-cup measure. Spoon off excess fat. You should have about 1-1/2 cups. If not, add water to make 1-1/2 cups. Return juices to pan. Stir together the ½ cup cold water and 2 Tablespoons flour, or put in a jar and shake. Pour into juices in pan. Turn up heat to medium- high and cook, stirring, until thickened and bubbly. Spoon some gravy over meat and vegetables and pass remaining gravy.
Note: I throw in a bay leaf and a sprig of thyme into the Dutch oven, if I have them. Remove before making gravy.