`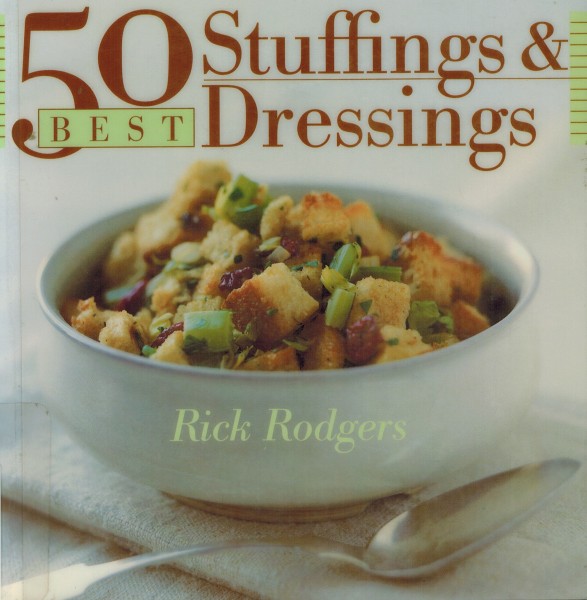 Just in time for Thanksgiving and Christmas, here is a great giveaway cookbook with fifty stuffings and dressings from which to choose for your holiday bird.  Or don't stuff a turkey.  You can stuff a chicken, flank steak, or acorn squash.  There are all kinds of creative stuffings made with cornbread, grains, fruits, vegetables, bread, and meats.  Here is just a sampling from this wonderful little book:  Antipasto Stuffing with Salami and Provolone; Kielbasa, Sauerkraut, and Apple Stuffing;  Sweet Potato, Orange, and Dried Cranberry Stuffing; Wild Rice and Sausage Stuffing; Portuguese Cornbread Stuffing with Clams and Spicy Sausage; and not to forget a favorite, Classic Bread Stuffing with Onions, Celery, and Herbs.
Here's what you will win:
50 Best Stuffings and Dressings by Rick Rodgers
How to enter the giveaway:
1)  Leave me a comment here on the blog and tell me your favorite dressing or stuffing.  That's it!
2)  Winner is selected randomly using random.org and is open to Continental USA only.  Enter now through this Saturday, November 22, 2014 at 11:59 pm CST.  Winner will be notified by Monday, November 24, 2014.
Good luck!  Congratulations to the very lucky winner of the Driscoll coupons and the brand new best-seller Dorie Greenspan book, "Baking Chez Moi," Madonna Y.
Thank you to all who entered.  I have many more great books in the weeks to come.  Don't give up – keep entering!