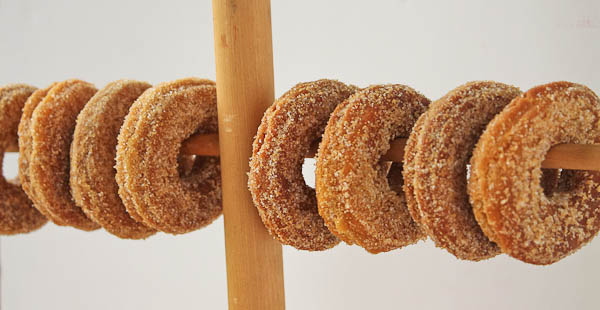 Pumpkin is everywhere, from pies to smoothies.  And why not; it's versatile, inexpensive, and tastes wonderful.  Funny thing about pumpkin is with some recipes the actual pumpkin flavor can be very strong like in a pie, or very subtle like in a sweet roll recipe I have where it adds a beautiful moistness, but the flavor is very faint.   These great old-fashioned cake-like pumpkin doughnuts are like that.  The pumpkin color is there with a light pumpkin flavor.  The batter also contains cinnamon, ginger, and buttermilk.  After frying, the doughnuts are coated in a maple sugar- granulated sugar mixture.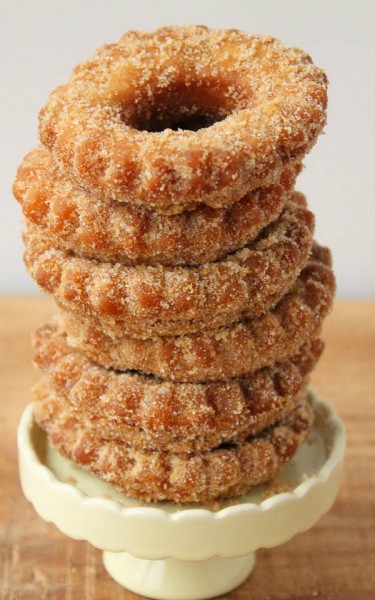 The doughnuts can be made with a rounded or scalloped cutter.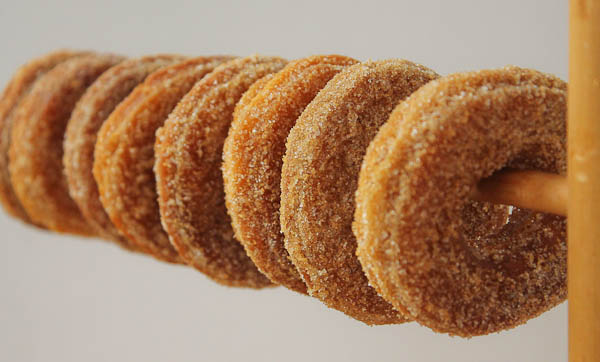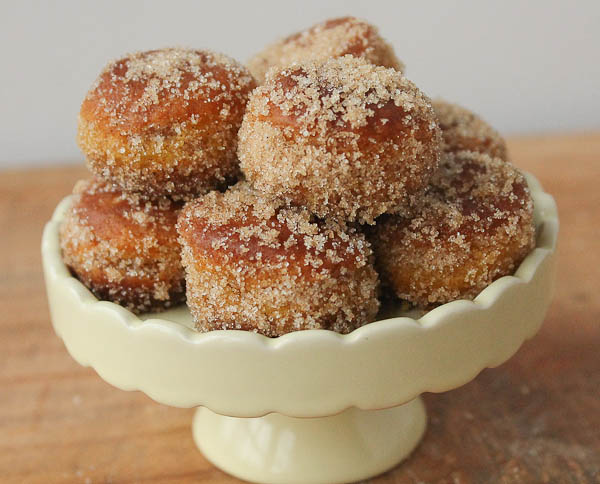 And don't forget the holes!
This  recipe only calls for 2/3 cup of pumpkin and you might have some leftover pumpkin after all the Thanksgiving baking coming up.  Why not surprise your family with something sweet and delicious for the weekend?  If you have a problem finding the maple sugar at your grocery store, check out health food stores, specialty kitchen shops like a Williams-Sonoma or Sur La Table, spice catalogs, or order online.  I love maple sugar not just on these doughnuts, but in oatmeal, cookies, and lots of other baked goods.  It adds a wonderful crunchiness and flavor to these great little doughnuts.  Munch on a few this weekend!
Pumpkin Doughnuts with Maple Sugar Coating
Author:
Bon Appetit November 1989
Ingredients
3-1/2 cups sifted all purpose flour
1 Tablespoon baking powder
1 teaspoon baking soda
1 teaspoon salt
½ teaspoon cinnamon
½ teaspoon ground ginger
¼ cup (1/2 stick) unsalted butter, room temperature
¾ cup granulated white sugar
2 large eggs
⅔ cup canned solid pack pumpkin (not Pumpkin Pie Mix)
⅔ cup buttermilk
½ cup maple sugar
½ cup granulated white sugar
Vegetable oil for frying
Instructions
Resift flour with baking powder, soda, salt, cinnamon, and ginger into medium mixing bowl; set aside. Using electric mixer, cream butter in large bowl until fluffy. Gradually add ¾ cup sugar and beat until fluffy. Add eggs, one at a time, beating well after each addition. Beat in ¼ cup of dry ingredients. Add pumpkin and buttermilk and mix until thoroughly combined. Add remaining dry ingredients and stir just until blended. (dough will be slightly sticky). Cover and refrigerate at least 3 hours or overnight.
Combine maple sugar and ½ cup granulated sugar in a bowl or baking pan; set aside.
Roll dough out on lightly floured surface to thickness of ¼ to ⅓ inch. Using lightly floured 3-1/2 inch doughnut cutter (or a 3-inch round cookie cutter and a 1-inch round cookie cuttter for the center hole), cut out doughnuts and doughnut holes. Transfer to a floured board as you make them and let stand for 10 minutes.
Heat 4 inches of oil in a large heavy saucepan or electric skillet (that's what I use!) to 365 degrees F. Add doughnuts and doughnut holes, as many as can fit without too much crowding, and cook until golden brown, turning once about 4-5 minutes. Transfer to paper towels using slotted spoon and when you can pick them up one by one, place in bowl with sugar mixture and coat both sides, working quickly. Arrange on racks or baking sheets after coating. Repeat process with remaining doughnuts and doughnut holes in about 3 more batches. Depending on the size of your doughnut cutter, you should be able to make a couple dozen doughnuts.