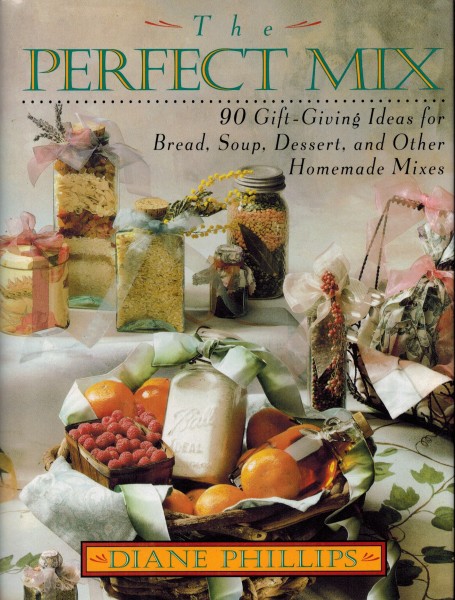 Homemade gifts say you care.  Recipients of something homemade feel special because it was made just for them.  This lovely little book is filled with dozens of ideas to make homemade  mixes for your family and friends such as soup mixes, breads, cookies, beverages, and more.  Instructions are given for preparing the mix and creative packaging ideas.
For example, there is a gingerbread cookie mix where the flour and spices are mixed and wrapped in a cellophane bag, tied with ribbon and a cookie cutter attached.  They can be placed in a small basket with a jar of molasses and instructions how to make the cookies.  Salad dressing mixes are fun and easy to package.  Place the wrapped mix in a salad bowl with salad servers, a cruet, and you have a beautiful gift.  Mulled wine mixes and hot cider mixes are very popular.  Include the bottle of wine or cider and you have an instant party or just a warm cozy night.  Your creativity and care in making a homemade gift will long be remembered more than some little trinket that will be placed on a shelf and forgotten.
Here's what you will win:
The Perfect Mix by Diane Phillips
How to enter the giveaway:
1)  Leave me a comment here on the blog and tell me your favorite homemade treat you love to make and give away for gifts.  That's it!
2)  Winner is selected randomly using random.org and is open to Continental USA only.  Enter now through this Saturday, November 29, 2014 at 11:59 pm CST.  Winner will be notified by Monday, December 1, 2014.
Good luck!  Congratulations to the winner of the "50 Best Stuffing and Dressings" cookbook, Cliff Counsell!