Hot soup in the summer?  Yep- okay by me!  I love soup, any kind of soup in any kind of weather.  I suppose I inherited this from my mom who made soups year round.  Since I love lobster, I decided on a creamy and elegant bisque which deserved a beautiful soup tureen.  My antique Finnish Arabia one fit the bill perfectly.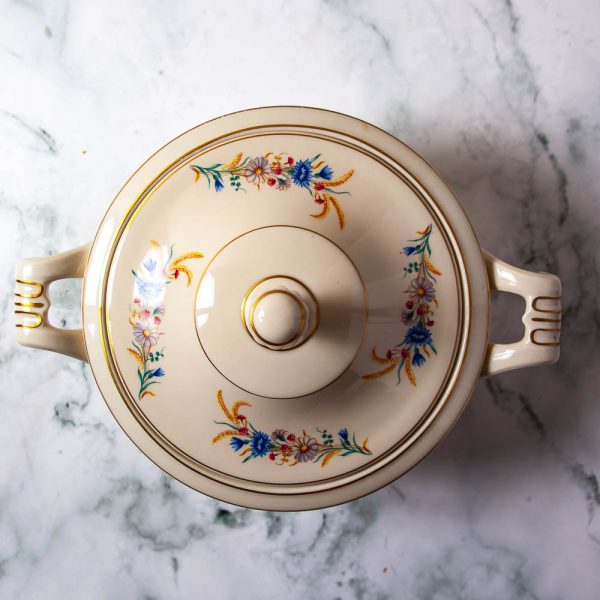 This one is from my husband's Finnish aunt.  I have no idea how old it is, but it's stunning and in mint condition.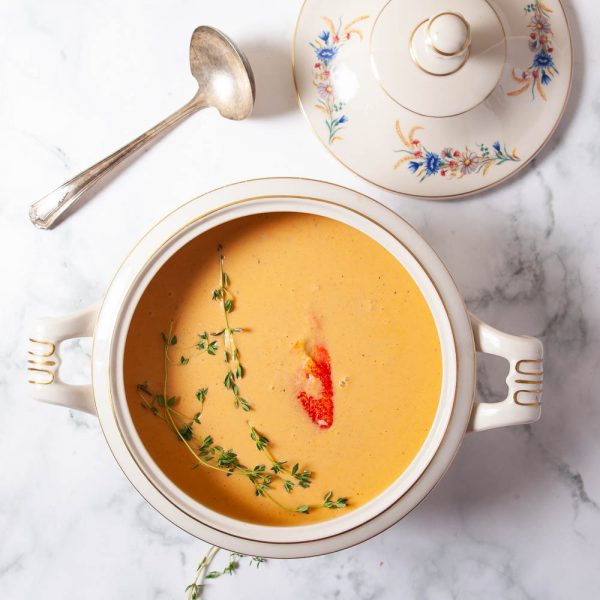 Doesn't the color of the bisque look pretty in the tureen?
The ingredient list may look long, but this rich and creamy bisque goes together easily.  Have all the equipment and ingredients needed measured out and ready to go and you'll be surprised how quickly it can be made. You can prepare the stock and lobster meat early in the day or even overnight to further make it easier.  Lobster tails can be expensive so watch for grocery store specials when it goes on sale.

Lobster Bisque
Ingredients
Lobster Stock:
2 cups water
1 can (14-1/2 ounces) chicken broth
1 teaspoon sea salt
4 lobster tails
Bisque:
4 Tablespoons unsalted butter, divided
1 Tablespoon olive oil
½ cup finely chopped onion
⅔ cup finely chopped carrots
⅔ cup finely chopped celery
1 teaspoon fresh thyme leaves
1 teaspoon chopped fresh tarragon
4 cloves garlic, minced
½ teaspoon table salt
¼ teaspoon freshly ground black pepper
Dash of cayenne pepper
2 Tablespoons tomato paste
4 Tablespoons all-purpose flour
1-1/3 cups dry white wine
1 bay leaf
1 cup heavy cream
Fresh chopped or sprigs of thyme or tarragon, for garnish
Instructions
Fill a large pot or Dutch oven with the water, chicken broth, and sea salt. Bring to a boil.
Add lobster tails, cover with a lid, and boil for 5 minutes until the tails become bright red,
Remove tails and set aside, reserving the stock. Cool tails slightly. When tails are cool enough to handle remove the meat from the shells, and pour any liquid that comes out of the shells into the stock,
Place the empty shells back into the stock, bring back to a boil, then reduce heat and simmer for 15 minutes while preparing rest of ingredients. Turn off heat after the 15 minutes and remove the shells and discard them. Place a lid on the stock to keep warm.
Cut the lobster meat into bite-sized pieces, place in a covered container and refrigerate until ready to use. (you should have about 3 to 4 cups of meat).
In another large pot or Dutch oven, heat 2 Tablespoons of the butter and the olive oil over medium heat. Add the onion, carrots, celery, and chopped herbs. Cook until softened, about 4 to 5 minutes. Add garlic and stir another minute. Mix in salt, pepper, and dash of cayenne. Stir in tomato paste to coat vegetables.
Sprinkle in the flour and cook another 2 minutes, stirring constantly. Stir in the white wine and bay leaf. Simmer until the mixture is reduced by half, stirring frequently.
Add the lobster stock and gently simmer for about 30 minutes or until slightly thickened.
Remove from heat and discard bay leaf. Transfer stock mixture to a blender in batches, or use an immersion blender in the pot, until it is very smooth. Reduce heat to low and stir in heavy cream.
Heat the remaining 2 Tablespoons butter in a skillet. Add the prepared lobster meat and toss with the butter to warm it up, about 2 minutes.
Stir about ¾ of the lobster into the bisque. Heat until very hot but do not boil.
Ladle bisque into serving bowls and sprinkle each with remaining lobster pieces and herbs, chopped or with sprigs. Serve immediately, Serves 4.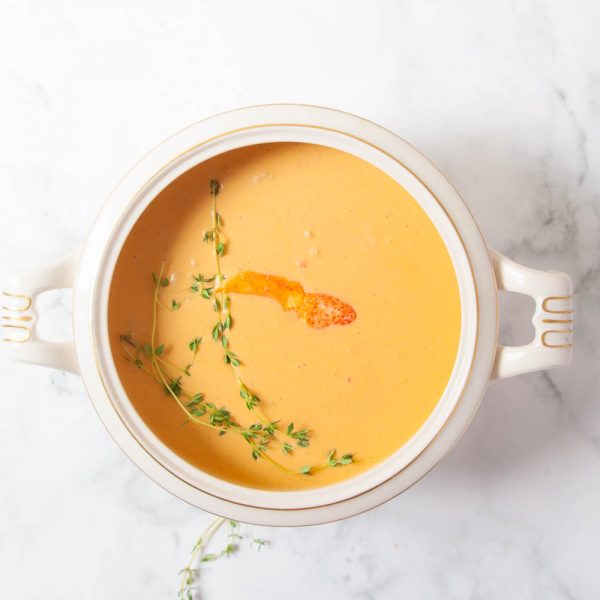 All you need is some crusty bread and more white wine and you have an elegant meal for four!