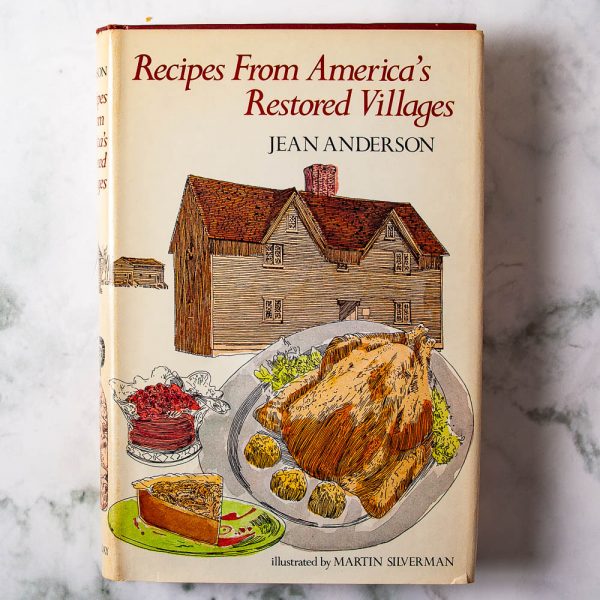 The author, Jean Anderson, a former newspaper and magazine food editor, has a long list of great cookbooks, and this is one of her more unusual ones.  When looking through it, I thought of the many people taking road trips at this time. A trip to a restored American village would also be a good teaching tool for those who are home-schooling their children or viewing classes on their computers because of the numerous school closings due to the ongoing health crisis.
The book is divided into areas of the country- New England, Middle Atlantic, the South, Midwest, Plains and Central States, and Southwest and West.  In each chapter you will find lists and descriptions of villages to visit.  In these places you  not only learn about how it was to live in America's infancy and adolescence, but you can actually relive it.  Find out what life was like for Pilgrims, or dine at a tavern in Colonial Williamsburg that George Washington enjoyed.  Watch the Pennsylvania Dutch demonstrate churning butter, or Native Americans making breads in adobe ovens.
I have fond memories of traveling to Abraham Lincoln's Salem Village and tomb in Illinois, and to the Amana Colonies of Iowa with my family or on school trips of my youth.  It was fun sitting around a huge table loaded with food served family style in Amana and walking through historic homes in Salem Village with demonstrations of spinning wool and other necessities of the time, and of course visiting the Lincoln tombs.
It was interesting to read many authentic recipes of the past such as Mary Todd Lincoln's white almond cake, Indian fry bread, many recipes using corn such as corn cob syrup, dandelion and wild onion salad, dried sour apple pie, brick oven ginger cookies, roast goose with cornbread and currant stuffing, Jamestown scalloped oysters, Abraham Lincoln's mustard-coffee sauce for butter-browned steak, Shaker squash biscuits, vinegar pie, and wagon train beef pies. These are  just a few of the more than 150 recipes from all areas of the country.
If a road trip is not in the works, just reading this book will take you there.  Either way, you will get a glimpse of earlier American life.