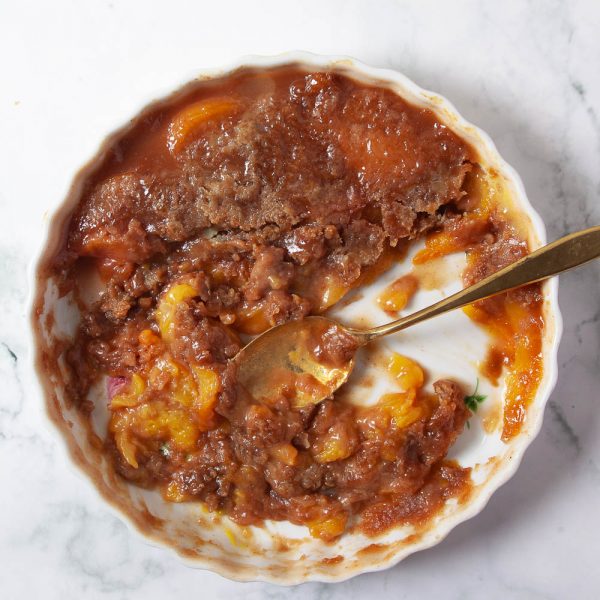 When my husband Bill brought home fresh peaches from our Farmer's Market, it wasn't quite enough for a pie or cobbler but it was enough for a peach crisp and I had all the ingredients.  I love the cinnamon and ginger added to the topping, along with a little mace, which I love and I think is an under-used spice.
I wanted a classic and old-fashioned recipe and found this one in a vintage cookbook.  Most crisp toppings cut cold butter into a flour mixture, but this recipe called for softened butter.  It made the topping more caramel-like and spread out somewhat rather than bits of crispy, drier pieces.  It was delicious and great with the ice cream.  Next time I make it I'll try cutting in cold butter and see how it compares.  Bill loved the softened butter version.  I'm sure either way is wonderful on a hot summer day!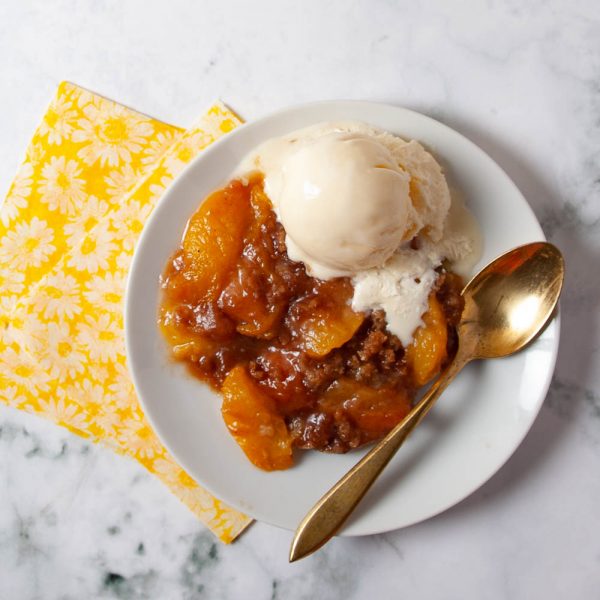 Summer Peach Crisp
Ingredients
4 large peaches, peeled, pitted, and sliced
Juice of ½ lemon
¼ cup white sugar
Topping:
⅔ cup all-purpose flour
1 cup firmly packed light brown sugar
1 teaspoon cinnamon
½ teaspoon ground ginger
¼ teaspoon salt
⅛ teaspoon mace
½ cup butter, at room temperature
Vanilla ice cream, for serving
Instructions
Preheat oven to 350 degrees.
Arrange prepared peaches in an ungreased 9-inch pie pan. Sprinkle with the lemon juice and sugar.
Mix topping ingredients together and sprinkle over peaches.
Bake, uncovered, about 40-45 minutes until lightly browned and bubbly.
Cool to room temperature and and serve with scoops of vanilla ice cream. Serves 6.