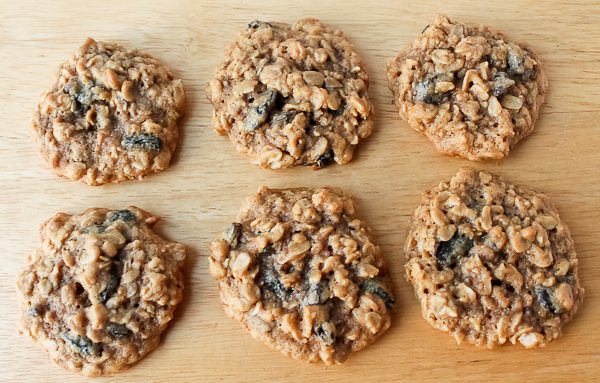 As I have mentioned in previous blogs, my husband Bill is more of a cookie monster than the actual Cookie Monster.  He likes almost any kind of cookie, except he's not crazy about gingerbread although he has been caught eating them.  Our daughter Kristina gave me a funky and interesting tin she got in Finland, designed by a young artist.  However, I didn't really get to use it because Bill declared it his cookie (or other treat) tin, but mostly cookie tin, or even more specifically, his surprise cookie tin.  He asked if every once in a while I would surprise him with a batch of cookies to munch on while watching sports.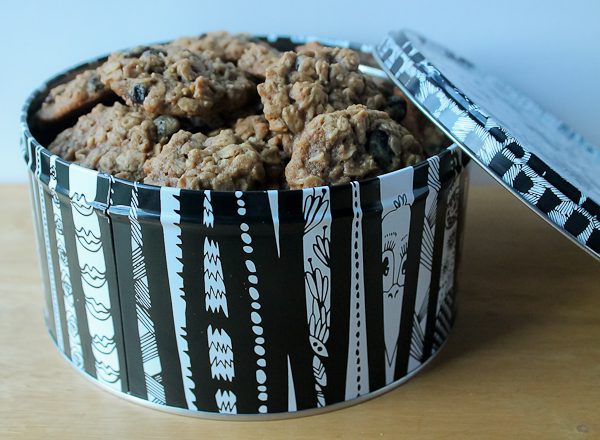 I decided on oatmeal raisin cookies because I happened to have all the ingredients in the house.  I went down to the Culinary Cellar and pulled up my oatmeal-raisin cookie file and found one that I hadn't tried yet.  The recipe said they turned out soft and chewy with slightly crispy edges.  There are so many recipes for oatmeal cookies- with and without nuts, raisins, crispy, chewy, large, small, spicy, and many more.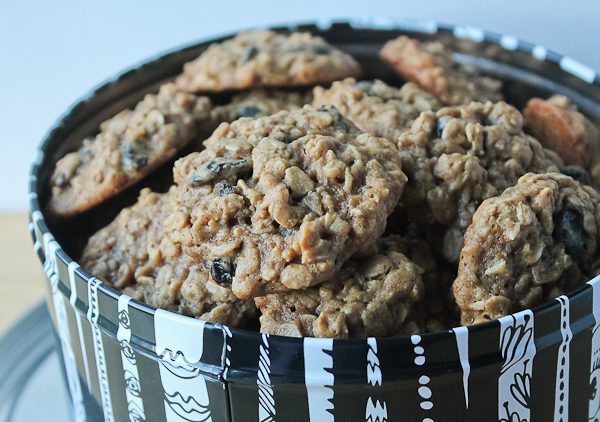 These are very simple with just oatmeal and raisins, no nuts, and some cinnamon.  A nice little cookie.  Bill will be happy when he opens his tin, probably tonight even if there isn't a game on yet.  I'm hoping they will last until Super Bowl Sunday but I'm not holding my breath.  I have a feeling on Sunday, he will be checking the tin to see if he has a new surprise for the big game.

Oatmeal Raisin Cookies
Ingredients
2 sticks (1 cup) butter, at room temperature
¾ cup packed light brown sugar
¼ cup granulated sugar
¼ cup light molasses
2 large eggs
1 Tablespoon vanilla extract
1 teaspoon baking soda
1 teaspoon cinnamon
¼ teaspoon salt
1-3/4 cups all-purpose flour
3 cups old-fashioned oats
1 cup dark raisins
Instructions
Heat oven to 350 degrees F. Line baking sheets with parchment paper.
In large bowl of electric mixer, beat together butter and sugars until fluffy. Beat in molasses, eggs, vanilla, baking soda, cinnamon, and salt. (mixture may look curdled)
On low speed beat in flour. Stir in oats and raisins.
Drop by tablespoons 1-1/2" apart on prepared baking sheets. Bake for 8-9 minutes or until the tops look dry. Cool on baking sheet for 1 minute before removing to wire rack to cool.
Store cookies at room temperature in an airtight container for up to 5 days or freeze up to 3 months.