The ingredients in this freezer dessert contain many of the flavors used in fall baking like pumpkin, cinnamon, brown sugar, cloves, and cardamom.  The added ingredient of coffee ice cream and making it a frozen dessert is a fun difference from the usual quick breads or pie, which is why it caught my attention in one of my 1970's Sphere magazines.
An oatmeal crust of melted butter, brown sugar, and spices is mixed and spread in a baking dish, baked and cooled.  The topping is softened coffee ice cream mixed with canned pumpkin and spices.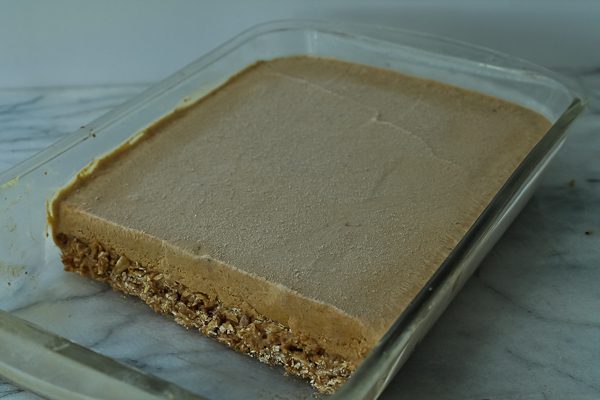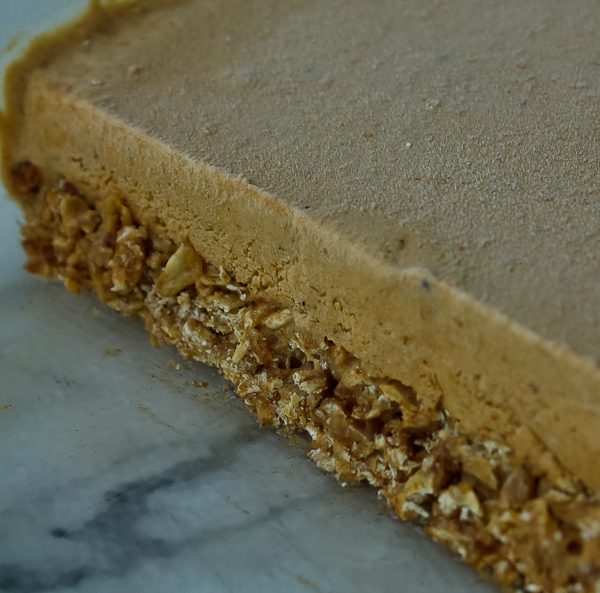 The dessert is frozen until firm, at least 6 hours, but it will keep a lot longer.  Cut into squares and top with whipped cream and dust with nutmeg.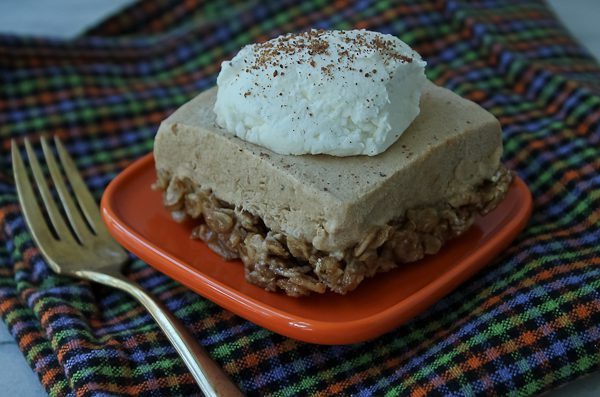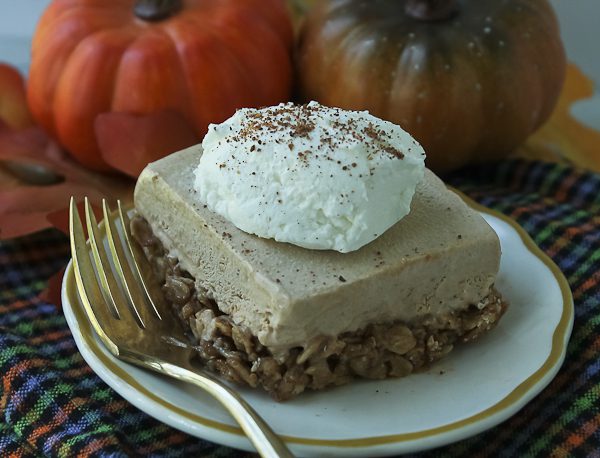 Here are two pieces of advice for this dessert:  First of all, the recipe did not say to line the pan overlapping with nonstick foil, but I would certainly do that if I made it again; otherwise the crust is very hard to cut and lift out of the pan.  Yes, I learned this the hard way.  Secondly, be sure and add the whipped cream topping (real cream you whip yourself, not the fake stuff) and dusting of nutmeg because it adds so much to the dessert.  It's really not the same without it.
If you want to try something a little different with all that pumpkin you will be having in your pantry the next couple months, try this frozen dessert.  The pumpkin flavor is subtle and spice combination is wonderful.

Pumpkin Freezer Dessert
Author:
Sphere Magazine, December 1974
Ingredients
Oatmeal Crust:
2 cups old-fashioned rolled oats
½ cup butter, melted
½ cup packed light brown sugar
¼ cup hot tap water
1 teaspoon ground cinnamon
½ teaspoon ground cardamom
½ teaspoon salt
Pumpkin-Coffee Ice Cream Filling:
1 cup canned pumpkin
¾ teaspoon ground cardamom
½ teaspoon ground cinnamon
Dash of ground cloves
1 quart coffee ice cream, softened
Freshly whipped cream, for topping
Ground nutmeg, for dusting on whipped cream
Instructions
For oatmeal crust: Mix together oats, butter, brown sugar, water, 1 teaspoon cinnamon, ½ teaspoon cardamom, and the salt in a medium mixing bowl. Spread mixture on the bottom of a baking dish (11-3/4-by-7-1/2-by-1-3/4-inches) that is tightly and smoothly lined with NONSTICK foil and has overlapping sides making it possible to lift out the dessert after it is frozen. Bake for 30 minutes, then cool.
For the pumpkin-ice cream filling: In a mixing bowl, stir together the pumpkin and all the spices until blended. Stir in the softened ice cream until blended. Pour over cooled crust. Fold over the overlapping edges of the foil to cover the top, or you can cover the top with plastic wrap. Freeze the dessert until firm, overnight or even a few days if desired.
To serve: Remove dessert from freezer about 10 minutes before serving to soften slightly. While dessert is standing, whip cream until stiff and place in refrigerator while cutting dessert.
To cut dessert, hold the sides of the overlapping foil and carefully lift up dessert and place on flat work surface, then press the foil flat so you can cut the dessert. Using a large sharp knife, cut dessert into 10 or 12 squares (or however many you are serving at this time). Carefully lift up each piece and place on a serving dish. Place a generous dollop of whipped cream on each square and dust with nutmeg. Serve immediately. Cover and return any leftovers in pan to freezer. Serves 10-12. Note: Do not skip the whipped cream dusted with nutmeg on top for serving. It won't be the same without it!