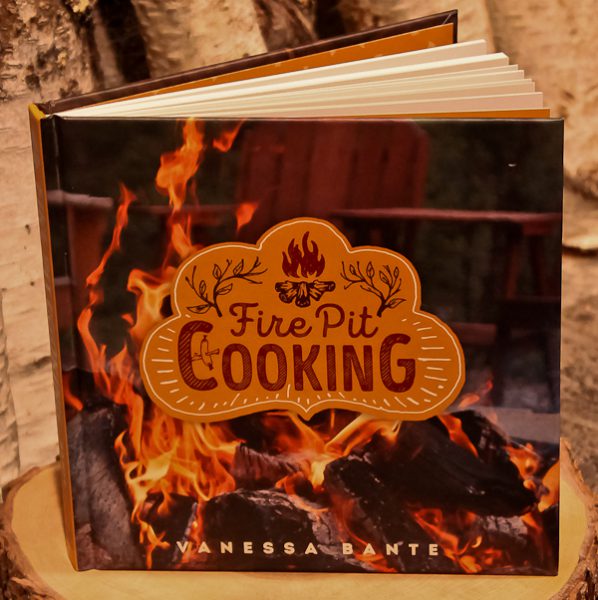 Even though we have a charcoal grill and a gas grill, my husband Bill prefers cooking over his fire pit.  I think it's his Finnish heritage that loves the woods and cooking over an open flame with wood he cut himself.  But since we live in suburbia, we have to settle for a small fire pit until he can drive up to the woods of his beloved Upper Michigan.  Or of course, go to Finland.  But that's a bit far.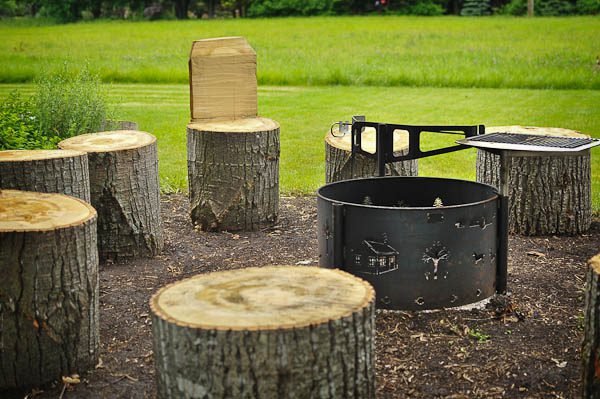 This is Bill's little haven he built in our backyard from fallen trees on our property in Michigan.  The fire pit I won in a cooking contest long ago from Cabin Life magazine.  Sometimes Bill will go sit out on the logs even when he is not cooking, and probably day-dreams about fishing and cooking over the fire.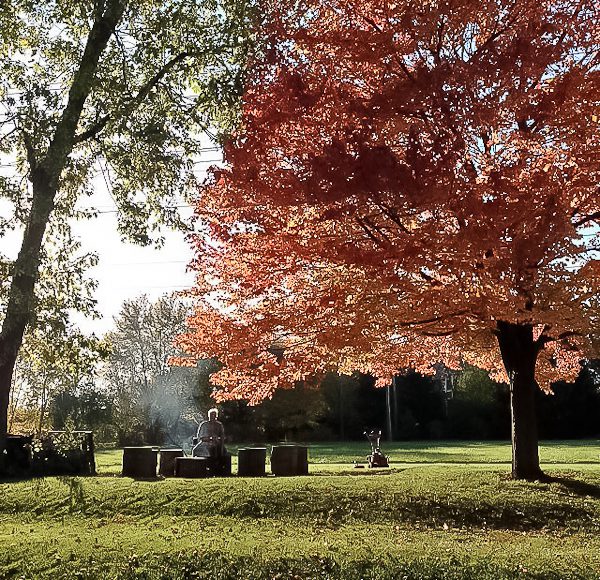 When I found Fire Pit Cooking at Chicago's cookbook store, Read It and Eat, it practically jumped into my hands.  It had Bill's name written all over it.  It may be a small book but it's filled with tips on fire building and tools to use and so many great-sounding recipes from breakfast to dessert.  Here's just a few:  Agave-Lime Shrimp Tacos, Crab-Stuffed Portobello Mushrooms, Mini-Fire Pit Sandwiches, Cedar-Wrapped Cod with Spinach Pesto, Bruschetta Pizza, Cast Iron Bananas Foster, Mini Brownie Pots, and what I made for you today, a grilled Caesar Salad.
I have been wanting to try a grilled Caesar Salad ever since I enjoyed one at a local food and wine festival.  First you need some baby romaine lettuce, or if you can't find the baby size, just find the smallest romaine pieces available, long and thin.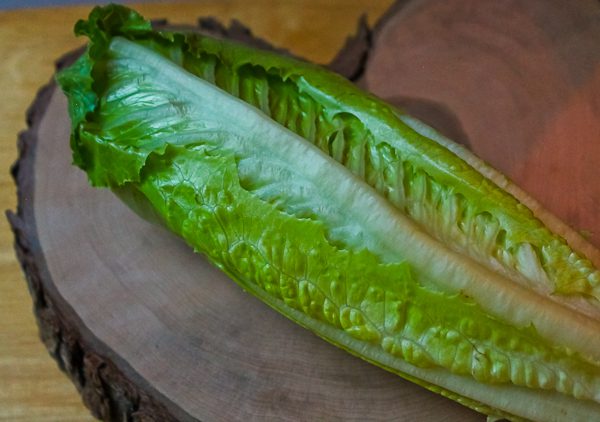 Slice each piece lengthwise, brush all over with olive oil and place in a grill basket over the fire pit.  It only takes a couple of minutes and you only want to grill it until the lettuce just starts to wilt.  Transfer the charred lettuce to a plate, season with salt and freshly cracked pepper, then drizzle with Caesar Dressing, sprinkle on shaved Parmesan cheese, and serve with croutons.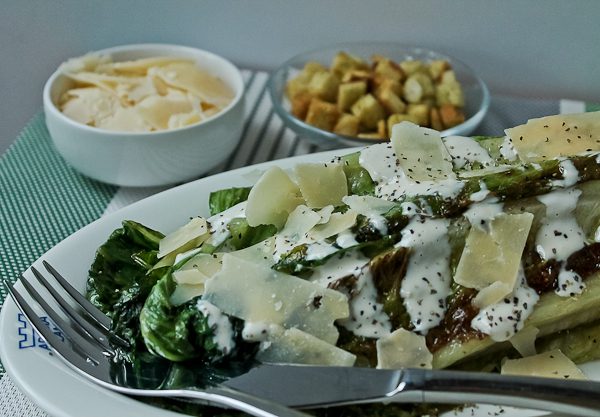 It's so delicious and different from the usual Caesar Salad.  This is such a fun treat for fall grilling to serve with a steak, chicken, or fish.  Or you could even make it a main dish salad all on its own by topping with crispy crumbled bacon and hearty blue cheese.

Grilled Caesar Salad
Author:
Fire Pit Cooking by Vanessa Bante
Ingredients
2 slices crusty bread (such as a baguette)
2 Tablespoons olive oil, divided
2 heads baby romaine hearts, halved lengthwise
Salt and freshly ground black pepper
½ cup purchased or homemade creamy-type Caesar Salad Dressing
Shaved Parmesan cheese
Instructions
Prepare fire in pit. Brush both sides of the bread with 1 Tablespoon of the olive oil and place in a grilled basket or on a rack over the hot fire pit. Toast the bread on both sides until it starts to char on the edges, about 1 to 2 minutes. Remove the bread and set aside on a plate.
Brush the outsides of the romaine pieces with the remaining tablespoon of olive oil. Place the romaine inside a grilling basket and grill cut side down over the fire pit for 2 to 3 minutes, or just until the lettuce starts to wilt.
Transfer the romaine to a plate, season with salt and pepper, and drizzle with the Caesar dressing. Sprinkle with shaved Parmesan and serve immediately with the toasted bread, which you can cut into small individual pieces or croutons. Serves 2 to 4.