It's retro recipe week!  Check out the blog from yesterday for the 1950's porcupine meatballs, one of my husband Bill's favorites.  Besides anything with meat, his next choice would be a cookie.  Bill is the original cookie monster.  In the family recipe box where I found the meatball recipe was an old-fashioned oatmeal cookie using lard, which I like using partially in a pie crust, but fifty years ago, many women used lard on a regular basis in baking.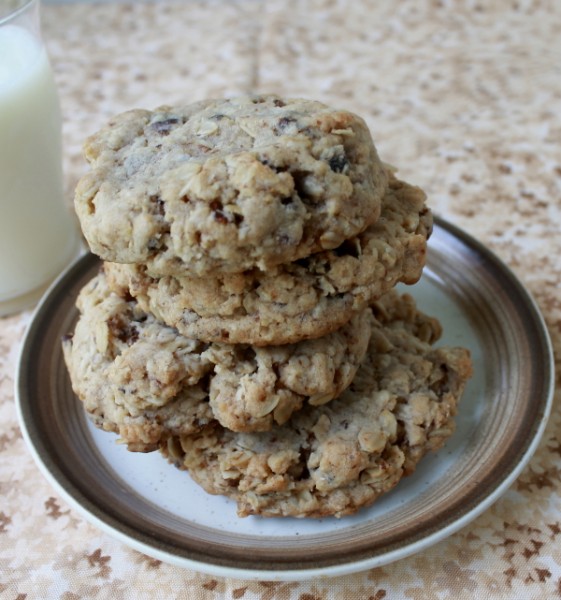 Aunt Ann's Old-Fashioned Oatmeal-Raisin Cookies
4 cups all-purpose flour
4 cups oatmeal  (old-fashioned rolled oats, not quick-cooking  oatmeal)
2 cups granulated sugar
2 cups ground dark raisins * (see note)
1 Tablespoon cinnamon
2 teaspoons baking soda
2 teaspoons salt
2 cups lard, melted and cooled slightly ** (see note)
1 cup whole milk
Heat oven to 350 degrees.  Line 1 or 2  large cookie sheets with parchment paper;  set aside.  (I highly recommend using parchment paper instead of lightly greasing cookie sheet).
In a very large mixer bowl, place flour, oatmeal, sugar, ground raisins, cinnamon, baking soda, and salt.  Mix until well combined and crumbly.  Add the melted lard and milk.  Mix again until dough is stiff and holds  together.
To form cookies, press pieces of dough into ¼-cup measuring cups.  Lift out dough with your fingers and press down slightly to form a disk and place on parchment-lined cookie sheets about 2" apart.  Bake for 13-14 minutes.  The bottom of the cookies will be golden brown and the center of the cookies will feel a little underdone, but will firm up when cooled.  Let cookies rest on the cookie sheet for 2-3 minutes before removing to a cooling rack.  Makes about 3 dozen large cookies.
*Aunt Ann had the word ground underlined, and put in parenthesis, "not chopped."  She might have used an old-fashioned meat grinder, but I used a food processor.  Measure raisins first, then grind.
**For the lard, measure it first, then melt it.  You will need a 1# box of lard, but there will be some left over to use for making a pie crust.  I found lard in the butter section of the grocery store.
The recipe can be easily halved if this is too many cookies for you.  In fact, if you don't have a very large and heavy duty mixer, I would halve the recipe.  It makes a large amount of heavy, stiff dough.  However, the cookies freeze well if you make the whole batch.  And in case you are wondering, there are no eggs in the recipe.
You can also make the cookies a smaller size, if desired; adjust cooking time as needed.  I made them large because, as I said, Bill is the original cookie monster and he likes them big.
Sneak peek for Friday:  a prize-winning blueberry coffee cake with an amusing title!