Blueberry "Boy Bait."  How's that for a recipe title?  I think only in 1954 could one get away with a name like that.  The recipe won $2,000 at the 5th Pillsbury Bake-Off by a teen-age girl from Chicago, who said she made it often for her friends, assuming at least one was a boy she liked!  Blueberry Boy Bait is a tender and delicious coffee cake that still works today, although I can't guarantee it will get you a boyfriend.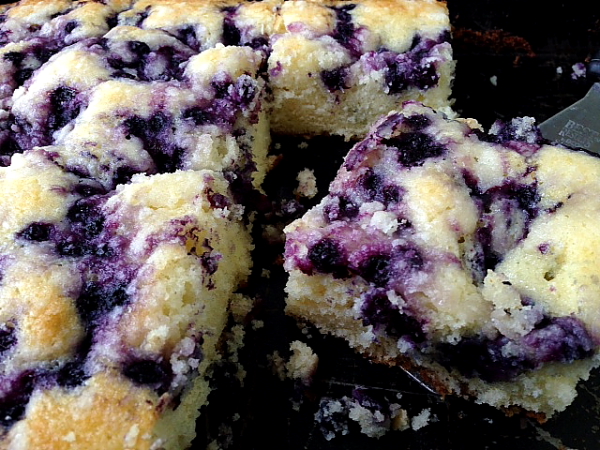 This recipe has been copied and passed around for decades and is a favorite in our family.  This is the original recipe from the Bake-Off, but I found many versions of it on the internet.  Some updated it and added peaches, or cinnamon, or lemon, but I prefer the original version,  and even the charming, if politically incorrect title.  Hey – it was the '50's – and it's really good.  I don't need any boy bait anyway.  I got mine 36 years ago and I think I'll keep him.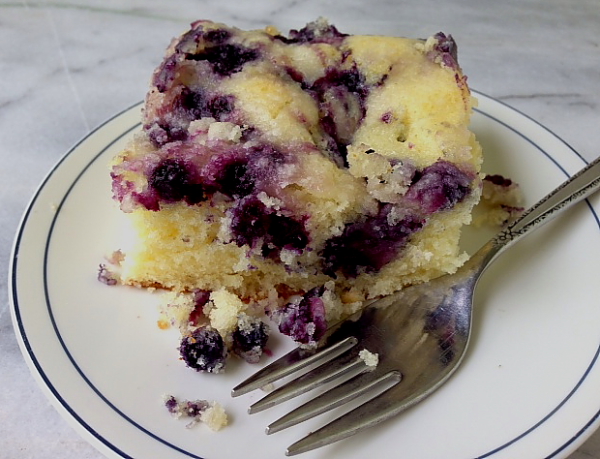 Blueberry Boy Bait
2 cups all-purpose flour
1-1/2 cups granulated sugar
2/3 cup cold unsalted butter, cut into small pieces
2 teaspoons baking powder
1 teaspoon salt
2 unbeaten egg yolks
1 cup milk
2 egg whites
1 cup blueberries (fresh or frozen; do not thaw if frozen)
Heat oven to 350 degrees.  Grease well and lightly flour a 9-by-13-inch baking pan; set aside.
Sift flour and sugar together into a large mixing bowl.  Using a pastry blender or two knives, cut in butter pieces until particles are the size of small peas.  Measure ¾ cup of mixture and set aside for topping.  Place the remaining flour mixture into the bowl of electric mixer.  Add the baking powder, salt, egg yolks, and milk.  Beat at low-speed for 3 minutes.
In another bowl, beat the egg whites until stiff, but not dry.  Fold gently but thoroughly into batter.  Spread into prepared baking pan.  Scatter blueberries evenly over batter.  Evenly sprinkle on the reserved ¾ cup of topping.  Bake for 33-35 minutes, until golden brown and a tester inserted in the center comes out clean.  Serve warm or cooled.