If you read my blog from a few days ago, you might remember that I was lucky to be in the possession of a treasured family recipe box from my husband's Finnish side of the family.  Many of the recipes are Finnish specialties, but there are also just as many from the 1940's and '50's.  I recently made three of my husband's favorites from the box and will feature them this week.  Bill is an old-fashioned meat-and-potatoes type of guy for the most part, although I do convince him every once in a while that he needs to taste some food from award-winning Chicago chefs.  But for this week, all he wanted was some retro comfort food, both sweet and savory.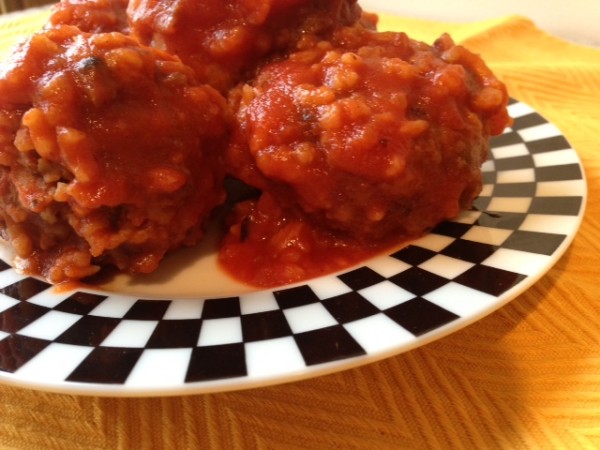 Porcupine meatballs were his first choice.  The recipe was written by his Aunt Ann on the back of an "Application for Ballots" form from August of 1952.  In fact, most of the old recipes from the recipe box are simply written on scraps of paper from various places like banks or on receipts from stores.  I think those who grew up in the depression didn't want to waste paper and would write on anything with some space.  My great-aunt used to do the same thing.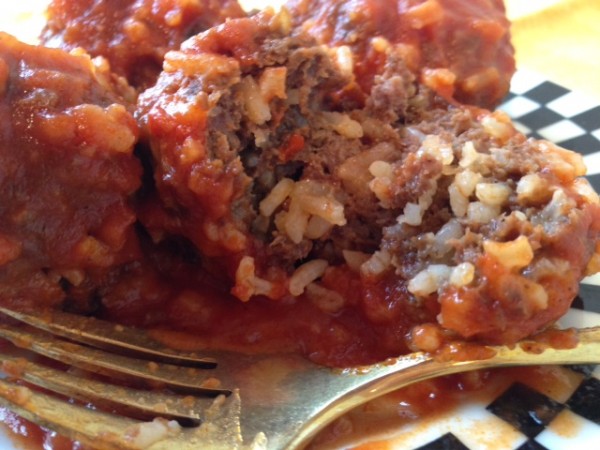 Porcupine meatballs are basically ground beef mixed with onion, raw rice, and seasoning of choice.  My mom's '50's recipe used summer savory, but this one used poultry seasoning.  A sauce is made with tomato sauce and water, added to the browned meatballs, then simmered.  Dinner is ready in under an hour.  Serve these with some crusty French bread to mop up the sauce, add a tossed salad with some Thousand Island dressing and you are back in a '50's diner.
Rice and Beef Porcupines
Meatballs:
1 pound lean ground beef
½ cup uncooked long grain white rice
3 Tablespoons finely chopped onion
1 teaspoon salt
¼ teaspoon Poultry Seasoning
¼ teaspoon black pepper
3 Tablespoons olive or canola oil, for browning meatballs
Sauce:
2 cans (8 ounces each) tomato sauce
½ cup water
For Meatballs:  Crumble meat into a mixing bowl and sprinkle on rice, onion, salt, poultry seasoning, and pepper.   Using your hands, mix ingredients together until incorporated.  Form into 10 or 12 equal-sized balls.  Heat the olive or canola oil in a medium skillet over medium-high heat until hot.  Add meatballs and brown on all sides.
Stir the tomato sauce and water into pan, spooning mixture over meatballs.  Bring to a boil, reduce heat to low and simmer, covered, for 45 to 50 minutes or until meat is cooked through and sauce has thickened, occasionally spooning sauce over meatballs as they cook.  (Serves 2-4, depending on how hungry people are – for Bill this would serve 2)
(Sneak Preview for Wednesday – Aunt Ann's very old-fashioned oatmeal cookies using lard!)