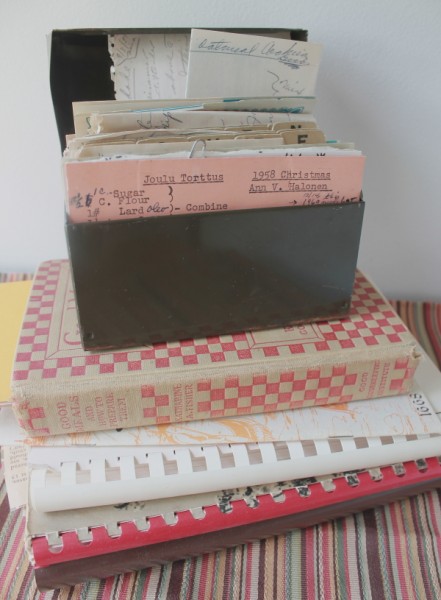 Anna Juljaana Vanni Halonen was my husband Bill's Finnish aunt, known to the family as Aunt Ann.  When Bill and his cousins recently started cleaning out Aunt Ann's home in the Upper Peninsula of Michigan, the kitchen revealed some family treasures.  If there is anything that gets my attention more than old cookbooks, it's old recipe boxes.  When Bill called to tell me Aunt Ann's recipe box and a few cookbooks were sitting on the kitchen counter, I was on pins and needles until he brought them home.  I knew there were recipes waiting to be prepared and loved, as they had for many decades, some coming from the old country where Aunt Ann's mother, Josefina Kahma Vanni lived, and where her centuries old family farm still thrives.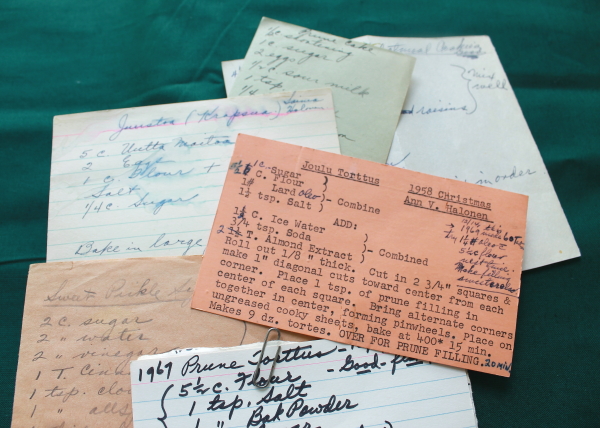 Old family recipe boxes contain more than just recipes – they are family history, memories, and they almost beg to be remembered and loved.  I could almost hear Aunt Ann saying – try this!  They were Grandma Vanni's favorite cookies; or explaining the Finnish terms to me.  I'm still not sure what "Joulu Torttus" means, although it sounds like it might be Christmas cookies, as they seem to be pinwheel cookies with a cooked prune filling.  "Uutta Maitoa" is a mystery ingredient.  There are many Finnish recipes in the box, but also some more modern comfort foods like porcupine meatballs, which I made right away for my husband who loves them.  Aunt Ann must have loved beef stroganoff because there were about six different recipes for it.  Finns love baked goods such as pies, bread, berries, cookies, and cakes, along with canning and preserving.  There are many recipes for jams, marmalades, and pickles of all kinds.  I'm going to have a busy summer, making many of Aunt Ann's recipes and passing them onto my girls and everyone else in the family.  Next on the agenda is a carrot-orange marmalade, a Finnish oven pancake with lingonberries, and an oatmeal cookie that calls for ground raisins and melted lard.
Besides the recipe box, one of the few cookbooks Aunt Ann owned was "Good Meals and How to Prepare Them," a Good Housekeeping Institute cookbook from 1927.  Inside were dozens of more recipes on paper, most very yellowed and torn, and many written on the backs of old bank deposit slips.  I could easily find her favorites in the book, as there were many turned down corners with a red check next to the selected recipe, along with the telltale splattered pages.  I wondered why Aunt Ann used this book so much when I discovered that many of the recipes were "translated from the Scandinavian languages."
Another book of interest is the "Recipes from Cherryland," given to Aunt Ann in 1947.  She used the Finnish rye bread recipe frequently, as it has comments written along the side of the page.  There was a recipe written on paper and tucked into the book that is titled "Cookie," and then the rest is in Finnish that calls for "kuppia" (cup, I think) of rasvaa, ruunia sokeria, munaa, nutsia (nuts?) sihattua joukoja, then suddenly, "cornflakes!"  I guess there is no translation for cornflakes.
I think my kitchen will be an adventurous place this summer.  When I figure out what all the Finn words mean, I'll make whatever it is and report back.  And if it's a Finnish cookie, even with American cornflakes added, I'm sure it will be good.  At least Aunt Ann thought so, and that's good enough for me.