Whenever the first snowflake hits the window, I head for the kitchen to make some kind of soup or chowder.  To me, nothing is better than soup on a cold and snowy day.  The snow started falling in my village about an hour ago, so it was time to visit the pantry and see what I had in stock.  I had a taste for seafood but only had a small can of clams and one of tiny shrimp.  It was then I remembered a recipe I hadn't made in a while.  It's a seafood chowder that actually needs the canned products because it needs the juice for part of the broth.  It also called for frozen crab meat which I happened to have from a recent trip to Trader Joe's.  I checked for the other ingredients and I was ready to go!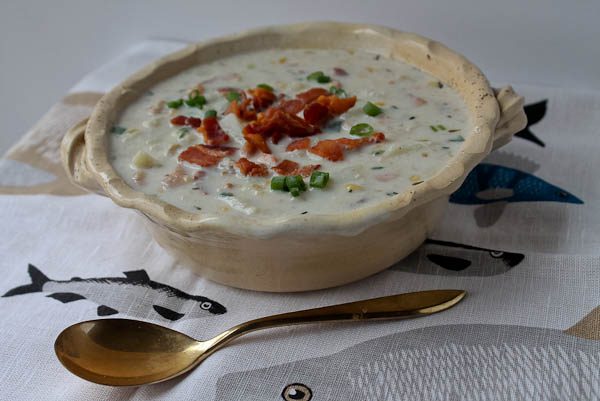 My memory served me well – it was delicious!  Besides the seafood, it has white wine, thyme, parsley, potatoes, bacon, creamed corn, garlic, green onion, milk, and half-and-half.  It tastes so good that no one will believe there are any canned products at all, plus it's easy and ready in an hour or less.

Snowy Saturday Seafood Chowder
Author:
Adapted from Year-Round-Holiday Cookbook by Marlene Sorosky
Ingredients
4-1/2 ounce can tiny shrimp, undrained
6-1/2 ounce can minced clams, undrained
8-ounce package frozen crabmeat, thawed
8 strips bacon, diced
1 clove garlic, crushed
1 cup dry white wine
1-1/2 teaspoons salt
⅛ teaspoon pepper
½ teaspoon dried thyme
3 cups peeled, diced potatoes
15-ounce can cream-style corn
½ cup chopped green onion
2 Tablespoons chopped fresh flat leaf parsley
2 cups whole milk, slightly warmed or at room temperature
1 cup half-and-half, slightly warmed or at room temperature
Instructions
Drain shrimp and crab, reserving liquid. Shred the crabmeat with your fingers and add to the shrimp and clams; set seafood and liquid aside.
Saute bacon in a soup pot until crispy. Drain off all but 1 Tablespoon of bacon drippings. Add garlic, seafood liquid, wine, salt, pepper, and thyme. Bring to a boil and add potatoes. Reduce heat to medium-low, cover and simmer gently for 20 minutes or until potatoes are tender.
Add creamed corn, green onion, and parsley. Stir in milk and half-and-half. Bring just to boil, whisking constantly. Add all seafood and cook over medium heat until very hot. Season to taste. Note: I save some of the cooked bacon to sprinkle on top of each serving along with some sliced green onion tops.