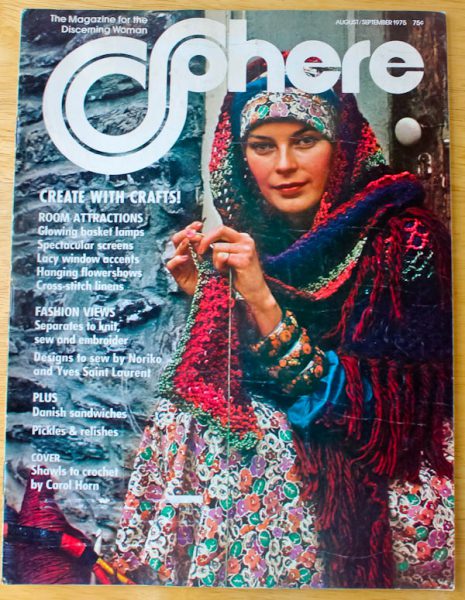 The flood of The Culinary Cellar in July destroyed all my vintage Sphere magazines, but I happened to have a couple of them upstairs by my desk ready to write for the next issues.  This recipe for Eggplant Provencal is from the August/September 1975 issue.  I think it was meant to feature vegetables available from gardens and Farmer's Markets.  But since they are all staples in most grocery stores year-round, I thought it also could be featured now as a nice vegetarian meal served with a warm baguette for Meatless Monday, or even as a side dish for Thanksgiving.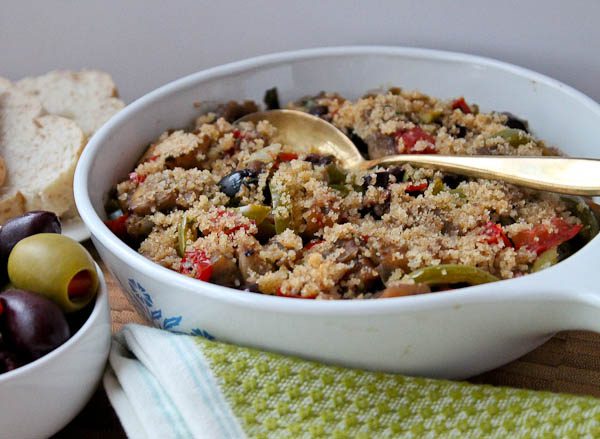 The dish features eggplant, green bell peppers, tomatoes, onion, garlic, parsley, two kinds of olives, capers, herbs, and a topping of bread crumbs, butter, and Parmesan cheese.  Yummy!
This recipe is in an article with all eggplant recipes.  In addition to the Eggplant Provencal, some others include an Eggplant Ragout, Eggplant Parmesan, Chinese-Stuffed Eggplant Hors d'Oeuvres, Eggplant and Tomato Casserole, ones stuffed with oysters, meat-stuffed, and some with sauces like mint.  There are enough ideas for at least a month!
Other articles featured pickle recipes, how to make beautiful open-faced sandwiches, more than the usual craft and sewing projects, and one very special recipe for the "Blackhawk Salad" from the famous Blackhawk Restaurant in Chicago.  Sphere editors claimed it took their special powers for owner Don Roth to reveal his original recipe served exclusively in his Chicago eateries.  He called it his spinning salad with secret ingredients, but the secret is out that the exceptional flavor was from the blending of zesty seasonings with a creamy blue cheese mixture.  It's a really long recipe (took up half a page!).
Now I am caught up with the Sphere monthly blogs and will have November 1975 issue and recipe up soon.

Eggplant Provencal
Author:
Sphere magazine, August/September 1975 issue
Ingredients
1 cup chopped onion
1 clove garlic, finely chopped
¼ cup olive oil
2 pounds eggplant, pared, cut into ¾-inch cubes (about 8 cups)
2 medium green bell peppers, cut into ½-inch strips
2 medium tomatoes, chopped (about 2 cups)
⅓ cup snipped parsley
¼ cup chopped pitted ripe olives (I used kalamata)
¼ cup chopped pimiento-stuffed olives
1 Tablespoon drained capers
1 teaspoon salt
½ teaspoon pepper
½ teaspoon dried basil leaves
½ teaspoon dried oregano leaves
½ cup fine dry bread crumbs
2 Tablespoons butter, melted
2 Tablespoons grated Parmesan cheese
Instructions
Heat oven to 350 degrees. Have a shallow baking dish ready.
Cook and stir onion and garlic in olive oil in Dutch oven over medium heat until tender, about 5 minutes. Stir in eggplant and green peppers; cover. Cook, stirring occasionally, for 10 minutes.
Stir tomatoes, parsley, olives, capers, salt, pepper, basil, and oregano into eggplant mixture. Spoon mixture into ungreased baking dish.
Mix bread crumbs, butter, and cheese. Sprinkle over eggplant mixture. Cover with lid or foil and bake until eggplant is tender and mixture bubbles, about 30 minutes. Remove lid or foil and bake an additional 7 to 10 minutes until browned. Serves 8.