Ever since the flood in July washed away most of my cookbooks, the kindness of friends and strangers has astounded me with their generosity of sending books to replenish The Culinary Cellar.  But sometimes there will be a little something about certain cookbooks that gives me goosebumps.
I received an email from a woman named Jackie who said her sister had a friend, who happened to also be a friend of mine, who died in 2013.  Jackie's sister read about or heard from someone, about the flood. That's when Jackie decided she would email me and ask if I would like her cookbooks since she was moving to a retirement community with not as much space for books.
Not only did Jackie's kindness for a stranger shine through, but she never would have even known about the flood had her sister and I not had the same friend in common.  You see, our friend in common was a remarkable woman and avid cook named Suzie Sisson.  You can read all about Suzie here because I wrote a blog about her after her passing, and how we met because of our mutual love of cooking and cookbooks.  My guess is, Jackie's sister might have found out about the flood from John, Suzie's husband.  John called me after Suzie's passing and said he would like to give me some of Suzie's cookbooks and that she would have loved that I had them.  And I did.  And then the flood washed them away which made me sad beyond words to lose Suzie's books.
Here's where the goosebumps come in, because I believe Suzie wasn't about to let me feel bad about losing the books.  She was a very determined kind of woman and would say, okay, so start over.  I truly believe in my heart a little whisper from the spirit of Suzie made sure Jackie would hear the story and offer the books.  Cookbooks are not just pieces of paper and binding.  They all tell stories somehow, be it through a special recipe or just a feeling of holding it and knowing someone else loved it and cooked from it.
It turned out that Jackie has a son who lives about 2 minutes from me, so we met there so she could pass on the books.  Jackie was a very sweet person and even though we only met for a brief time, I could tell she had a big heart.  Sometimes you can just feel that about people.
I drove back home and spent over an hour going through the two boxes of cookbooks and magazines.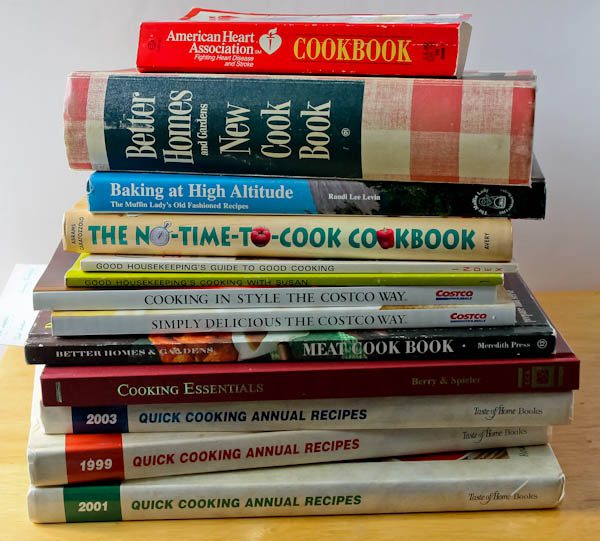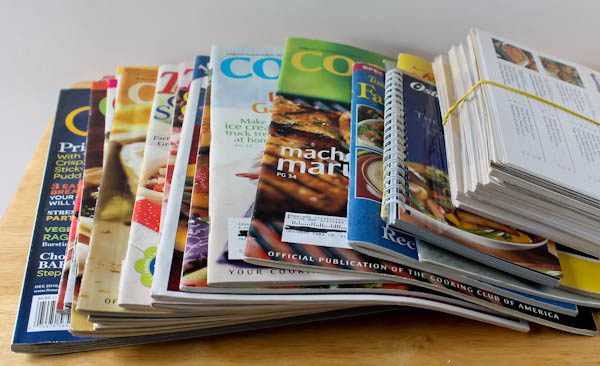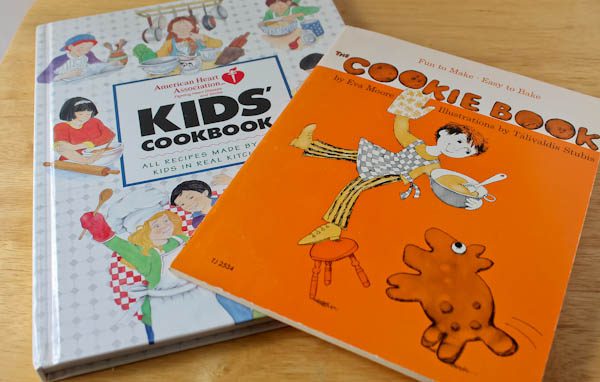 I love these two kid's books because when my precious granddaughter gets a little older, we will be cooking together!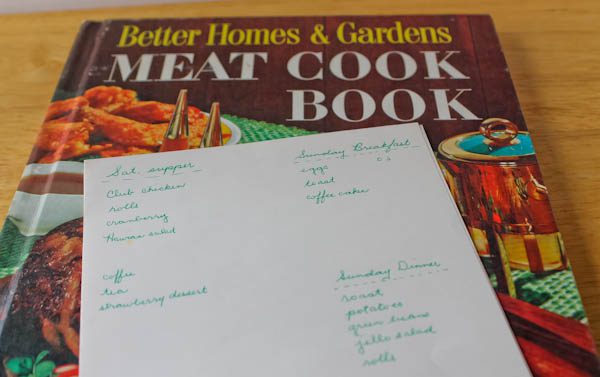 I had this Better Homes meat cookbook of my mom's before the flood, and am very happy to have a copy again.  I found a menu planner inside.  I love finding things like menus, shopping lists, and notes inside old cookbooks!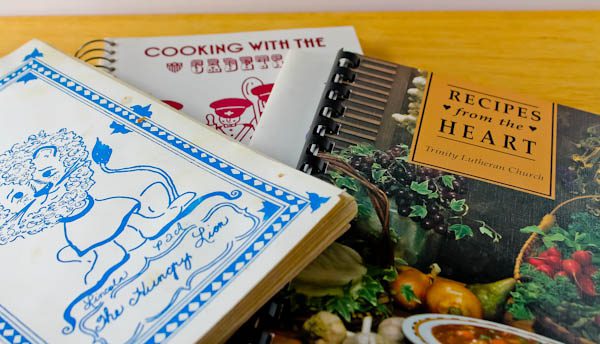 I was thrilled to find some of my favorite cookbooks, those from churches, schools, and community organizations.  In these books, you can find family recipes, some even from their mother's and grandmother's – and what's better than that?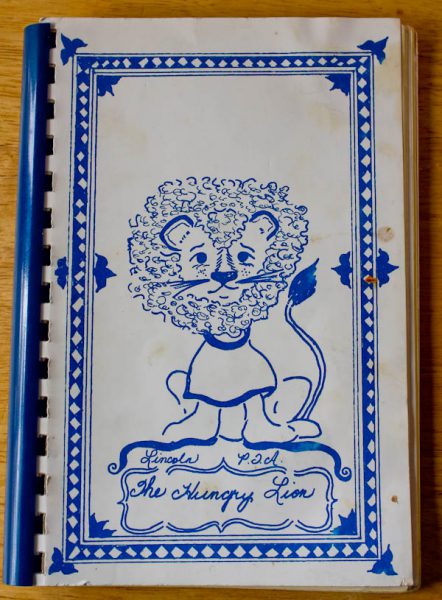 This one from a school PTA group got my attention because even the cover was splattered with cooking ingredients.  Someone loved and used this one!  I went searching for a "grandma" recipe and found Grandmother's Oatmeal Cookies, from a woman named Wilma who said she was "Andy's Grandmother." A short blurb above the recipe said the cookies were a staple in their house.  How could I not make them?  Since they are refrigerator cookies, I made the dough before I went to bed and rolled them up into two logs in wax paper to chill overnight.  Next day it was simply slice and bake.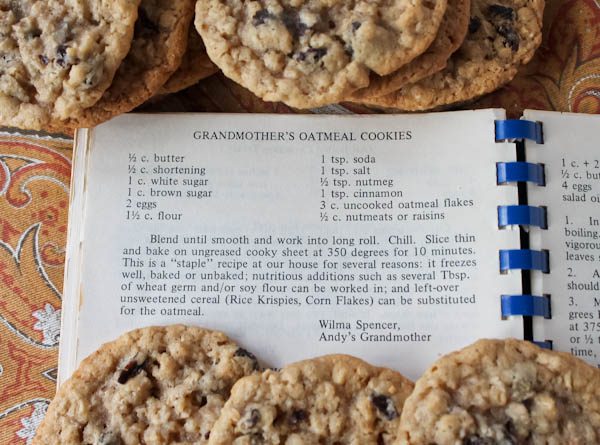 The cookies are made with half butter, half solid shortening, white and brown sugars, and have some cinnamon and nutmeg.  It called for nuts or raisins and I decided on raisins for these.  They are delicious!  Nice and crispy edges with a chewy center and beautiful color.
Anyone out there like to have milk with their cookies?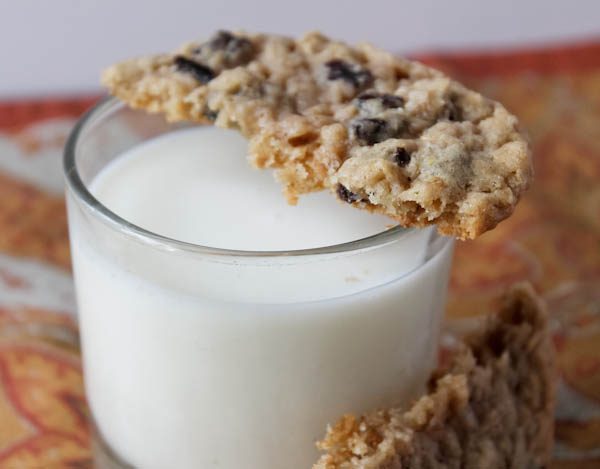 And who will admit to being a cookie dunker? Me! Umm… yes, I am a cookie dunker for some cookies, oatmeal being one of them.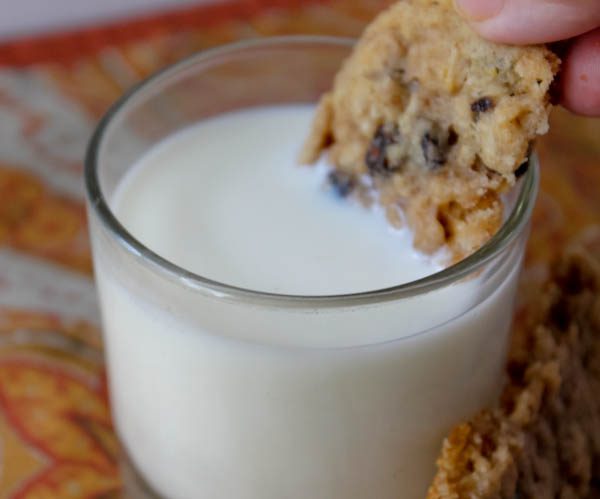 One last thing.  Suzie loved the Pillsbury Bake-Off contest and was a contestant herself.  The contest is actually going on at this moment but the deadline is next week, November 10th.  If you love to cook and would like to take a chance at winning $50,000 and be on the Food Network, go for it.  I know Suzie would encourage you to try.

Grandmother's Oatmeal Cookies
Author:
Wilma Spencer, Andy's Grandmother, from the Hungry Lion PTA cookbook
Ingredients
½ cup butter, softened
½ cup solid vegetable shortening
1 cup white sugar
1 cup packed brown sugar
2 eggs
1-1/2 cups all-purpose flour
1 teaspoon baking soda
1 teaspoon salt
1 teaspoon ground cinnamon
½ teaspoon nutmeg
3 cups uncooked old-fashioned oatmeal (not quick-cooking)
½ cup chopped nuts or raisins
Instructions
In large bowl of electric mixer, cream butter and shortening with both sugars until well-blended and fluffy.
Add eggs, one at a time, beating well after each addition. Add flour, soda, salt, cinnamon, and nutmeg and blend well. Stir in oatmeal and nuts or raisins.
Form dough into two logs and wrap in wax paper. Chill overnight or until very firm.
Heat oven to 350 degrees F. Slice and bake cookies on ungreased or parchment-lined cookie sheets for about 10 minutes, depending on how thick you slice the dough. Let cookies sit on baking sheet for a couple minutes before removing to a wire rack to cool completely.