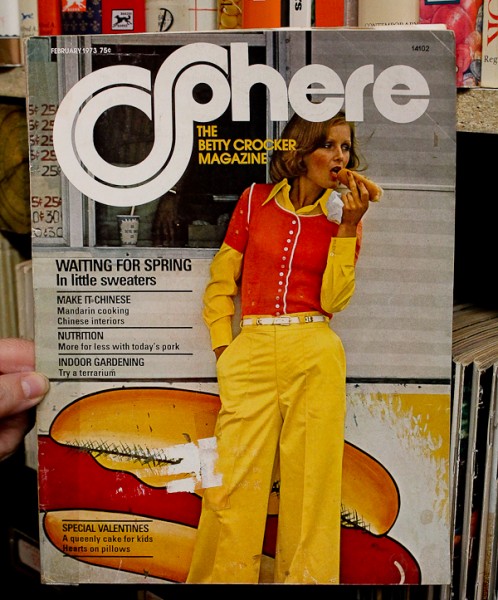 I really got behind on my Sphere magazine reports these last few months, so this will be catch-up week!  I am up to February 1973; Wednesday will be March 1973, and by Friday I will be caught up with the April 1973 issue.
Even though the cover shows a hot dog along with an outfit that looks like a hot dog, the February issue was filled with Chinese cooking, decorating, and collecting works of art.  It's filled with bamboo, porcelain, and exotic Mandarin cooking.  The Mandarin dinner menu consisted of Hot-Sour Soup; Steamed Dumplings with sweet and hot sauces; Ginger Shrimp with Floating Islands; Moo Shu Pork with Mandarin Pancakes; Chicken and Vegetables over Sizzling Rice; and Glazed Fruit.  Even an ad in the magazine for Karo syrup had three (Americanized) Chinese recipes for Peking shrimp, Chinese Barbecue, and Quick Sweet and Sour Pork.  There were other articles in this issue such as a Valentine's Day cake that kids could make; a section of adorable 1970's Spring clothing; one dish meals with lamb; how to make a terrarium (remember when they were all the rage?); cooking with garlic (more lamb); cooking with pork; and a stuffed cabbage recipe on the "His Dish" page.
But the recipe that I kept going back to was the "Steamed Dumplings" for a couple of reasons.  Not only do I love steamed dumplings, but I have a gorgeous Joyce Chen bamboo steamer that I hadn't used in a long time, probably because it was way up on the highest shelf of my cookbook shelves that I can't possibly reach.  My daughter Kristina and her long arms came to the rescue.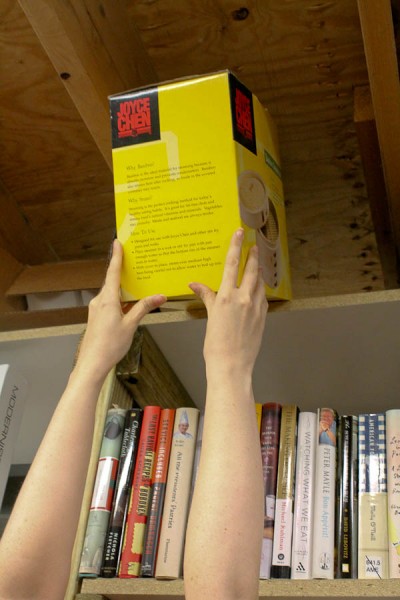 This steamer is gorgeous!  I couldn't wait to get started.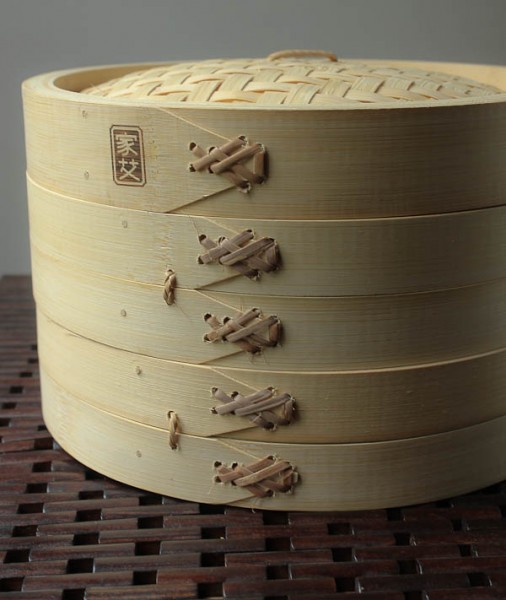 Steamed dumplings make a perfect little appetizer.  They can be fully prepared and refrigerated up to 24 hours ahead and then steamed right before the guests arrive, or if you want cocktails and some conversation first, start steaming when you feel they will be the right time to serve your guests; they take 40 minutes from steamer to serving trays.  The delicious dipping sauces can also be prepared ahead of time.  The shape of the dumplings is significant to the dish.  Steamed dumplings can be round, oblong, or crescent-shaped and, to the experienced Chinese-food watcher, each shape signals a different mixture inside.  They are not to be cut up, rather they should be picked up whole with chopsticks and eaten one-by-one.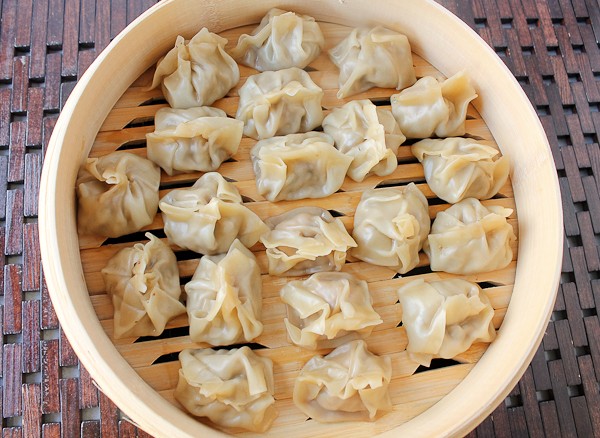 Place the prepared dumplings inside the steamer basket then set it over simmering water in a wok and add the lid.  That's it!  Be sure and check the water level periodically to make sure it hasn't boiled away.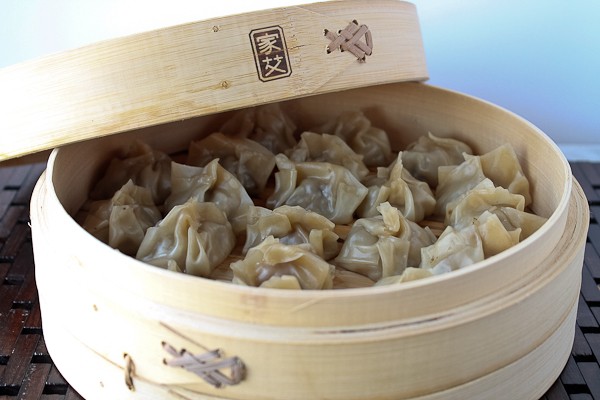 Serve the dumplings with dipping sauces, in this case there is a sweet sauce and a sesame hot sauce (my favorite!)  There is a recipe for making the dumpling dough from scratch or you can use prepared egg roll wrappers cut into 4 squares.  (Or use won ton wrappers which is what I did even though they were smaller, but I liked that size.)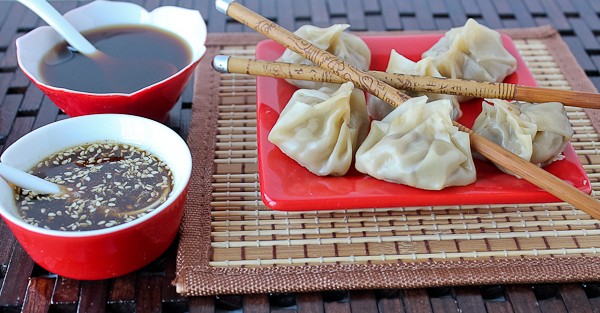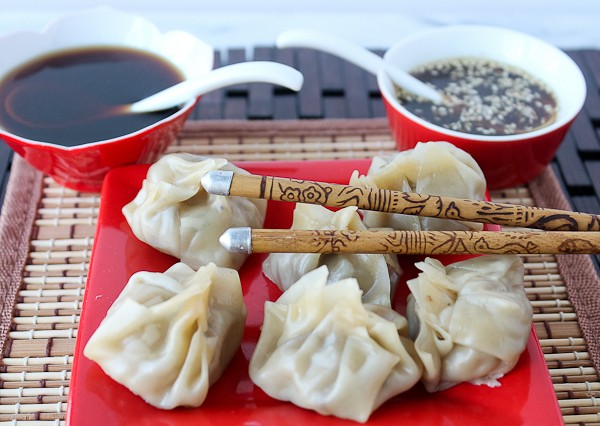 There is no doubt I will be making these delectable dumplings again, along with perusing through my shelf of Chinese cookbooks in search of more bamboo steamer recipes.  I loved using the steamer and don't know why I haven't used it more often.  Give these a try!

Steamed Dumplings
Author:
Sphere Magazine, February 1973
Ingredients
Dumpling Dough - (recipe follows)
¼ ounce dried Chinese mushrooms (about ¼ cup)
¼ pound ground uncooked pork
2 Tablespoons finely chopped Chinese or green cabbage
1 Tablespoon finely chopped green onion
1 Tablespoon finely chopped water chestnuts
¼ teaspoon finely chopped peeled fresh ginger
1 teaspoon cornstarch
2 teaspoons soy sauce
4 or 5 large cabbage leaves
Sweet and Hot Sauces - (recipes follow)
Dumpling Dough:
2 Tablespoons boiling water
¼ cup all-purpose flour
Stir water into flour until mixed. Knead on slightly floured board until smooth and satiny, about 10 minutes; cover. Let rest 30 minutes. Keep covered until ready to use.
Sweet Dipping Sauce:
2 Tablespoons sugar
3 Tablespoons white vinegar
1 Tablespoon soy sauce
Stir together sugar, vinegar, and soy sauce until sugar is dissolved. Store at room temperature no longer than 48 hours. Makes about ⅓ cup.
Hot Dipping Sauce:
1 Tablespoon cayenne pepper
2 Tablespoons sesame oil
½ teaspoon sesame seeds
Stir together pepper, oil, and seeds. Store at room temperature no longer than 48 hours. Stir just before serving.
Instructions
Make dumpling dough. While making dough, place mushrooms in large bowl; cover with cold water. Place plate and water-filled bowls on top to keep mushrooms under water. Let stand 30 minutes. Drain and chop finely. (Note: Refrigerated egg roll wrappers can be substituted for the dumpling dough. Cut each wrapper into 4 squares. Place pork ball in center of each square; fold dough over pork ball to make triangle. Moisten edges; pinch edges well to seal. I used won ton wrappers and less filling, which made more dumplings.)
Mix mushrooms, pork, chopped cabbage, onion, water chestnuts, and ginger. Stir together cornstarch and soy sauce; stir into pork mixture. Shape by slightly rounded tablespoons into balls; place on waxed paper and refrigerate.
Shape dumpling dough into roll 6 inches long. Cut into twelve ½-inch pieces. (keep pieces well covered at all times as dough dries out very quickly.) Roll each piece on lightly floured board into 3-inch circle. Place pork ball on center of each circle; fold dough over filling and twist to seal.
Place dumplings in shallow baking dish; cover. Refrigerate no longer than 24 hours, or you can proceed immediately with cooking.
Pour water to depth of 1 inch in wok or deep saucepan. Place steamer over water so that the rack is above water. (If you do not have a steamer, a Dutch oven can be used. Place 3 or 4 custard cups upside down in Dutch oven; balance rack on top of custard cups and steam dumplings as directed.) Arrange single layer of cabbage leaves on steamer rack; arrange dumplings on leaves. Heat water to boiling. Cover steamer; keep water boiling over low heat. Steam dumplings for 40 minutes. Serve dumplings in steamer or arrange on cooked cabbage leaves on platter. Pass dipping sauces.