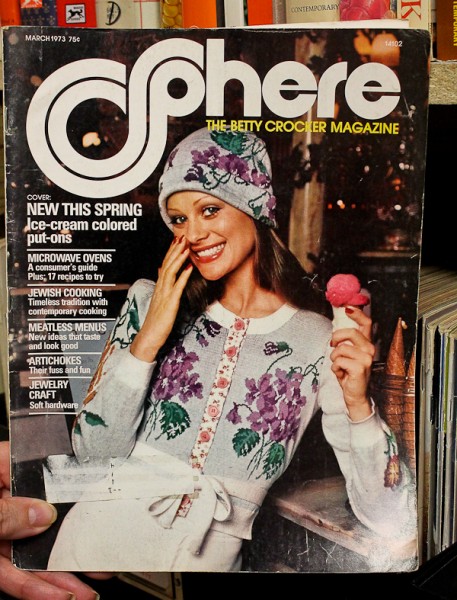 It's hard to imagine, but in 1973 microwave ovens were not the norm in every kitchen.  They were just starting to boom about then and Sphere picked up on it by publishing "The New Wave in Cooking: Microwave Ovens" in this March issue.  They called it "the most important kitchen innovation of the century," and at the same time reminding us that "they are only meant to supplement, not substitute for, your own full capacity range."  At the time, they cost between $350 to $400 which was a lot of money back in 1973 for something the average cook was not as familiar with as their own oven range.
Articles to follow included meatless meals, kids making their own "pudgy" pizza topped with ground beef, tomatoes, onions, and green peppers;  and several pages of crepe recipes (crepe pans were also the rage at this time, and I still have mine!)  and an article with about every way to stuff an artichoke.  On the "His Dish" page the recipe is for Souvlakia, Greek shish kabobs, from a Chicagoan who prepares them every year for a Greek Orthodox Festival using over 2,500 pounds of meat, enough to feed 5,000 attendees.
My favorite article was "Secrets from the Kitchen of a Jewish Mother," written by her son who gives away some of her secret family recipes.  They include chicken soup with matzo balls, sweet-sour meatballs, brisket with gravy, spiced applesauce, potato kugel, orange-glazed beets, and the one I wanted to make, a honey cake with lemon, brandy, cinnamon, coffee, ground almonds, a lemon glaze that is soaked into the cake, and then topped with more ground almonds.  It can be made in a tube pan or bundt pan.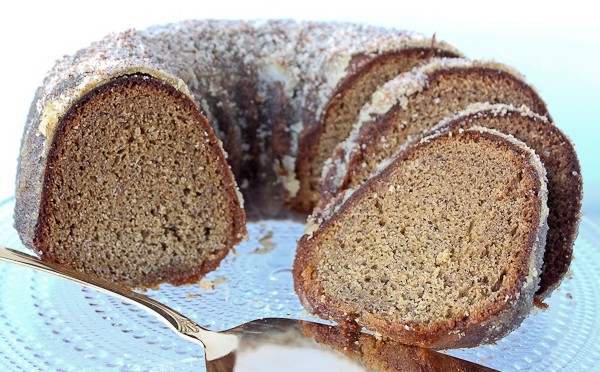 The cake is skewered with a fork while still warm and the glaze spooned over and brushed around the cake, then garnished with more ground almonds. Make it a day ahead to give the cake time to absorb the glaze.  I also found that the cake needs ice cream, preferably coffee ice cream. Vanilla would do, but coffee brings out the coffee flavor even more that's in the cake which uses cold brewed coffee and a little fresh ground coffee beans.  Since the cake has quite a bit of ground almonds and honey, the cake is dense and I think really needs the addition of ice cream.  It's not like a moist and gooey layer cake with lots of icing.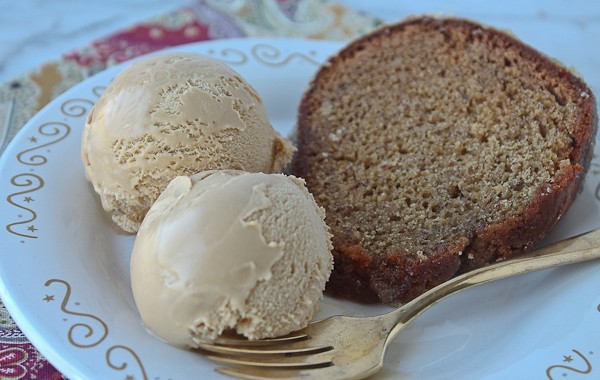 Honey Cake
Author:
Sphere Magazine, March 1973
Ingredients
½ cup salad oil or canola oil
1 cup sugar
4 eggs
1 Tablespoon grated lemon peel
3 Tablespoons lemon juice
1 cup honey
2 Tablespoons brandy (or cold coffee can be substituted)
3-1/2 cups all-purpose flour
1-1/2 teaspoons baking powder
1-1/2 teaspoons baking soda
½ teaspoon salt
2 teaspoons ground cinnamon
1 teaspoon fresh ground coffee
⅔ cup cold brewed coffee
2 cups ground almonds (or other nuts)
Lemon glaze- recipe follows*
¼ cup ground nuts for garnish
*Lemon glaze: Mix together 1 cup sugar and ⅓ cup lemon juice until combined.
Instructions
Heat oven to 350 degrees. Grease and lightly flour a tube pan or bundt pan; set aside.
Beat oil, sugar, eggs, lemon peel, lemon juice, honey, and brandy in large mixer bowl on medium speed for 2 minutes. Mix in flour, baking powder, baking soda, salt, cinnamon, and ground coffee alternately with cold coffee. Beat 2 minutes on high speed, scraping bowl occasionally. Fold in 2 cups ground almonds. Pour into prepared pan.
Bake until wooden pick inserted in center comes out clean, about 50-55 minutes. Cool in pan 15 minutes; remove from pan and prick top of cake carefully with a fork. Drizzle with lemon glaze. Garnish with the ¼ cup ground almonds.