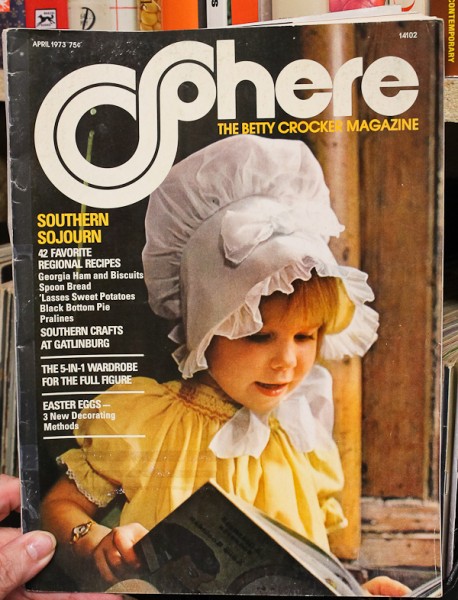 Much of this April 1973 issue is dedicated to Southern cooking, and since my daughter Kara and her husband recently moved to the South, I couldn't wait to make a dish in honor of their move.  Not only that, but today also happens to be their one-year wedding anniversary!  You can read all about their wedding here and see some lovely photos!
This "Southern Sojourn" issue has 42 regional recipes, crafts, and photos of some gorgeous Southern homes. One section has a buffet menu from Savannah that includes mint juleps, crinoline cheese squares, baked ham, shrimp pilau, squash casserole, hot biscuits, and strawberries Savannah-style.  A Sunday dinner menu begins with Plantation fried chicken and milk gravy, snap beans and bacon, 'lasses sweet potatoes, tomato aspic salad, pimento stuffed celery, souffle spoon bread, deep dish blackberry pie with lemon-rum hard sauce, and of course, sweet tea with mint.
The "Southern Fish Stories" run the gamut from fried catfish with hush puppies, snapper chowder, scalloped oysters, deviled shrimp, to baked bluefish.  Abundance of seafood is one of the glories of the South.  The best fried catfish and hushpuppies I have ever had was at a 4th of July party at the lovely lake home of Kara's in-law's. What I wouldn't give to have them for dinner tonight!
Since Southerners believe there is nothing like hot breads, especially warm and fluffy biscuits, there are recipes for biscuit shortcakes, sweet potato biscuits, and quick biscuits using self-rising flour and lard.  There is also a "Homage to the Kernel:  Hominy, Grits, and Cornmeal," with recipes for Virginia Spoon Bread, Bacon-Fried Grits, Grits Souffle, a Grits Ring with Creamed Chicken, and a cornbread dressing for Thanksgiving turkey.
The South has a sweet tooth.  In antebellum days all that butter, cream, sugar, pecans, and fruit at hand produced great dessert recipes.  Superb cakes, pies, cobblers, puddings, and cookies are among the oldest and most cherished of Southern traditions.  The section called "Dissertation on Desserts" includes Charleston Benne Cookies; Southern Lane Cake; Charlotte Russe; Sweet Potato Pie; Pralines, and Black Bottom Pie.  I decided to make the pie in honor of Kara and Robert, but also because my Bill has been asking for a pie lately.  It turned out beautiful and so delicious with the silkiest of texture!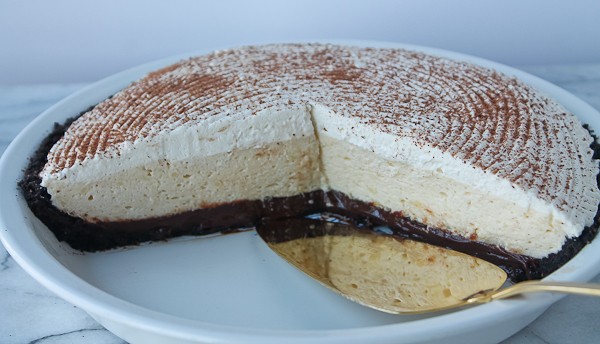 The pie is a little time-consuming to make with all the layers and chilling time but worth the effort.  Southern author Marjorie Kinnan Rawlings pronounced Black Bottom Pie the most delicious pie she'd ever eaten, and while fussy to make, well worth the time needed to create such a memorable party or holiday dessert.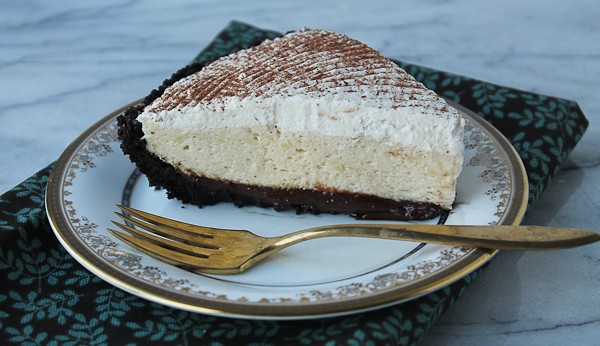 Happy Anniversary Kara and Robert!  I wish we could share this pie with you!  But since you are now a Southern cook, Kara, I'm sure you will be able to make it yourself.  Yankee girls can do that, you know…
Black Bottom Pie
Author:
Sphere Magazine, April 1973
Ingredients
Wafer Crust: recipe follows
1-1/3 cups sugar
1-1/2 Tablespoons flour
1-1/2 cups milk
3 eggs, separated
2 squares, (1 ounce each) unsweetened chocolate, melted
1-1/2 teaspoons vanilla
1 envelope unflavored gelatin
¼ cup water
¼ teaspoon cream of tartar
⅓ cup sugar
Topping: recipe follows
Grated unsweetened chocolate, for garnish
Wafer Crust:
1-1/2 cups chocolate wafer crumbs (about 25-27 cookies)
¼ cup butter, melted
Heat oven to 325 degrees. Mix crumbs and melted butter. Press into a 9-inch pie plate. Bake for 5 minutes; cool.
Topping:
1 cup chilled whipping cream
2 Tablespoons confectioner's sugar
1 teaspoon vanilla
Beat chilled whipping cream and confectioner's sugar in chilled bowl until stiff. During last minute of beating, add vanilla.
Instructions
Make wafer crust; cool. (see above)
Mix 1-1/3 cups sugar and the flour in saucepan. Beat milk and egg yolks; stir into sugar mixture. Cook over medium heat, stirring constantly, just until mixture boils. Mix 1 cup of this custard mixture into a small bowl. Mix in melted chocolate and 1-1/2 teaspoons vanilla. Spread evenly over cooled crust; set aside in refrigerator.
Sprinkle gelatin on the ¼ cup water to soften. Stir into the remaining hot custard in saucepan. Place pan in bowl of ice and water or in refrigerator. Stir occasionally until the mixture mounds slightly when dropped from a spoon.
Beat egg whites and cream of tartar until foamy. Beat in ⅓ cup sugar, 1 Tablespoon at a time. Continue beating until stiff and glossy. Do not underbeat. Beat in 1 Tablespoon vanilla; fold custard mixture gently into egg whites. Pour into crust; spread evenly over chocolate layer. Refrigerate at least 1 hour.
Prepare topping (see above) and spread over custard filling. Sprinkle with grated chocolate and refrigerate at least 12 hours. (Don't try to skimp on this! It needs all that time to get the beautiful consistency and to make it a dream to slice.)