My cookie monster husband Bill, loves to have cookies to munch on for weekend sports watching, or if there are no cookies then it's peanuts or some kind of candy.  I decided to add these favorite items into a peanut butter cookie base, including, chocolate chips, peanuts, raisins, and mini M & M's.  Many trail mixes contain these ingredients so why not call them Trail Mix Cookies?
They were a big hit with Bill, and now he's ready for the weekend.  They are the kind of cookies kids would love too, especially with the bright and fun colors of the M & M's.  They are nice and chewy with crispy edges and all the extras taste great together.  I'll be making these again!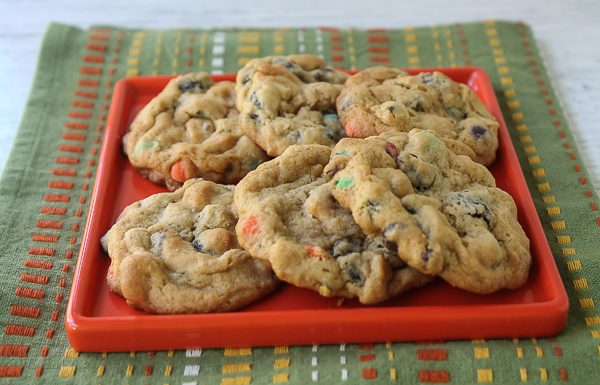 Trail Mix Cookies
Ingredients
1 stick (1/2 cup) unsalted butter, softened
½ cup creamy peanut butter (not the natural or freshly made kind; they are too watery)
1 cup firmly packed light brown sugar
1 large egg
1 teaspoon vanilla extract
¾ cup all-purpose flour
½ teaspoon baking soda
1 cup dark raisins
⅔ cup salted roasted peanuts
½ cup semisweet chocolate chips
½ cup mini M & M's
Instructions
Heat oven to 375 degrees. Have ungreased cookie sheets ready.
In large bowel of electric mixer, cream together butter and peanut butter. Beat in brown sugar, a little at a time, beating after each addition. Beat in egg and vanilla and mix well.
Mix in the flour and baking soda until smooth and blended. Add raisins, peanuts, chocolate chips, and M & M's.
Drop by rounded tablespoons onto cookie sheets, and bake for about 8 to 9 minutes, or until the tops begin to look a golden color.
Remove from oven and let cookies sit on the baking sheet for 2 minutes before removing to a wire rack to cool completely.