We are going through an extensive home renovation, all of the outside and part of the inside.  Everything is close to being done, and it looks like by Thanksgiving, we can sit back and enjoy it all for the holidays  I'll post photos when it's completed. After living 40 years in our home, it needed a serious update!
We have the best workers.  Hardworking, kind, polite, and seem to have energy to spare.  It is easy to tell they are experts and love what they do.  In the past, especially when it was hot out, we gave then endless supplies of water, gatorade, and snacks.  Now that it's cooler outside, I decided to warm up the kitchen and bake them some cookies.  Those who have been through this process before, might remember that sometimes it gets so hectic, grocery shopping can get delayed here and there.  I searched my pantry to see what I had on hand, since my car is in the garage and I can't get out with equipment and bricks on the driveway.  I found all the ingredients for the classic chocolate crinkle cookies.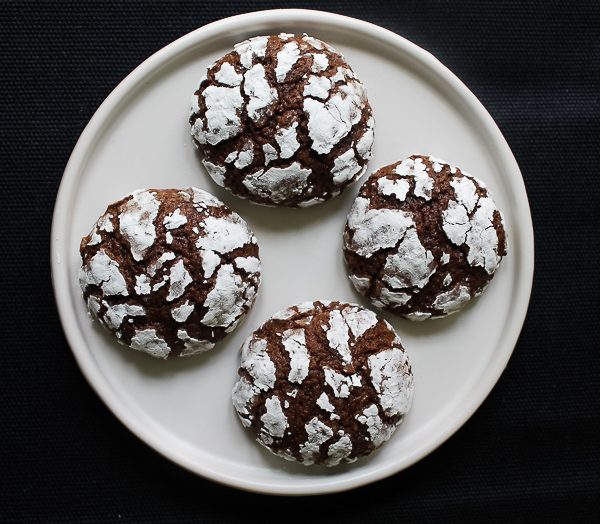 The cookies use squares of melted unsweetened chocolate plus a little chocolate extract.  The dough is made with the usual cookie ingredients and chilled for a few hours before forming into balls, rolled in confectioners' sugar and baked.  Super easy, taste great, and they look so cute.
I'm sure before everything is completed, I'll be making more cookies or quick breads for the workers.  They deserve it and we so appreciate them.

Chocolate Crinkle Cookies
Ingredients
2 ounces unsweetened chocolate squares
2 large eggs, beaten
1 cup granulated white sugar
¼ cup canola or vegetable oil
1 teaspoon vanilla extract
1 teaspoon chocolate extract
1 cup all-purpose flour
¾ teaspoon baking powder
¼ teaspoon table salt
½ cup confectioners' sugar for rolling dough balls
Instructions
Melt the chocolate in the top of a double boiler set over simmering water. Set aside to cool slightly while preparing other ingredients.
In a large bowl combine eggs, sugar, oil, and extracts; whisk to combine,. Stir in melted chocolate; set aside.
In another bowl, stir together flour, baking powder, and salt. Add chocolate mixture to flour mixture, stirring until well combined. Cover and refrigerate at least 3 hours,
, Heat oven to 350 degrees F. Spread the confectioners' sugar on a plate; set aside., Scoop up walnut-sized pieces of dough and roll in confectioners' sugar to cover each ball.
, Place on parchment-lined cookie sheets, or lightly greased sheets, Bake for about 9 minutes or until the edges are just firm.
Remove from oven and let cookies rest about 1 minute before removing to a wire rack to cook completely. Makes about 2 dozen.