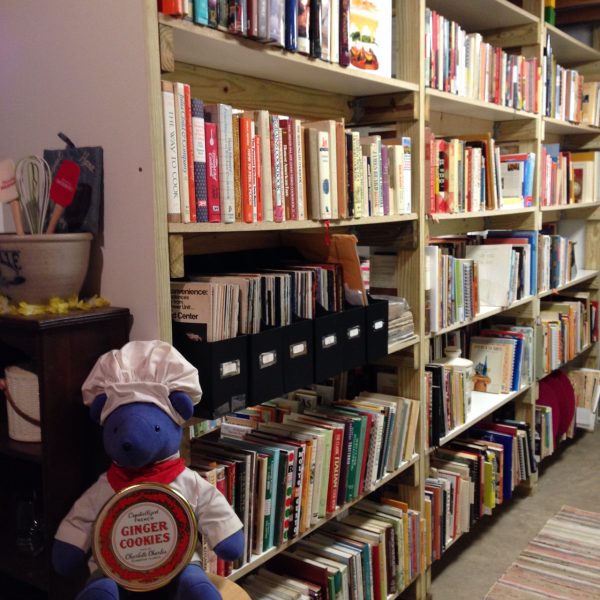 It's still hard for me to believe that this was the first shelf seen when walking down the stairs to my Culinary Cellar.  It was two years ago this summer that all of this and thousands more cookbooks and recipes were under seven feet of water and mud after a devastating and freak flood.  To me, it feels like yesterday.  But for my loyal readers, you know that it all changed and the cellar has come back to life.  Hundreds of incredibly generous cookbook lovers across country and a few around the world have sent over 2,000 cookbooks to help rebuild, and they are still coming on a regular basis.  I've had at least a couple hundred more sent just in the last month.  The love of cooking is always there for many people, and the desire to help a fellow cookbook collector is the most heart-warming experience that I can't even put into words.  My heart is so full that I still think it will burst from gratitude.  For more than a week I have been pouring over all the books sent recently, and they will be the subject of blogs to come soon.  But today I want to talk about the new collections of my favorite vintage monthly magazines, Sphere and Cuisine.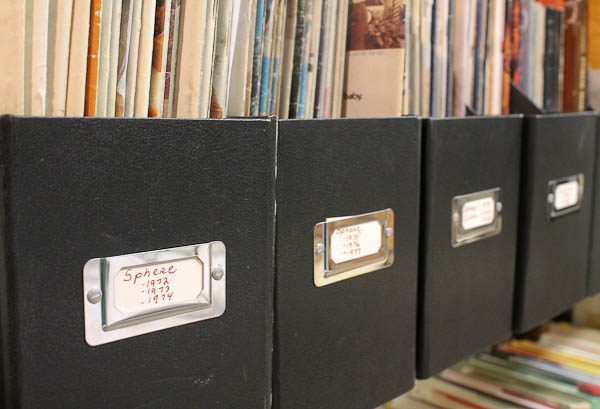 Look at the first photo where my beloved little James Beard bear is sitting.  Right above his hat are black file holders with collections of both magazines.  In this photo you can see them all lined up and organized by each year.  I had all of the Sphere's from its charter issue of February/March 1972 to its last publication in December 1978.  I only had a handful of Cuisines at that time and was trying to find all of those issues which were published from January 1979 to December 1984.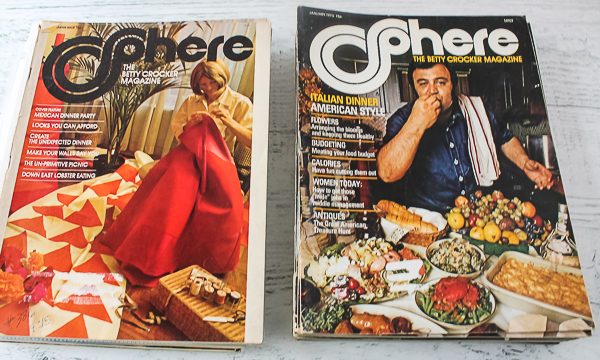 1972 issues (left) and 1973 issues.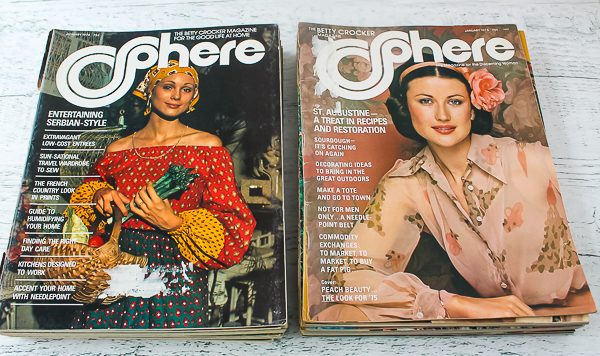 1974 and 1975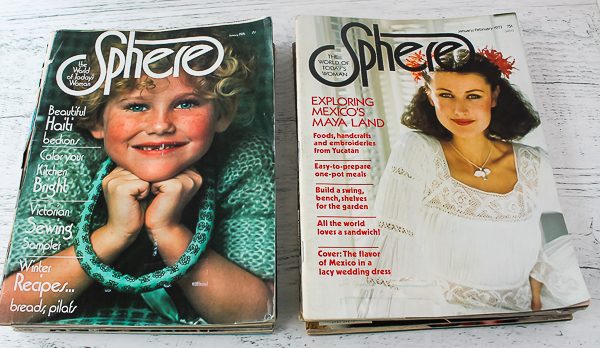 1976 and 1977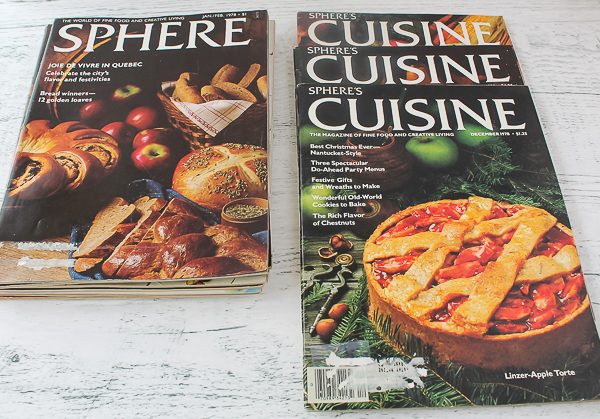 The 1978 issues were called just Sphere, and changed to Sphere's Cuisine for the last three issues.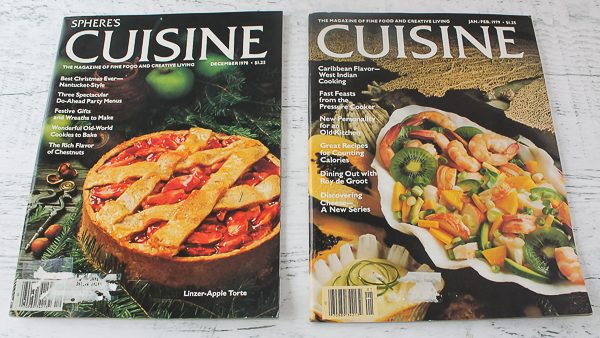 The December issue on the left was the last Sphere's Cuisine, and Cuisine began January 1979.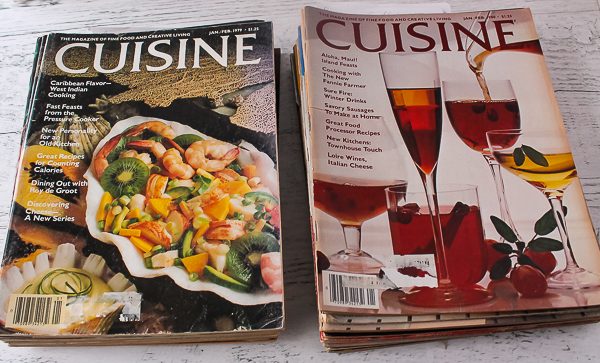 Cuisine 1979 and 1980.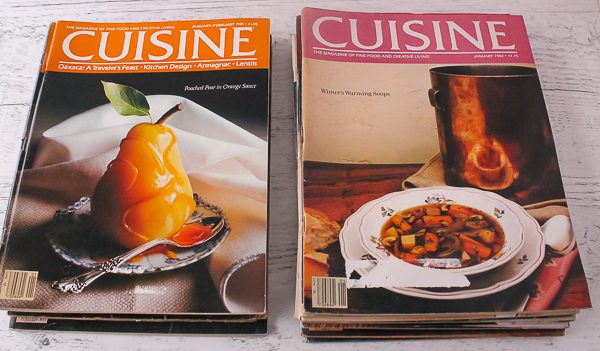 Cuisine 1981 and 1982.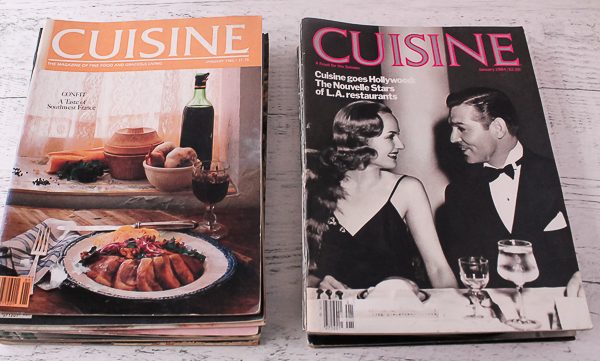 Cuisine 1983 and 1984.
All of these issues are possible to own because of one of my generous readers, Kathy M. from Ohio.  She wrote and said she had to downsize and didn't know what to do with them all but wanted them to have a home where they would be treasured and loved as she did.  I assured her this would happen.  As I mentioned, I only had a handful of Cuisines and now I have every single issue.  I have had Spheres sent over the past couple years and now I have them all separated and boxed along with Kathy's.  I am in food magazine heaven.  I need to go out this week and buy file holders like I had before.
As my fellow Sphere enthusiasts know, I have been writing monthly blogs about each issue and I was up to the Spring of 1976 although I have gotten behind on this (and my blog itself!) because of our house renovation, but I'll catch up soon.  I'm also looking forward to writing about the books too.
Thank you again, Kathy, for your kindness and generosity.  You have made the Culinary Cellar even better than ever.