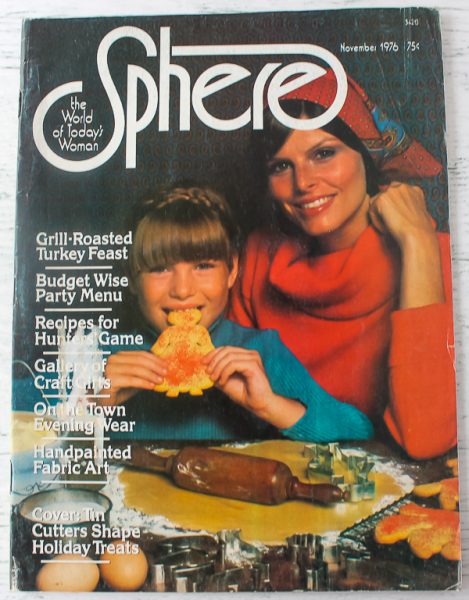 I love November and December magazines with all of the holiday ideas.  Sphere always had exceptional recipes.  This November issue has a dinner party idea for rack of lamb, leftover turkey ideas, stuffings, side dishes like a corn souffle, game like pheasant, quail, and rabbit, stick-to-the-ribs sausage recipes, lots of cookies, a pumpkin cheesecake, seafood, and more.  There are also craft ideas for making wreaths, handmade Christmas cards, creating a storybook village, and even a lesson on calligraphy.  Sphere always had it all.
Every Thanksgiving, I look for new ways to prepare the turkey.  Since I love cooking with herbs, the recipe for "Herbed Turkey" got my attention. It has parsley, bay leaves, dill, and thyme, along with butter, onions, garlic, and turmeric.  Can't you imagine the aromas in the kitchen while it's roasting?  I can't wait to try it and I'll let you know how it turns out.

Herbed Turkey
Author:
Sphere Magazine November 1976
Ingredients
¼ cup butter, melted
¼ cup minced onion
¼ cup snipped parsley
2 Tablespoons snipped fresh dill
1 small stalk celery with leaves, minced (about ½ cup)
2 small bay leaves, crumbled
1 clove garlic, crushed
1-1/2 teaspoons salt
¾ teaspoon dried thyme leaves
½ teaspoon white pepper
1 turkey, about 12 pounds
1 cup butter, melted
1 teaspoon ground turmeric
Salt
Black Pepper
¼ cup snipped parsley
2 Tablespoons snipped fresh dill
Instructions
Combine the ¼ cup butter, onion, ¼ cup parsley, 2 Tablespoons dill, the celery, bay leaves, garlic, 1-1/2 teaspoons salt, thyme, and white pepper. Rub inside cavity of turkey with mixture. Fasten neck and back openings with skewers.
Mix 2 Tablespoons of the butter with the turmeric. Brush over entire surface of turkey. Place turkey breast side up, on rack in roasting pan. Insert meat thermometer so tip is in the thickest part of inside thigh muscle, away from the bone. Roast turkey at 325 degrees F, basting twice during roasting with butter, until thermometer registers 185 degrees F,, about 3 hours.
Remove turkey from oven, and brush with remaining butter. Season with salt and pepper, sprinkle with ¼ cup parsley and 2 Tablespoons dill. Return to oven for 5 minutes. Remove from oven and let rest for 20 minutes before carving. Serves 8.
Update on the turkey recipe:  I made the turkey for Thanksgiving and, hands down, it was the best looking and tastiest turkey I have ever made!  It had a beautiful color,  so tender, and made great gravy.  When I brushed it with the melted butter mixed with the turmeric before roasting, it turned completely bright yellow, but no worries-  it roasted into the most gorgeous and evenly distributed golden color with a crispy skin.  It's my go-to turkey recipe from now on! (P.S. – the recipe called for a 12-pound turkey but I used a 16-pounder.  It took about 3-1/2 hours)