Before the flood of The Culinary Cellar in 2017, I had almost every one of the popular HPBooks series.  One that I didn't have was this Pies and Pastries.  Thanks to my longtime friend Kim I now have it!
The cookbook has recipes for all kinds of pies, both sweet and savory.  Author Janet Pittman gives us savory turnovers with meat, chicken, or fish;  main dishes;  appetizer pies and pastries; vegetable pies; quiches; strudels; fruit pies along with tarts and more strudels; regional custard pies; cream pies; chiffon pies; and freezer pies.  In other words, just about any pie you feel like making.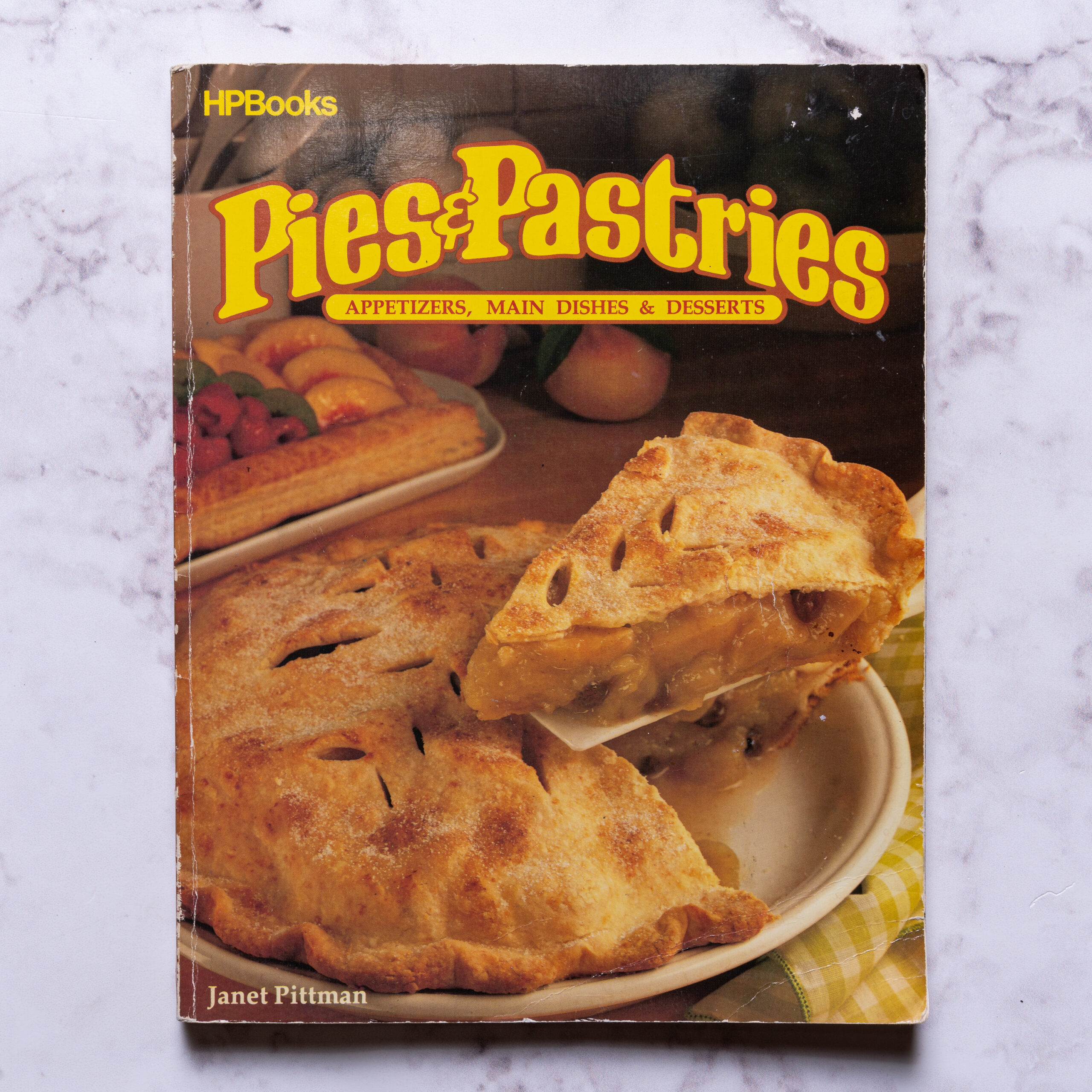 One of the best times to post a blog about pies is on National "Pi" Day, March 14 (3.14) which is the annual celebration of the mathematical constant. 3, 1, and 4 are the three most significant figures of Pi in its decimal representation.  I think any day is good for pie, but let's have fun with this day as it has become a social media day to post a pie recipe or just an excuse to make a pie, any kind of pie, sweet or savory.
Pi Day is actually tomorrow as I write this, but I wanted to give you time to make this easy and delicious "German Chocolate Cream Pie" as it has to chill.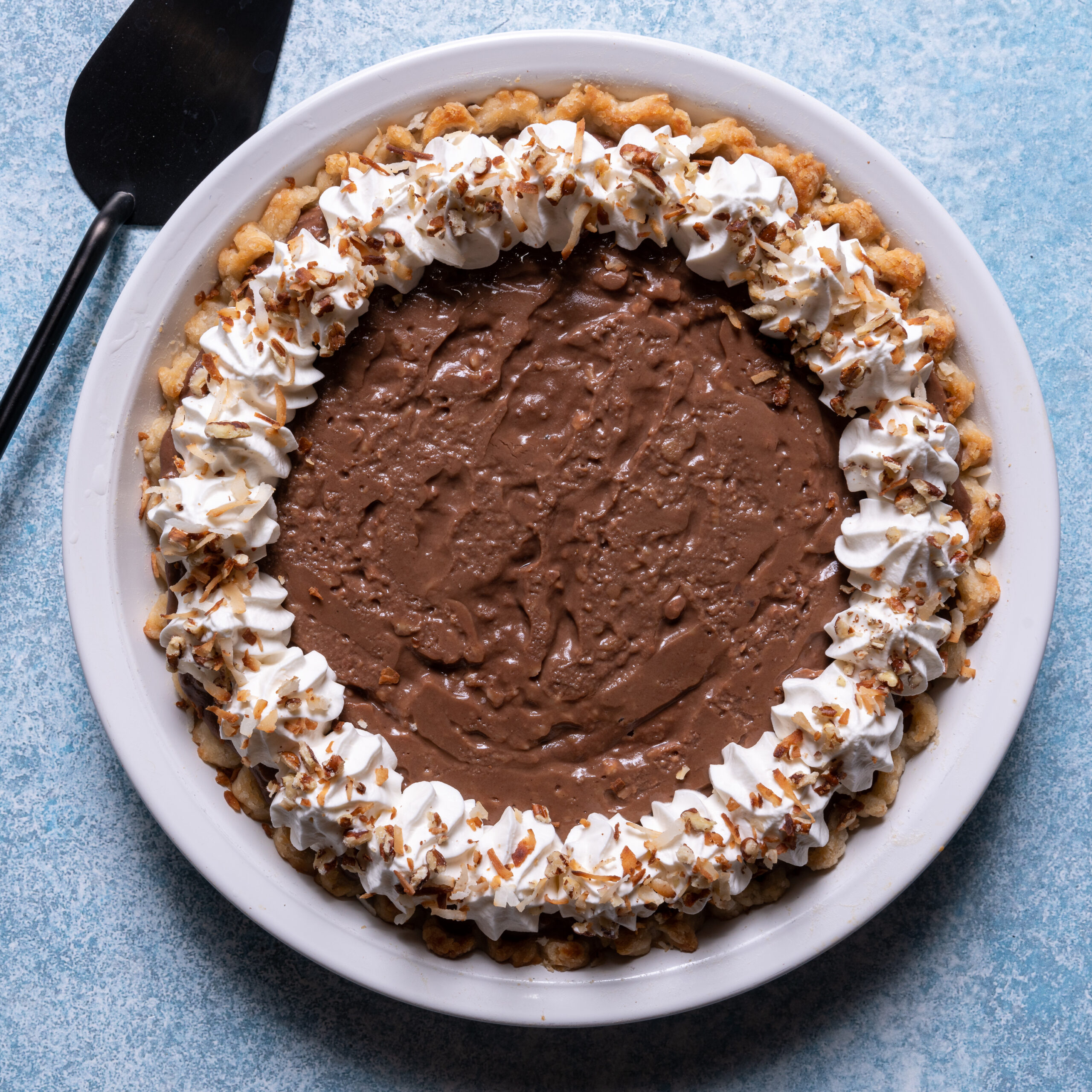 German Chocolate Cream Pie
Author:
Pies and Pastries from HPBooks, Janet Pittman
Ingredients
1 (9-inch) baked pie shell, cooled (homemade or frozen)
½ cup sugar
2 Tablespoons cornstarch
1 Tablespoon all-purpose flour
¼ teaspoon salt
2-1/2 cups whole milk
4 egg yolks
4 ounces Sweet Cooking Chocolate (German Chocolate)
1 teaspoon vanilla extract
⅔ cup shredded sweet coconut, divided
⅔ cup chopped pecans, divided
1 cup heavy whipping cream
2 Tablespoons powdered sugar
½ teaspoon vanilla extract
Instructions
Prepare a 9-inch pie shell and set aside.
In a medium saucepan combine sugar, cornstarch, flour, and salt. In a medium bowl beat together milk and egg yolks until smooth, then gradually stir into sugar mixture in saucepan. Stir constantly over medium heat until mixture thickens and comes to a full boil. Boil for 1 minute, then remove from heat.
Break chocolate into several pieces. Add to thickened mixture along with the vanilla. Stir until chocolate is melted.
Set aside 2 Tablespoons each of coconut and pecans. Stir remaining coconut and pecans into chocolate mixture. Pour into the baked pie shell. Place plastic wrap on surface of pie filling to prevent a film from forming. Refrigerate at least 3-4 hours or overnight.
Preheat oven to 375 degrees F. Spread reserved coconut and pecans in a pie pan and toast in the oven for 3-4 minutes, stirring a couple times, until coconut is toasted; set aside.
Place heavy cream in a mixing bowl and beat until stiff peaks form. Fold in the powdered sugar and vanilla. Remove pie from refrigerator and slowly remove plastic from top of pie. Pipe whipped cream around edges of pie and sprinkle cream with toasted coconut and pecans. Refrigerate until ready to serve. (you can also spread the cream over the entire pie and sprinkle with coconut and pecans). Serves 8.