It's time for the next 1979 Cuisine magazine news!  I've had numerous emails from readers who are so happy I'll be writing about every issue of the iconic Cuisine which was published from 1979 to 1984.  I have found that those who loved the old Sphere magazine which changed to Cuisine, loved Cuisine just as much.  Not surprising, since for a while it was the same editors and contributors as Sphere.  They were both such great food magazines and I'm so lucky to have all the Cuisine issues to write about for you.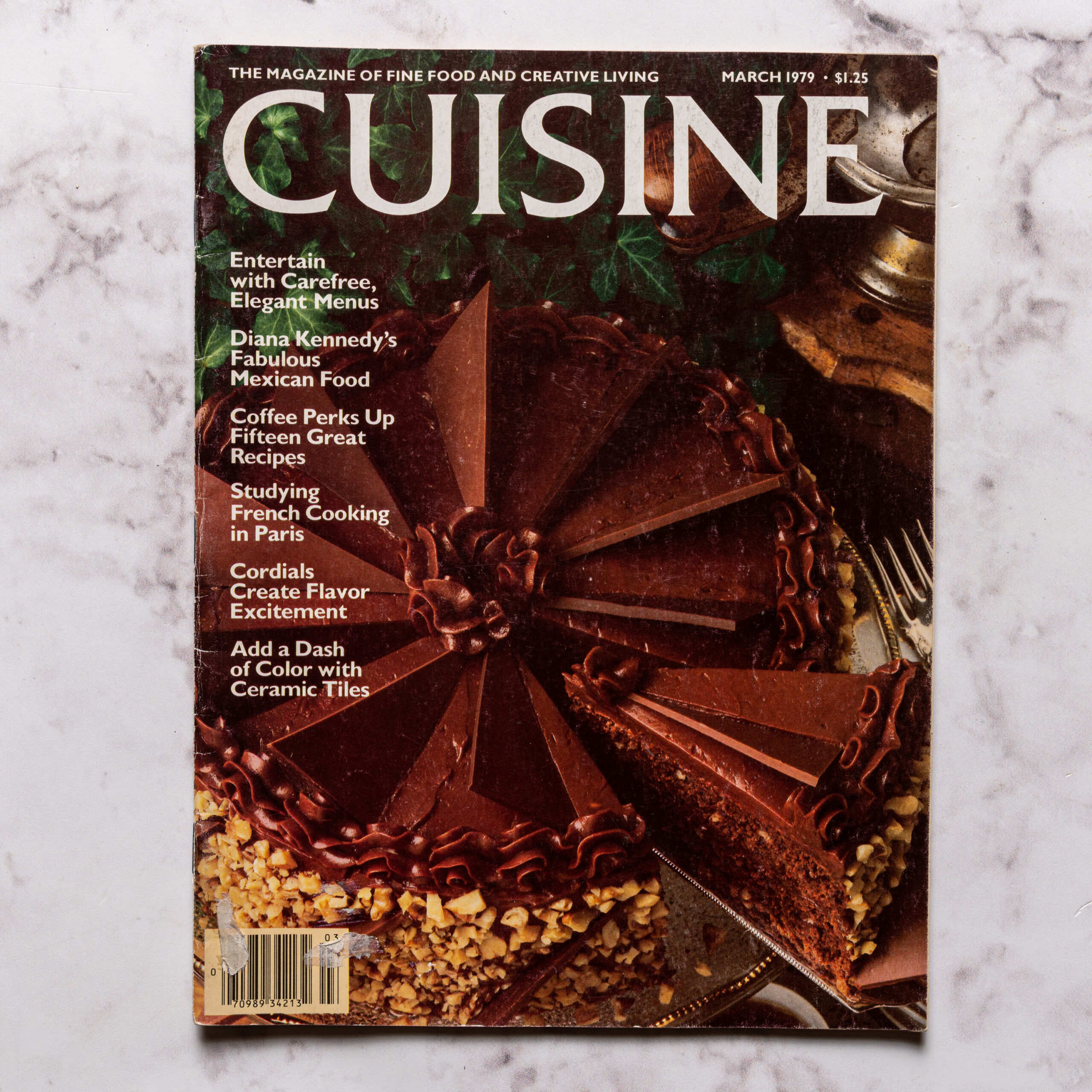 This issue is one of my favorites with its many incredible recipes, but also some interesting articles.  The first article I came across was about Anne Willan and her La Varenne cooking school in France.  La Varenne is named for the 17th century chef who served King Henry IV and conceived the first modern French cookbooks.  Editors at Cuisine flew to Paris and photographed a step-by-step preparation of Gauteaux Paris-Brest pictured on a full page in the magazine.
Other articles include Marian Burros, Washington Post Food Editor at the time, offering make-ahead buffet-style recipes for entertaining.  "A True Taste of Mexico" is an article about Diana Kennedy who moved to Mexico when she married her husband Paul, a Latin-American correspondent for the New York Times.  This is when Kennedy's fascination with Mexican cooking lead to her iconic cookbooks.
I was thrilled to find an article called "Coffee for the Cook" by my favorite Bert Greene.  His articles and cookbooks always begin with his heart-warming stories about the recipes to follow; how he came to find the recipe, or why he loved a certain food, or stories of those he loved and what they cooked.  My favorite in this article is about his childhood neighbor, Mrs. Johnson from Stockholm who always had coffee brewing along with her famous baked goods.  Young Bert loved one cake Mrs. Johnson made but she never wrote down the recipe.  He watched her make it and tried to memorize the ingredients to tell his mother so she could make it, but Mrs. Johnson never made it exactly the same way twice.  Thirty years later, Bert would remember that sometimes Mrs. Johnson would toss in some of her coffee while baking.  Alas! He had the secret ingredient and developed his memory of Mrs. Johnson's Coffee Cake.  And now we have it too.  Are we lucky or what?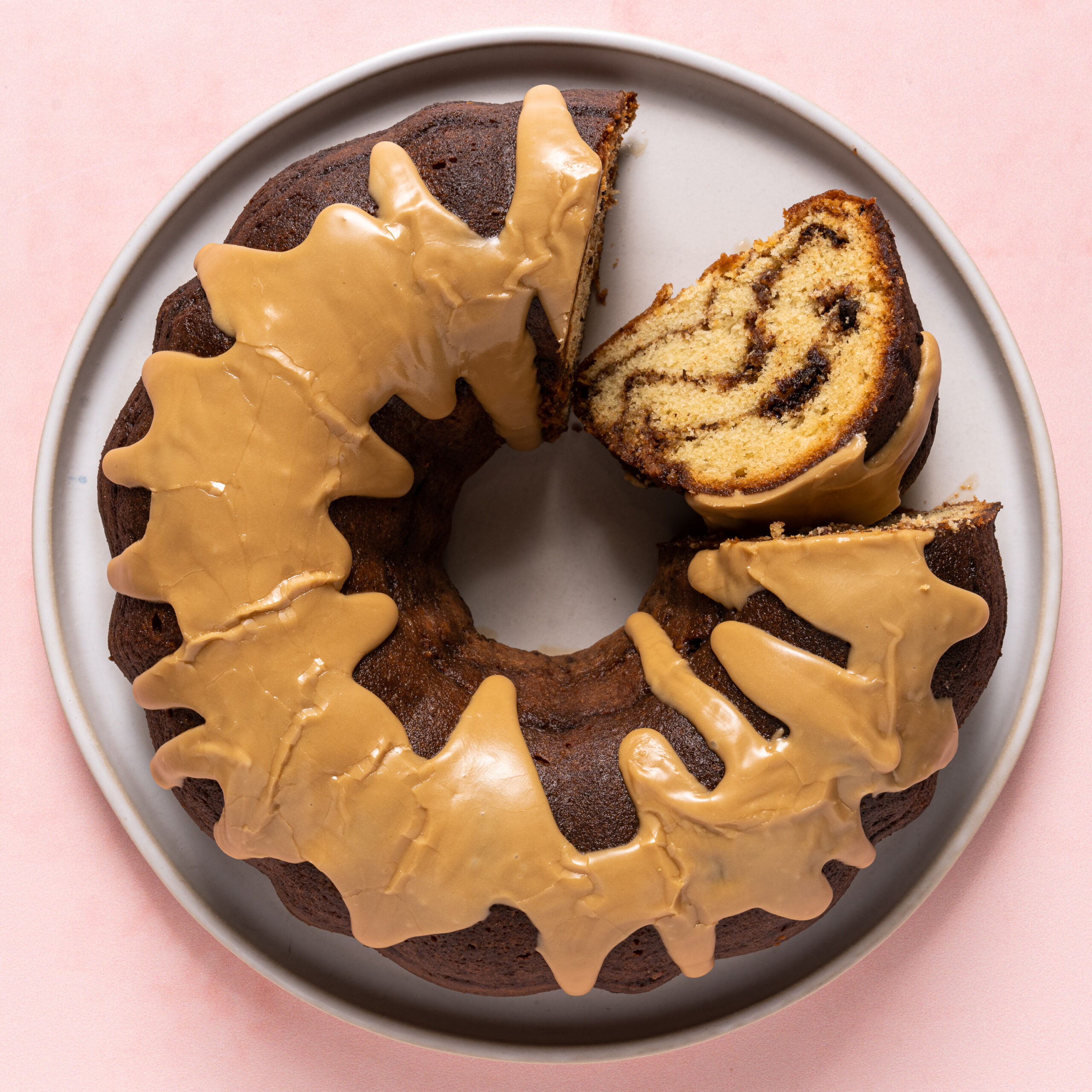 Mrs. Johnson's Coffee Cake is now a staple in my recipe box. The cake is rich with sour cream and coffee, and has a swirl mixture of brown sugar, walnuts, cinnamon, currants, and coffee powder.  A bit of strong coffee is also in the glaze.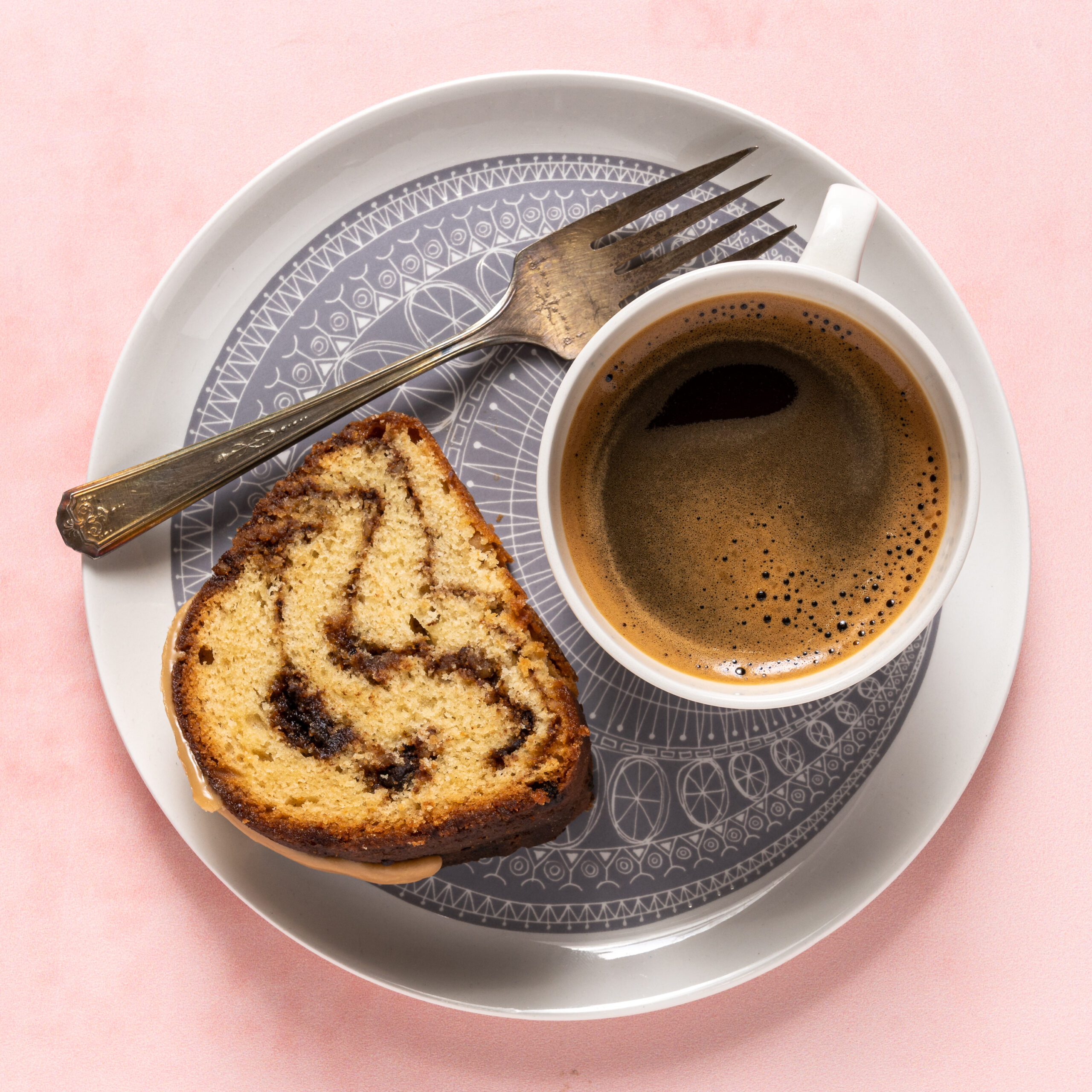 In honor of Mrs. Johnson, I had to include a cup of coffee.
Not only did Bert give us the coffee cake recipe, but other items using coffee as an ingredient like Espresso Fettuccini, Coffee Crème Brûlée, Short Ribs, Coffee-Toffee Crunch Pie (I've made this many times!), Swedish Coffee Eggnog, Roast Lamb with Coffee and Cream, Coffee Pot-Roasted Chicken, Ham with Red-Eye Gravy, Coffee Soufflé, Espresso Dolce, La Maxine (pictured on the magazine cover above), Roulage Mocha, and a Chocolate-Coffee Pecan Pie.
Go make this coffee cake and whisper a thank you to Bert.  I have a feeling he will be thrilled to hear it.

Mrs. Johnson's Coffee Cake
Author:
Bert Green in Cuisine Magazine March 1979
Ingredients
½ cup softened unsalted butter
1-1/4 cups granulated sugar
2 large eggs
1 Tablespoon strong coffee
½ teaspoon vanilla extract
2 cups sifted all-purpose flour
1 teaspoon baking powder
1 teaspoon baking soda
⅛ teaspoon table salt
1-1/4 cups sour cream
¼ cup currants
½ cup packed dark brown sugar
⅓ cup finely chopped walnuts
2 teaspoons ground cinnamon
2 teaspoons instant coffee powder
Glaze:
1 cup powdered sugar
1 Tablespoon strong coffee
1 teaspoon half-and-half
¼ teaspoon vanilla extract
Instructions
Heat oven to 375 degrees F. Cream butter and granulated sugar in large bowl of electric mixer. Beat in eggs, one at a time, beating well after each addition. Stir in 1 Tablespoon coffee and the vanilla.
Mix flour, baking powder, baking soda, and salt. Add to flour mixture, alternating with the sour cream, to the butter mixture, beating well after each addition. Reserve.
Soak currants in hot water to cover, for 8 to 10 minutes. Drain and discard water. Combine currants, brown sugar, walnuts, cinnamon, and coffee powder in a small bowl.
Spread a fourth of the reserved batter into bottom of a well-buttered 12-cup Bundt pan or 10-inch tube pan. Sprinkle with a third of the currant mixture. Repeat layering twice, ending with batter. Bake until a wooden pick inserted in the center is withdrawn clean, about 45 to 50 minutes. Cool on a wire rack for 20 minutes, then turn out cake to cool completely.
When cool, stir together glaze ingredients until smooth enough to drizzle and spoon over cake. (if glaze is too thick, add a little more half-and-half, drop by drop)