Irish Fish Pie or Fisherman's Pie has been around for a very long time.  Gifts of fish pie were presented to Kings.  Some were filled with herrings, others were eels and carp which was a gift to Henry VIII in 1530.  The Prince of Wales received a fish pie in 1752.  The tradition was also recorded during the reign of Queen Victoria.
In modern times, all kinds of fish are still used for fish pies, although probably not gifts to Kings.  Now the pies can be made in home kitchens to enjoy for St. Patrick's Day.  The topping of a fish pie is mashed potatoes instead of pastry.
I made a fish pie with a combination of seafood- cod, salmon, shrimp, and scallops in a creamy sauce with a variety of chopped vegetables.  I added a little Guinness and a touch of whole grain mustard for an extra kick of flavor.  Other Irish ingredients I used include Irish butter (like Kerrygold), and Irish white cheddar cheese.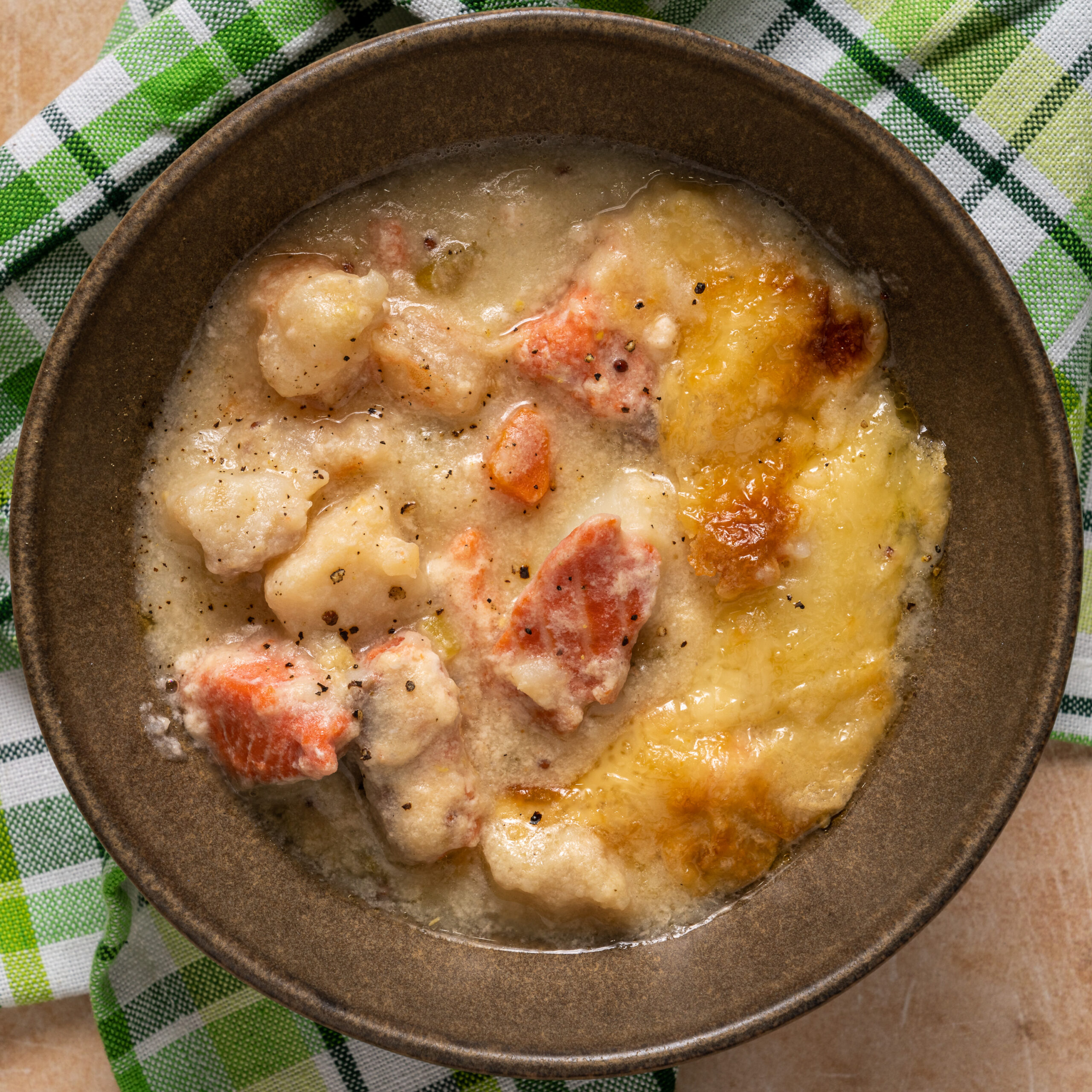 In this photo the cheese-topped potatoes are pushed to the side so you can see all the beautiful seafood.  The dish can be topped with some chopped parsley or chives, and if you like  fresh dill, chop some up and add to the filling.
Lá  Fhéile Pádraig Sona Duit!  (Happy St. Patrick's Day!)
May your blessings outnumber the shamrocks that grow.

Irish Fish Pie for St. Patrick's Day
Ingredients
Potato Topping:
2 pounds Yukon Gold potatoes, peeled and cubed
Salted water to cover potatoes
4 Tablespoons butter, melted (Kerrygold Irish Butter if you want to be authentic!)
½ cup half-and-half
1 egg, beaten
¾ cup grated Irish white cheddar cheese, divided use
Seafood Filling:
5 Tablespoons butter
½ cup finely chopped leeks (white part only)
½ cup finely chopped celery
½ cup finely chopped carrots
½ cup Guinness beer
1 Tablespoon Whole Grain Mustard (I used Maille)
⅓ cup all-purpose flour
1 can (14.5 ounces) vegetable broth
½ cup half-and-half
Salt and pepper to taste
½ pound fresh salmon, skin removed and cut into 1-inch chunks
½ pound fresh cod, cut into 1-inch chunks
½ pound medium fresh shrimp, peeled, tails removed, and deveined
½ pound sea scallops, halved if very large
Instructions
For Potato Topping: Place peeled and cubed potatoes in a large pot and add water to cover potatoes. Generously season with salt and bring to a boil over medium-high heat. Cover and cook for about 20 minutes or until just tender. Turn off heat and drain. Return to pot and mash potatoes with a potato masher. Add the melted butter and half-and-half. Stir or keep mashing until creamy. Stir in the beaten egg and ½ cup of the grated cheese until combined. Season with salt and pepper to taste. Cover with lid and set aside.
For Seafood Filling: Heat oven to 375 degrees. Melt butter in a Dutch oven over medium heat. Add leeks, celery, and carrots. Cook and stir for 3-4 minutes until tender. Add the Guinness and whole grain mustard and stir to combine. Bring to simmer and and cook until the liquid is reduced by half. Stir in the flour to coat vegetables. Add the broth and milk to the pot and whisk to combine. Simmer for 6-8 minutes, whisking frequently, or until mixture is slightly thickened. Season to taste with salt and pepper. Add all the prepared seafood and gently stir to combine. Transfer filling to a large deep oven-proof pan. Evenly top seafood with the prepared mashed potatoes in dollops, then gently spread to edges. Sprinkle the remaining ¼ cup of grated cheese over potatoes.
Bake for 35-40 minutes or until the topping is slightly golden. Remove from oven and serve hot.