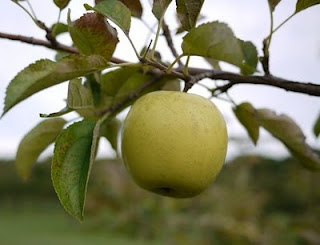 Fall baking means apples and pumpkins.  Since my last blog was pumpkin, now it's time for apple which is also my husband Bill's favorite.  Bill worked at an apple orchard when he was in high school and his love of apples continues today.
While recently looking through the Chicago Tribune's Food section, there was a recipe for a sheet cake with lots of apples and cinnamon that I knew Bill would love.  The sliced apples are tossed with a brown sugar-cinnamon mixture and arranged on top of a sweet batter that includes some freshly squeezed orange juice.  After baking, it is drizzled with a confectioner's icing and served warm.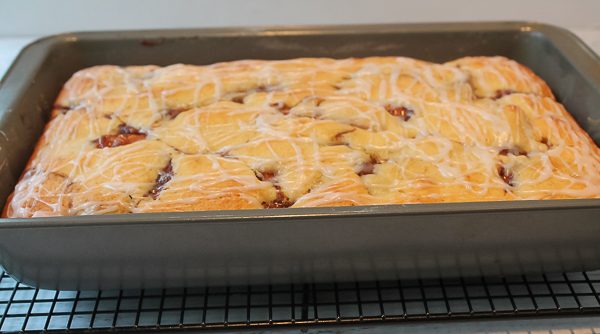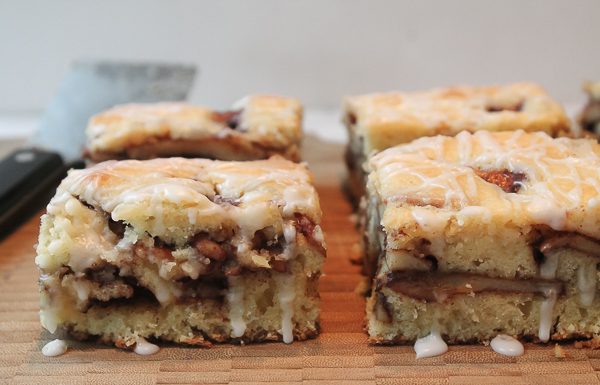 The cake cut beautifully!
Bill loved it and declared it a winner.  I wholeheartedly agreed and filed the recipe right away in my recipe box.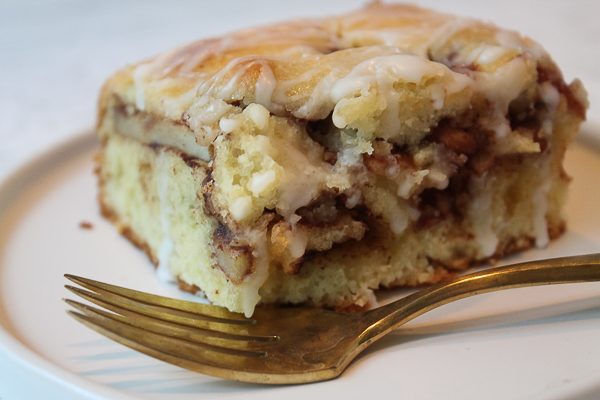 It is best served warm, and actually could be a coffee cake for breakfast or as a dessert with a scoop of vanilla ice cream.  Bill said he prefers it as a breakfast treat with a cup of coffee.
The food section of the Chicago Tribune is superior and always has recipes worth saving.  I've been clipping them for years, with many being staples in  my recipe box.  This one is now included!

Apple Cinnamon Sheet Cake
Author:
Chicago Tribune Food Section
Ingredients
Vegetable shortening for greasing the pan
3 cups plus 2 Tablespoons all-purpose flour
3 large or 6 small Gala, Honey Crisp apples, about 1-1/2 pounds
⅓ cup packed dark brown sugar
1-1/2 Tablespoons ground cinnamon
1-1/2 cups granulated sugar
2-1/2 teaspoons baking powder
½ teaspoon salt
4 large eggs
1 cup canola oil
½ cup freshly squeezed orange juice
1 Tablespoon pure vanilla extract
½ cup powdered sugar
2 teaspoons water
Instructions
Heat oven to 350 degrees. Generously grease a 9-by-13-inch baking pan. Using the 2 Tablespoons of flour, sprinkle in greased pan and shake to cover the inside of pan. Shake out excess flour and set aside.
Peel, core, and quarter apples. Slice into ¼-inch slices. Put apples into a bowl and stir in the brown sugar and cinnamon to coat apples; set aside.
Mix the 3 cups of flour, granulated sugar, baking powder, and salt in a large bowl. Whisk eggs in a small mixing bowl. Make a well in the center of flour mixture, and pour in oil, orange juice, and vanilla. Pour in beaten eggs. Use a large rubber scraper to gently fold the mixture just until all the flour is moistened.
Spread about two-thirds of the batter over the bottom of prepared pan. Gently arrange coated apples over the batter, being careful not to let the apples touch the sides of the pan. With remaining batter, place dollops evenly scattered on top. The apples will not be completely covered,
Bake until the top is golden and a pick inserted into a battered area comes out clean. about 40 minutes. Remove to a wire rack to cool a few minutes.
Stir together the powdered sugar and water and drizzle evenly across the top. Serve immediately while warm. (Cake is best served warm). Cut into squares to serve.