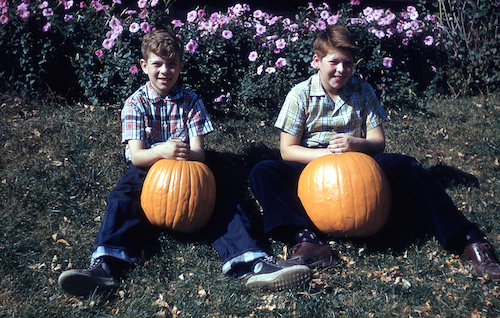 It's inevitable that once all the pumpkin foods hit the market, there are many who complain about the overload, but I'm not one of them.  I love pumpkin and am proud that my home state of Illinois is one of the largest producers of pumpkins in the country.  When it comes to cash crops, pumpkins are king in Illinois. The soil and topography in southern Illinois are considered the best for pumpkin-growing.  Pumpkin is an excellent source of Vitamins A and C.  Does this mean an extra slice of pumpkin pie is okay at Thanksgiving?  At least that's what I tell myself.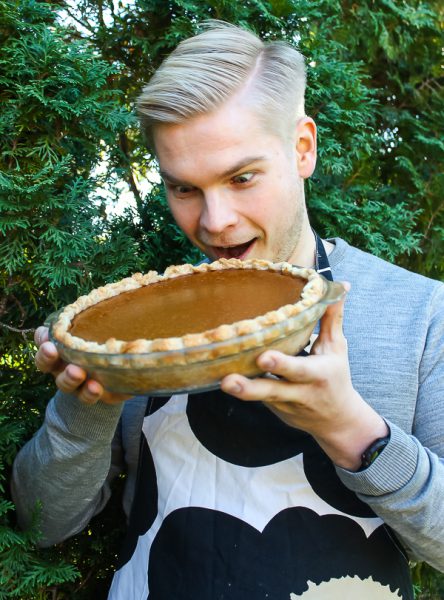 Our cousin Toni from Finland thinks pumpkin pie is the best.  Pumpkin cooking is not big in Finland, so every time Toni has come for a visit, I make him a pie.
Since it is now officially fall, my pumpkin baking began with a pumpkin pound cake. The spices filled the kitchen with reminders of what's to come in the next couple months.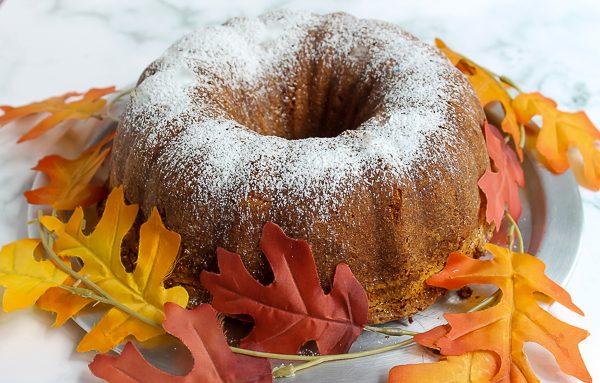 The cake has cinnamon, cloves, apple pie spice, and some rum. (or water and rum extract).  I liked it sprinkled with powdered sugar and served with a dollop of whipped cream dusted with nutmeg.  It would also be good served with pumpkin or cinnamon ice cream.  I gave some slices to my friend Mary and she preferred it just with the dusting of the confectioner's sugar and nothing else.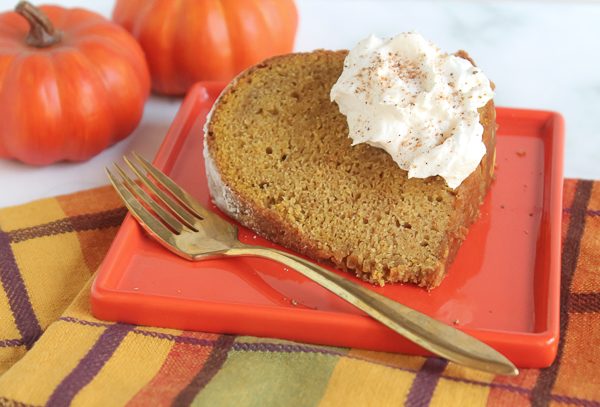 Not sure what pumpkin recipe is next on my list, but you will be seeing it soon.  I'll most likely get more inspiration on my next trip to Trader Joe's.  I think they have more pumpkin products than any other grocery stores around here.  Sounds good to me!

Pumpkin Pound Cake
Ingredients
1 cup unsalted butter, softened
3 cups granulated white sugar
5 large eggs
3 cups all-purpose flour
2 teaspoons baking powder
½ teaspoon baking soda
½ teaspoon table salt
2 teaspoons ground cinnamon
¼ teaspoon ground cloves
⅛ teaspoon apple pie spice
1 can (15 ounces) canned pure pumpkin (not pumpkin pie filling)
⅓ cup rum (or ⅓ cup water and ¼ teaspoon rum extract)
Instructions
Heat oven to 325 degrees F. Grease and flour a 10-inch tube pan or Bundt pan; set aside.
In large bowl of electric mixer, beat butter until soft and creamy, about 2 minutes. Gradually add the sugar and beat for 5 minutes.
Add eggs, one at a time, beating after each addition just until mixed.
Stir together the flour and all the spices. Stir together pumpkin and rum. Add the flour mixture to the batter alternately with the pumpkin-rum mixture, beginning and ending with flour. Mix at low speed after each addition.
Spoon batter into prepared pan and smooth the top. Bake at 325 degrees for 1 hour and 15 minutes or until a tester comes out clean.
Transfer cake to a wire rack and cool for 10 minutes, then turn out of pan and cool completely.
P.S.  Those two young boys in the top photo are my older brothers, probably in the late 1950's.