My longtime readers know of my love for the old vintage magazine called Sphere.  It was only published from 1972 to the end of 1978 but to this day still has an unbelievable and loyal following.  I know this because when people do searches for "Sphere magazine" they find my monthly blogs that I have written, and continue to write, about each and every issue.
There has never been a month since I started writing my blog almost ten years ago that I don't receive recipe request from Sphere.  Requests and comments come from all over the country, including some Americans who moved to Europe, Canada, and Australia, and still remember their favorite recipes of when they lived here.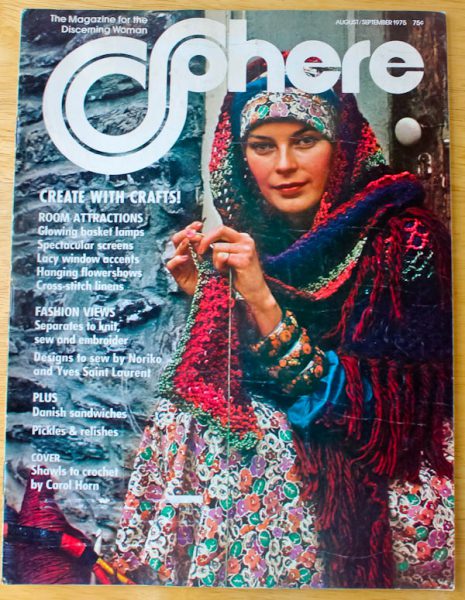 A woman named Ame from Hawaii wrote to me recently and remembered a favorite recipe for Eggplant Parmesan.  Ame said she had been searching for over forty years to find it, including all the internet searches, libraries, and even writing to the original publisher and others but to no avail.  She finally stumbled upon my blog and found that I wrote blogs about the magazine.  Ame saId I was her final hope of ever finding the recipe again.  I found the recipe in the August/September 1975 issue and couldn't wait to write back to her.  We were both ecstatic!
Ame was so happy she wanted to send a thank you surprise.  I told her that was not necessary at all since I love doing this more than I can say.  Someone's happiness is the best thank you ever.  But she insisted, and look what this lovely woman sent me from Hawaii.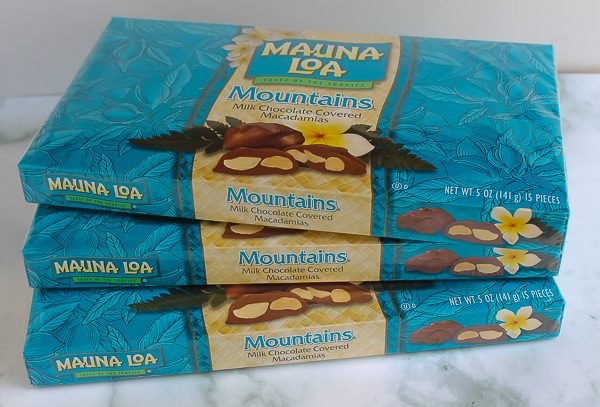 Not just one box but three!  Oh my, are these ever good.  I hadn't enjoyed chocolate-covered macadamia nuts in decades!  I am hoarding them..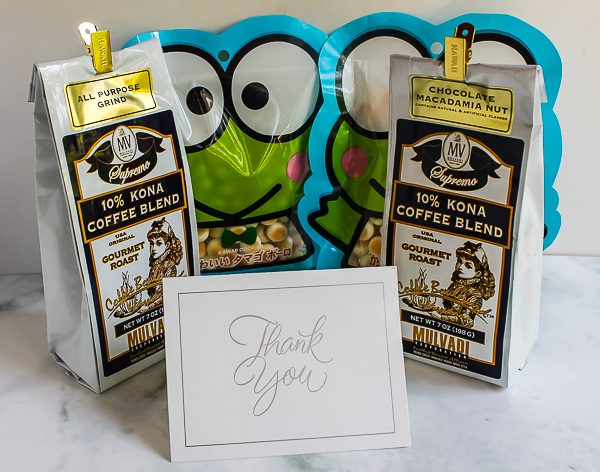 Along with the most heartfelt Thank You note that I will treasure always, also included were two flavors of Kona Coffee, and some darling little crackers that my granddaughters will love.  Ame said she wanted  "to send a little something from Hawaii, but it is nowhere near the gratitude I have."  Isn't is amazing how people have strong attachments to recipes that they loved so much and bring back lovely memories?  Food can have such emotional feelings that last a lifetime.
I made Ame's favorite Eggplant Parmesan and it was deliciously cheesy and flavorful.  One thing I found intriguing about the sauce is that it calls for 12 ounces of chopped round steak that is cooked and then pureed into the usual tomato-based sauce found in most Eggplant Parmesan recipes.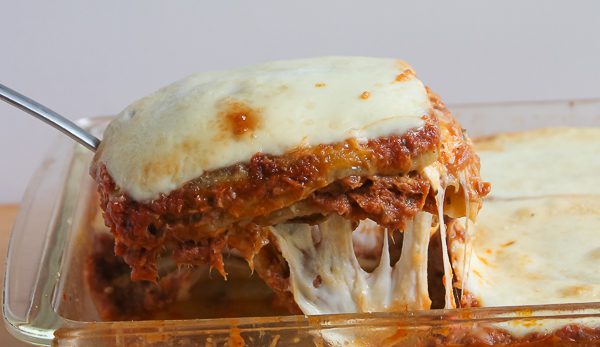 Ame, I am beyond happy that you have the recipe back in your life to enjoy.  And thank you again for all the Hawaiian goodies.  I have never been to Hawaii but if I ever make it there, I hope we can meet.  Sphere enthusiasts need to stick together!

Candida's Eggplant Parmesan
Author:
Sphere magazine, August/September 1975
Ingredients
For Meat Sauce:
1 medium onion, sliced
1 clove garlic, chopped
1 Tablespoon olive oil
12 ounces lean boneless beef round steak, chopped
1 can (28 ounces) Italian plum tomatoes, undrained, cut into pieces
⅓ cup snipped parsley
¼ cup water
1 teaspoon salt
1 teaspoon granulated sugar
1 teaspoon dried basil leaves
¾ teaspoon dried oregano leaves
½ teaspoon ground black pepper
⅛ teaspoon ground nutmeg
For Eggplant:
3 pounds eggplant
Salt
Flour
½ to ¾ cup olive oil
1 pound mozzarella cheese, thinly sliced
¾ cup grated Parmesan cheese
Instructions
For Meat Sauce:
Cook and stir onion and garlic in oil in 2-quart saucepan over medium heat until tender, 3 to 5 minutes. Add beef; cook and stir until brown, about 3 minutes. Stir remaining sauce ingredients into beef mixture. Heat to boiling; reduce heat and simmer uncovered, stirring occasionally until thickened, about 20 minutes. Pour half of sauce into blender or food processor and blend until smooth. Repeat with remaining sauce.
Meanwhile, prepare eggplant:
Pare eggplant and cut into lengthwise into ¼-inch slices. Layer slices in large shallow dish, sprinkling each layer generously with salt. Let stand uncovered at room temperature for 30 minutes. Rinse eggplant slices in cold water and drain on paper towels. Coat slices lightly with flour. Heat 1 Tablespoon of oil in large skillet over medium heat and cook slices, a few at a time, until golden, about 30 seconds per side, adding remaining oil as needed. Drain on paper towels. Layer ⅓ each of the eggplant slices, meat sauce, mozzarella slices, and Parmesan in a lightly oiled baking dish, 9-by-13-inches. Repeat layers twice ending with the Parmesan cheese. Heat oven to 350 degrees and bake uncovered until brown and sauce bubbles, about 35 minutes. Cool 10 minutes before serving; cut into squares. Serves 6 to 8.