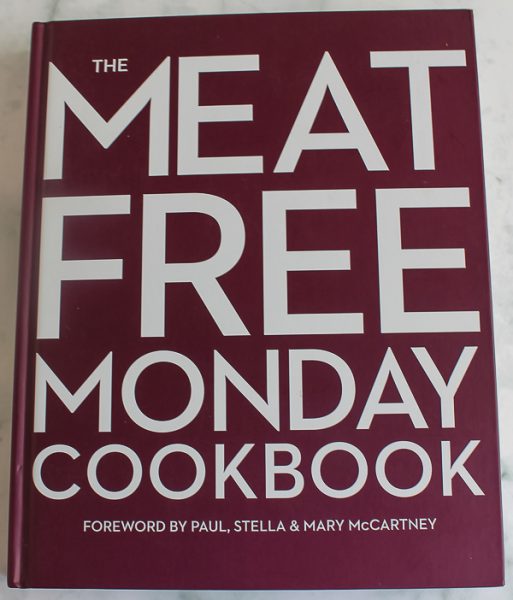 I love having meat free days, although I don't think I could ever go completely without a lobster tail, a good hamburger, roast chicken, or my mom's pot roast.  But I can do more than just Monday's easily.
I didn't even know where to start in this book, as there are so many great recipes.  The only problem I have with the book is that the print is so tiny, but it also means it can offer more recipes.  Maybe I need more carrots for my eyesight?
I love when chapters are divided into seasons as this one is to take advantage of ingredients at their best.  Spring recipes include dishes with asparagus, rhubarb, peas, cherries, spinach, and lots of herbs.  Summer finds berries of all kinds, salads, zucchini, tomatoes, melons, stone fruits, and grilling ideas.  Fall has cheeses, mushrooms, more varieties of squash like pumpkin and butternut, apples, and desserts like carrot cake, a recipe from Stella McCartney.  Winter of course has soups, breads, pasta, risotto, potatoes, parsnips, roasted vegetables, pears, blood oranges, polenta, and chocolate desserts.
At the time I was reading the book it was getting close to lunch time so simple and quick to make was good.  I also wanted to make use of ingredients I had on hand.  I found a recipe for a hummus with fresh rosemary to serve with some raw veggies, and a blue cheese spread for small slices of a baguette that we had the night before.  I had lunch ready in 15 minutes!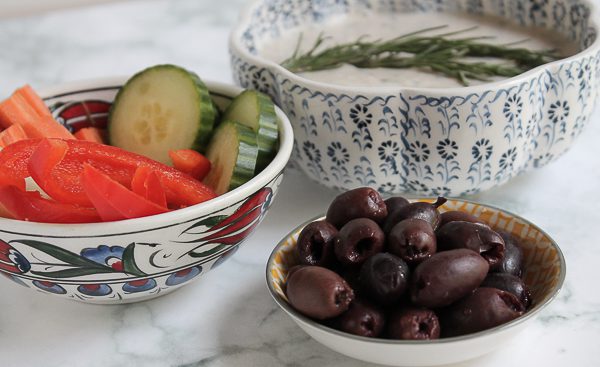 I loved the fresh rosemary right from my herb garden for the hummus.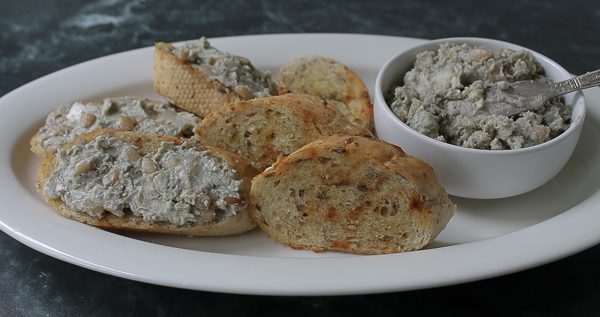 I also had some of my favorite Point Reyes blue cheese for the spread along with some pine nuts, and then I toasted a few pieces of leftover baguette slices.  These made a delicious lunch and I even had leftovers for another day.
Going meat-free several times a week for me is easy, especially with the recipes in this book.  I think you will be seeing more blogs throughout the year from it, probably starting with soups.

Cannelini and Rosemary Hummus and Blue Cheese Spread
Author:
Meat Free Monday Cookbook
Ingredients
For the Rosemary Hummus:
14 ounce can cannellini beans, drained and rinsed
Juice of one medium lemon
1 crushed garlic clove
⅓ cup plain yogurt
Handful of fresh rosemary leaves
Salt and pepper to taste
For the Blue Cheese Spread:
2 hard-boiled organic eggs, yolks separated from the whites
2 cups blue cheese of choice
4 Tablespoons unsalted butter, softened
2 Tablespoons lightly toasted pine nuts
Thin slices of toasted baguette
Instructions
For the Hummus:
Place all hummus ingredients in a food processor and blend until smooth. Serve with raw fresh veggies like carrot sticks, celery, cucumber, peppers, or your favorites.
For the Blue Cheese Spread:
Chop the egg yolks and stir into the blue cheese and butter until well blended. Chop the egg whites and stir into the cheese mixture along with the pine nuts. Spread over slices of toasted baguette.