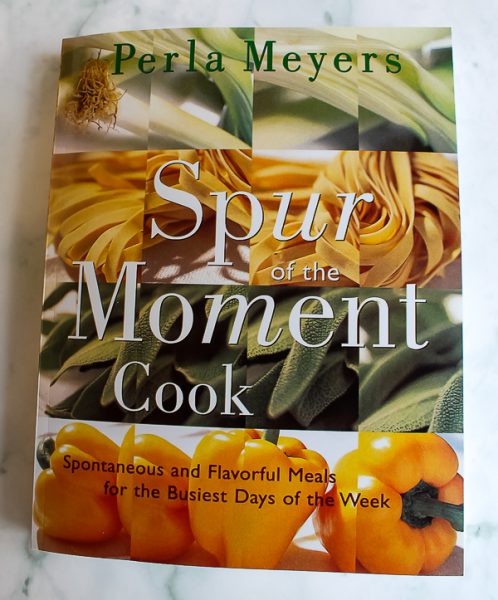 Perla Meyers is one of my all-time favorite cookbook authors.  She is an award-winning author, her first being the iconic cookbook, The Seasonal Kitchen.  Meyers earned a degree from Le Cordon Bleu in Paris, and attended the Ecole Hoteleire in Switzerland, and Hotel Sacher in Vienna.
I only met Meyers once, at a cooking class in the old Marshall Field's.  She was so knowledgable and loved teaching others.  In fact, she once had a well-known cooking school in New York City.
This cookbook has 175 recipes for getting a meal on the table in less than an hour, sometimes just minutes, never sacrificing flavor.  I love all her uses of herbs and spices.  There is a chapter on how to have a well-stocked pantry for all those spur-of-the-moment meals. savory dishes, and simple desserts.  Not to mention her specialty of cooking with fresh seasonal ingredients.
This is probably my favorite recipe in the book.  You won't believe how wonderful the aroma is while it's roasting, tastes incredible, and ready in 35 minutes.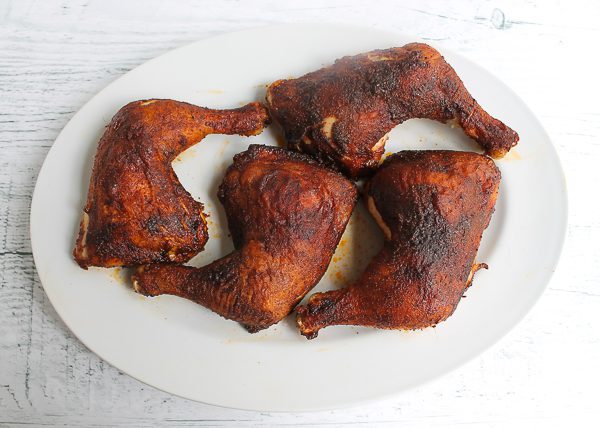 Look at that gorgeous color!  It almost looks like barbecued chicken.  I can't tell you enough how great this chicken tastes.  Try it this weekend!
Roast Chicken Legs with Chili and Cinnamon Rub
Author:
Spur of the Moment Cook by Perla Meyers
Ingredients
¼ cup pure chili powder
1 Tablespoon plus 1 teaspoon imported paprika
1 Tablespoon plus 1 teaspoon ground cumin
2 teaspoons granulated white sugar
2 teaspoons all-purpose flour
1 teaspoon ground cinnamon
½ teaspoon salt
½ teaspoon freshly ground black pepper
Pinch of ground cloves
8 small chicken legs with thighs attached
2 Tablespoons olive oil
Instructions
Heat oven to 400 degrees F. Have a large flat baking pan with sides ready. Line with nonstick foil or parchment, if desired.
Combine all the spices together in a small mixing bowl. Rub both sides of each piece of chicken and lay on prepared baking sheet. Drizzle with the olive oil.
Roast for 30 to 35 minutes or until the juices run pale yellow, basting several times with pan juices while roasting.
Serve hot. It's great with a creamy polenta and a stir fry of colorful peppers and tomatoes.