This lovely stack of books from Bunny W. of Virginia were most welcome after the flood of my Culinary Cellar.  Her note said she "hope it helps." It certainly did, Bunny.  I love them!  Being an avid breakfast person, I first looked through the Pancakes and Waffles, and Rise and Shine.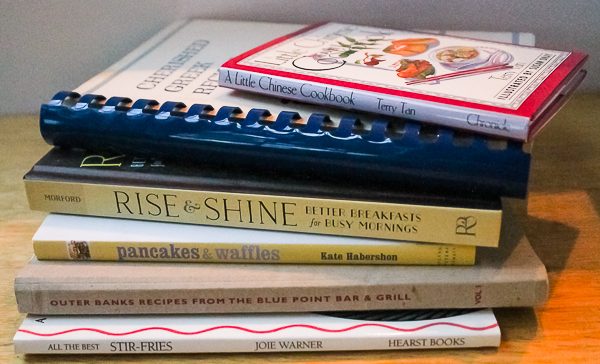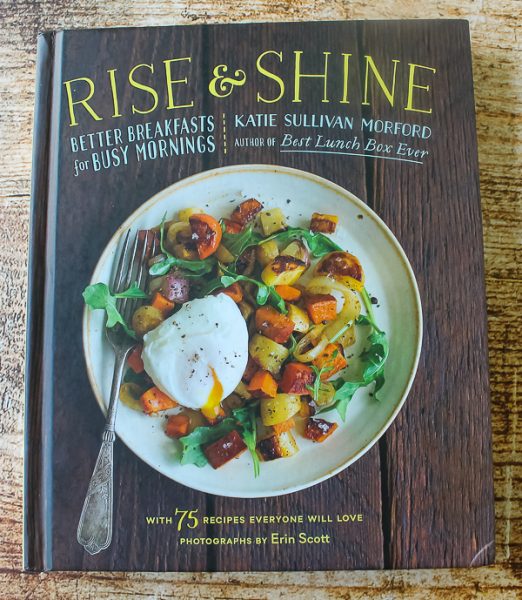 This beautiful cookbook written by a dietician has some of the best recipes (and photos) for healthy, delicious, and easy breakfasts, especially when you feel in a rut for ideas.  It will have you looking forward to something new and wonderful every morning.  No more grabbing some kind of bar or two bites of toast while running out the door.  Studies show that eating a good breakfast sets up the day and makes one more productive and alert.
Most of the recipes take no more than five or ten minutes to assemble and some can be started or even completely prepared the night before.  I found a recipe called "Turkish Toast" that quickly became a favorite.  All you need is a slice or two of toasted crusty whole grain bread, drizzle with a little olive oil, spread on your favorite hummus (I used a spicy version), top with slices of cucumber and tomato, and top with crumbled feta cheese.  So delicious and satisfying!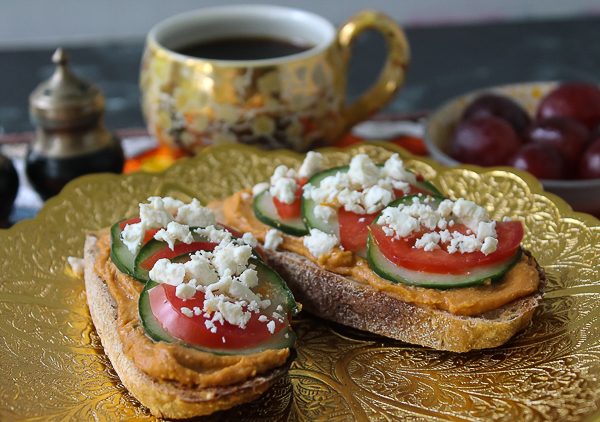 Isn't this a great way to rise and shine?  You will find other great recipes in the book for smoothies, eggs, breakfast grains, yogurt and fruit, wraps, toast, pancakes, waffles, French toast, muffins, breads, bars, and some specialty weekend favorites like hash, puffy pancakes, and crepes.  I'm looking forward to using this cookbook on a regular basis.

Turkish Toast
Author:
Rise and Shine by Kate Sullivan Morford
Ingredients
Two ½" thick slices of crusty whole grain bread
2 teaspoons extra virgin olive oil
Your favorite flavor and amount of hummus (optional)
4 thin slices English cucumbers
4 slices ripe tomatoes
Salt
⅓ cup crumbled feta cheese
Instructions
Toast the bread. Drizzle each slice with a teaspoon of olive oil. Spread on whatever amount and flavor of hummus you like, or leave it out. (I love a spicy hummus!). Lay the cucumber slices over each toast, followed by the tomato slices. Add a pinch of salt and crumble on the feta. A healthy and delicious breakfast in five minutes!