The highlight of my trip to California (besides being with my mom and girls, of course!) was a side excursion to the nearby town of Sebastopol in Sonoma County where my daughter Kristina and I visited the establishment of Ben Kinmont Bookseller.  There is so much to tell you about Ben and his specialty of 15th to 19th century books about food, wine, and the history of taste that he needs to have his own blog which will be up in a few days.  All you get for now is the front view of his window!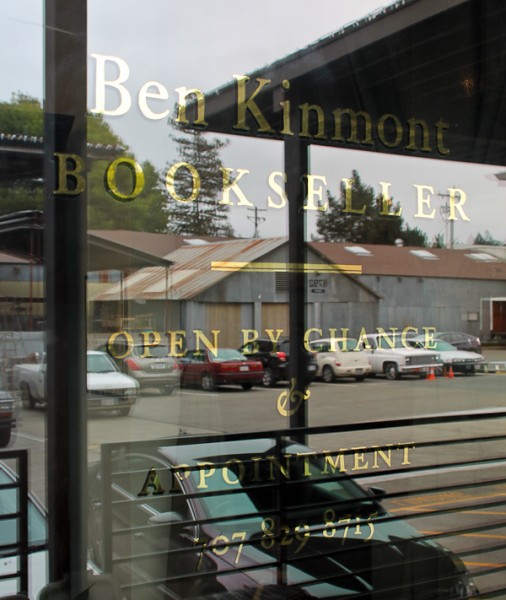 Ben's establishment is contained within The Barlow, which is the first business community in the U.S. to focus on connecting customers with products and the people who make them, and some even will show you the production itself.  It's a very unique experience of retail shops, markets, boutiques, restaurants, and art galleries all set in an industrial area that is both elegant and organic.
After Kristina and I spent time with Ben and his books, he introduced us to the owner next door of the Woodfour Brewing Company that serves high quality handcrafted beer and a creative menu.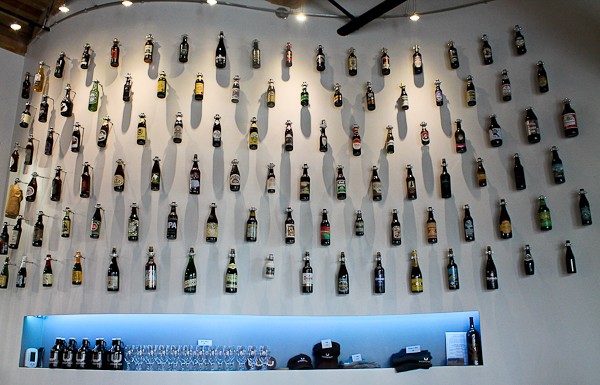 A "World of Beer" wall welcomes guests with its display showcasing 104 different beer styles.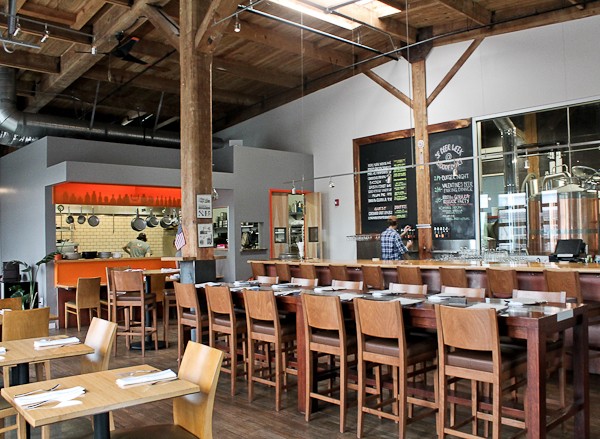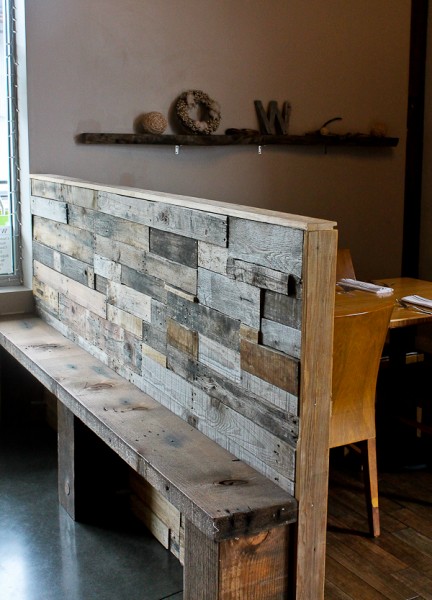 The interior is cozy with handcrafted work and attention to detail.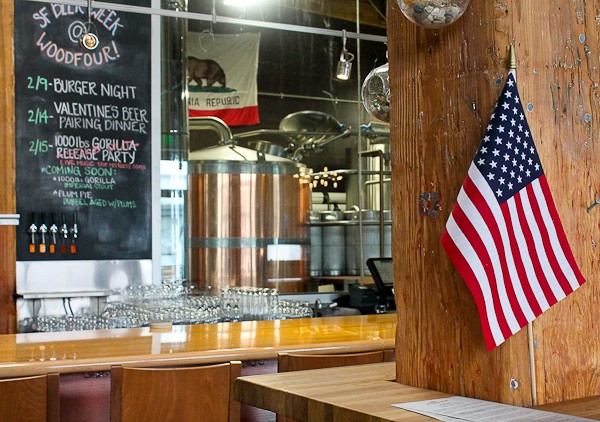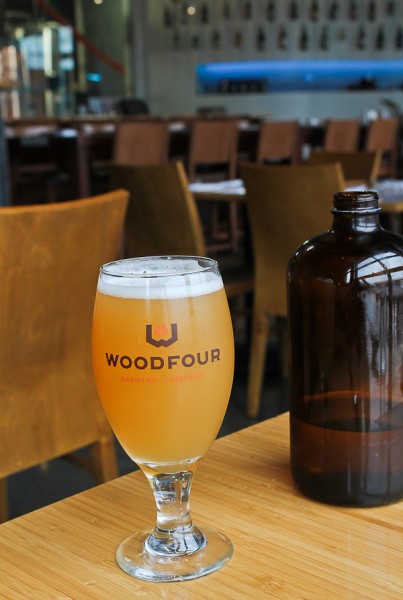 Kristina and I were seated at a table by a window where we could watch the goings-on of The Barlow as we enjoyed our meal.  We decided to try a couple of the starters.  Since anything pickled is trendy at the moment, we selected the pickled vegetables that were presented creatively and tasted wonderful!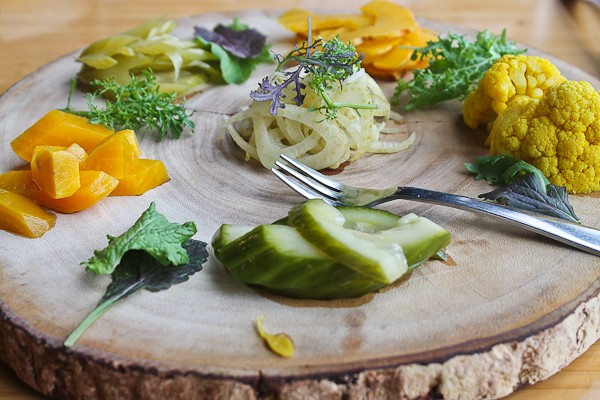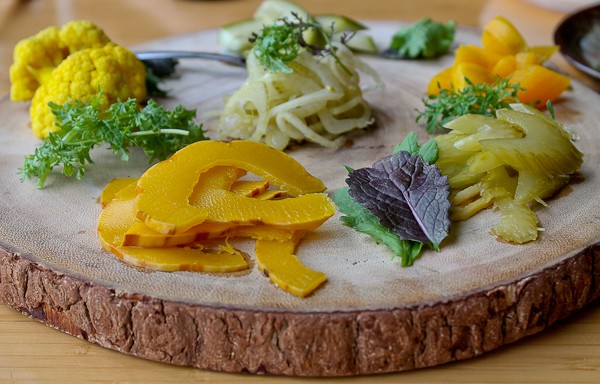 Since we are both fans of deviled eggs, how could we resist ones with smoked paprika, horseradish, and chervil?  We vowed never again to make deviled eggs without a touch of horseradish.  Heavenly.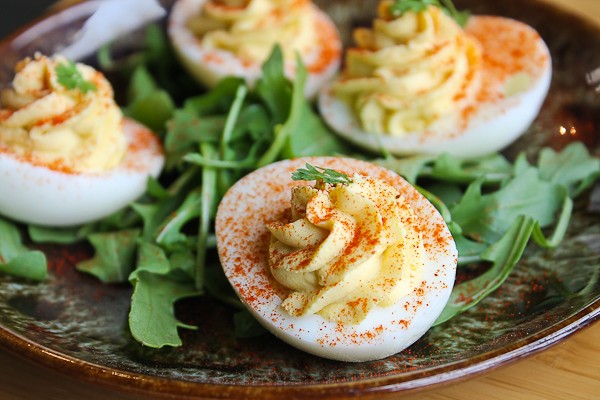 Other starters offered included crispy Brussels sprouts with Parmesan, espelette, and a Meyer lemon aioli; roasted beets with pumpernickel, walnuts,  and dill sour cream; and a generous artisan cheese board including Red Hawk from the Cowgirl Creamery in my mom's town of Point Reyes.
For the larger plate, I selected the mushroom bisque with sage leaves, crispy parsnip, sherry, and a drizzle of olive oil.  I wish I had some right now.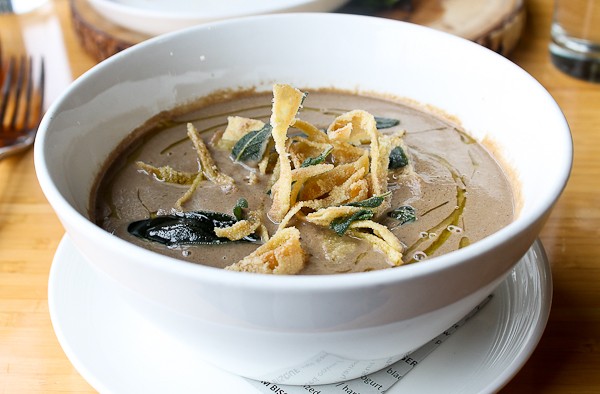 Kristina ordered the farmstand cheese melt on a warm and crispy baguette with caramelized onions, stone ground mustard, and arugula, with homemade chips on the side.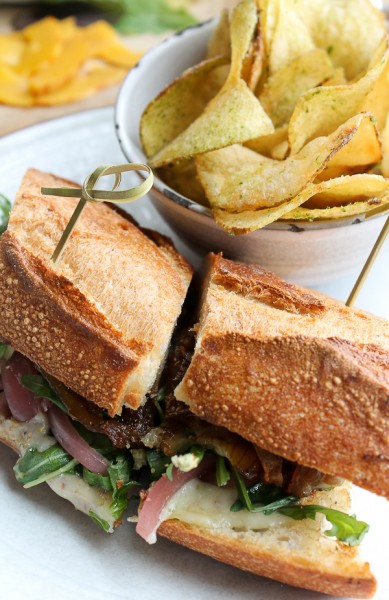 The sweet plates included a buttermilk panna cotta of cara cara and blood orange and a pistachio streusel; a dark chocolate cremeux made with stout caramel and hazelnut; and a vanilla bean gelato sundae with toasted walnuts, chocolate sauce, and caramel.  We were just too full to order a dessert, but they all sounded amazing.