Just about anything can be stuffed into a pepper, even leftovers if that's all you have on hand.  I found this recipe in a Reader's Digest cookbook about casseroles and was surprised to find a stuffed pepper recipe.  I never thought of them as a casserole, but they certainly were good and perfect for a Meatless Monday meal. (or any day of the week!)  I also happened to have all the ingredients on hand.  I will make these again!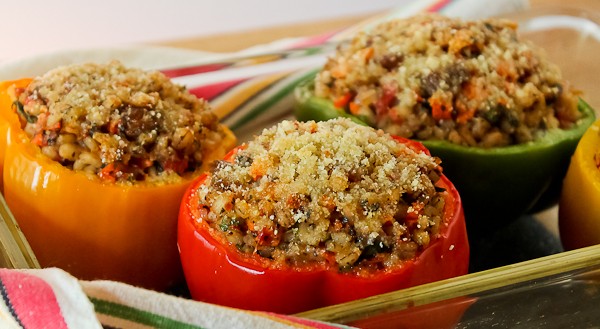 A variety of pepper colors look pretty and appetizing.  I had one each of green, red, yellow, and orange that I was going to use for a stir-fry and ended up making these instead.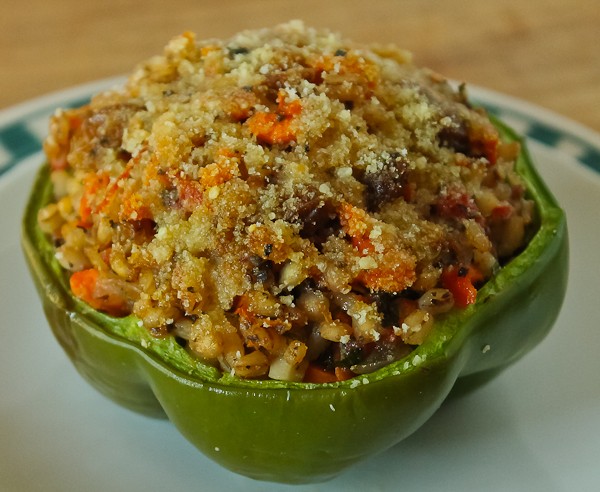 The barley is cooked in chicken broth and set aside.  Red onion, garlic, tomatoes, carrot, fresh basil, parsley, and golden raisins are cooked briefly and then the barley is stirred in.  The mixture is spooned into the peppers, sprinkled with Parmesan and dry bread crumbs, drizzled with olive oil and baked.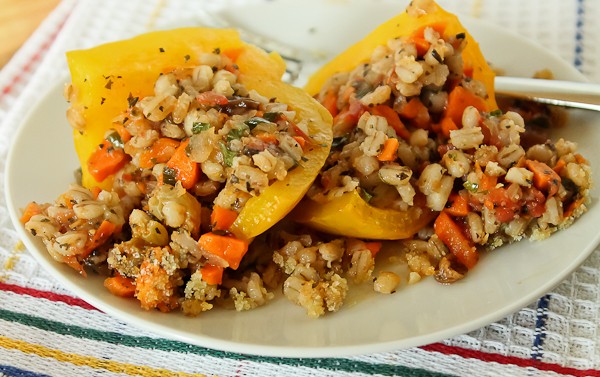 Look at all that goodness!  I think you will love these.

Barley Stuffed Peppers
Author:
Reader's Digest Casserole cookbook
Ingredients
1-1/2 cups chicken broth
½ cup pearl barley
3 Tablespoons olive oil, divided
½ cup chopped red onion
2 large garlic cloves, minced
1 cup diced plum tomatoes
¾ cup chopped carrots
¼ cup minced fresh basil leaves or 4 teaspoons dried
2 Tablespoons minced flat leaf parsley
¼ cup golden raisins
Salt and freshly ground black pepper, to taste
4 bell peppers, your choice of colors!
⅓ cup dry unseasoned bread crumbs
⅓ cup freshly grated Parmesan cheese
Instructions
Bring the broth to a boil in a medium saucepan. Add barley, reduce heat and cover. Simmer for about 15 minutes or until barley is almost tender. Drain if necessary, and set aside.
In a large skillet, heat 1 Tablespoon of the olive oil over medium heat. Add onion and garlic and saute about 4 minutes until onion is soft. Stir in the cooked barley, tomatoes, carrots, basil, parsley, and raisins. Remove from heat. Taste and add salt and pepper as desired.
Heat oven to 350 degrees. Lightly butter a baking dish just large enough to hold the cut bell peppers snugly. To prepare bell peppers, you can either cut lengthwise to make long cups or crosswise to make small cups. Scrape out ribs and seeds. Arrange peppers in prepared dish. Spoon barley mixture into pepper cups, dividing evenly and mounding slightly. (you may not use all the peppers, depending on their size). Sprinkle each filled pepper with the bread crumbs and Parmesan cheese, then drizzle with the remaining 2 Tablespoons olive oil. Cover the dish with nonstick aluminum foil.
Bake, covered, for 35 minutes. Uncover pan and bake an additional 15 minutes or until peppers are tender and lightly browned. Serve immediately.
Peppers can be completely prepared, covered tightly with the foil, and refrigerated overnight. Bring to room temperature before baking.