This one's for you, mom.  I finally found a way for you to have dinner with your favorite guy, Tom Selleck.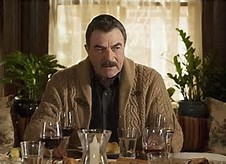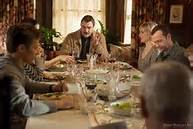 Maybe you won't be able to sit around the dinner table with the Reagan family, but I have their recipes for you!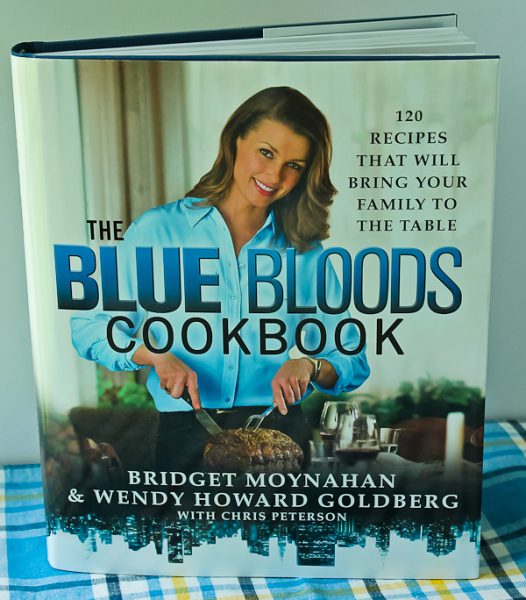 Yes, mom, there is now a cookbook with 120 recipes inspired by the show and its beloved characters!  It is written by the beautiful Bridget Moynahan who plays Selleck's daughter, Erin Reagan, and Wendy Howard Goldberg, wife of Leonard Goldberg, the executive producer of Blue Bloods.
Mom's favorite part of the show is when they all gather around the large and cozy dinner table, chatting of the latest events of their lives, sometimes funny, sometimes drama is involved.  Whatever happens, the food always looks inviting, comforting, and traditional, which is exactly the kind of recipes found in this cookbook.  I have always believed the importance of the family dinner table to keep connected with each other, with no distractions, and it seems that viewers of the show feel the same way.  According to online comments and viewer letters, the ritual of the dinner scene strikes a deep chord in this fast-moving world.  Everyone loves it.
I had a great time going through this cookbook from beginning to end, first just wanting to find recipes I thought mom would like, then I ended up sticking post-it notes on ones I wanted to scan before I give mom the book.  There are also "Behind the Scenes" stories about the show, such as how Will Estes who plays son Jamie and Sami Gayle who plays Erin's daughter Nicky are both vegetarians, so you can bet they are not eating those gorgeous roasts and hams on the table.  Donnie Wahlberg apparently eats a lot but never gains weight. Tom Selleck hates vegetables, which is funny because he owns an avocado farm.  Now I am going to be very observant in watching who eats what in the dinner scenes!
The recipes all sound like good comfort food such as herb-roasted chicken, Italian meatballs, corned beef and cabbage, New York cheesecake, potato salad, standing rib roast, pumpkin pie, buttermilk biscuits, cornbread with honey butter, shortbread, and a chocolate cake that makes you want to bite the page. If you like down-to-earth, good American family food, you will love this cookbook.  The photos are tantalizing.
The recipe I decided to make for mom, even though she lives across the country, was the "Super Simple Macaroni Salad" not only because I know she will like it but since it's summer, it's perfect to go with grilling in the hot weather to come.  It's a basic but very good macaroni salad, one that I would definitely make again.  Serve it nice and cold, letting it chill at least a couple hours before serving, or it can even be made overnight.  It's great served with grilled brats or sausages hot off the grill.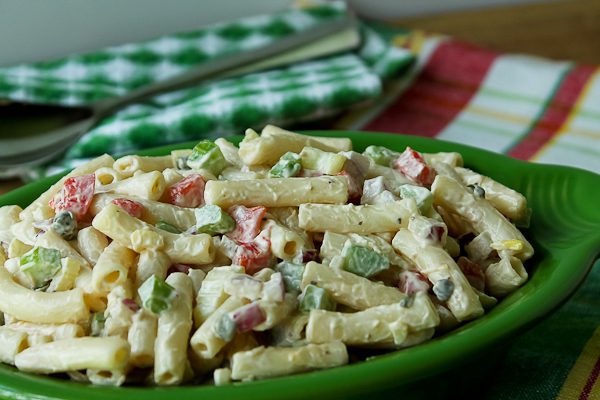 The dressing is mayonnaise, sour cream, Dijon, Worcestershire sauce, lemon juice, salt, and pepper mixed with the al dente cooked macaroni.  Stirred in is diced red bell pepper, celery, red onion, and capers.  That's it.  Simple and wonderful, but you can also add a favorite herb or other colors of bell peppers.
I wish I could give you this bowl of salad, mom, but I'm going to mail you the book and then someone can make it.  You may not have Tom at the table with you, but you can still have a big family dinner with everyone there.  And that's the best part.

Super Simple Macaroni Salad
Author:
The Blue Bloods Cookbook
Ingredients
¾ cup real mayonnaise
¼ cup sour cream
2 teaspoons Dijon mustard
1 teaspoon Worcestershire sauce
1 Tablespoon fresh lemon juice
½ teaspoon kosher salt
½ teaspoon freshly ground black pepper
4 cups cooked elbow (or other) macaroni, cooked al dente and drained
⅓ cup diced red bell pepper
½ cup diced celery
⅓ cup diced red onion
1 Tablespoon capers, drained
Instructions
In a large bowl, combine the mayonnaise, sour cream, mustard, Worcestershire, and lemon juice. Whisk until completely mixed. Add salt and pepper; whisk to incorporate.
Add the macaroni and stir until completely coated. Add the bell pepper, celery, onion, and capers. Stir until all ingredients are evenly distributed.
Refrigerate the salad for at least 1 hour and up to overnight. Prior to serving, taste and add more salt and pepper if needed. Serves 4-6.