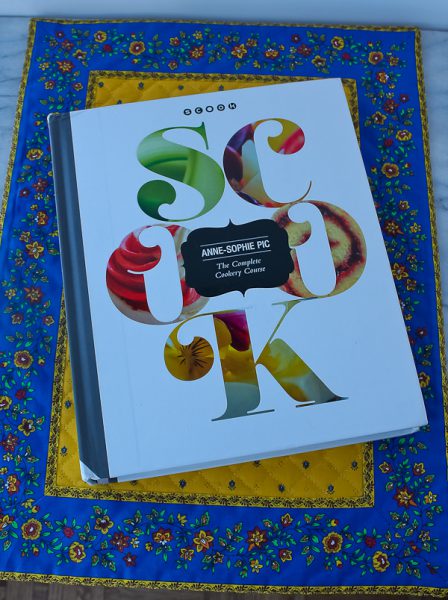 If you are a serious cookbook collector, Scook needs to be high on your list, as long as you have a shelf large and strong enough to hold it!  Scook is huge and heavy.  And wonderful.
Author Anne-Sophie Pic is a French chef known for gaining three Michelin stars for her restaurant, Maison Pic, in southeast France.  In 2007, Pic became the only female chef in France and only the fourth woman in history to earn the top honor of the culinary world: a three-Michelin star rating.  She was also named the Best Female Chef by the The World's 50 Best Restaurants in 2011.  Even though the honors are highly impressive, Pic writes her cookbook so all of us can enjoy cooking her food in our own kitchens.  The cookbook will instruct step-by-step how to achieve success with Pic's recipes, everything from how to peel and dice tomatoes properly, or how to cook a lobster, to mastering a souffle, blanquette of veal, or a perfect macaron.
Pic believes her success comes because of, not in spite of, being a woman.  She considers her taste combinations and artistry to be an expression of her femininity.  My daughter Kristina was lucky enough to dine at one of Pic's restaurants at Beau-Rivage Palace in Lausanne, Switzerland and she wrote an article about it with photos.  Go look at those photos and you will see that her food indeed looks very feminine and breath-taking.
I had to make something from the cookbook and my first choice uses two of my favorite ingredients: asparagus and mint.  The Green Asparagus with Mint Hollandaise Sauce tastes as good as it sounds.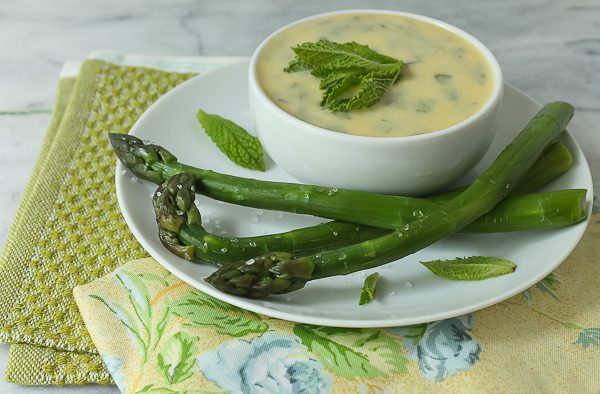 I could eat this every week and never tire of it.  Next on my list to try is the Lemon Tart with Italian Meringue.  As Pic says, "Everyone needs a recipe for lemon tart."
Get this book.  But first you can make the asparagus.

Green Asparagus with Mint Hollandaise Sauce
Ingredients
The Asparagus:
20 green asparagus spears
Splash of olive oil
5 fluid ounces vegetable stock
2 sprigs of fresh mint
The Hollandaise Sauce:
3-1/2 ounces butter
2 egg yolks
2 Tablespoons asparagus-cooking liquid
Juice of ½ lemon
1 Tablespoon finely chopped mint
Fine salt
Finishing off:
Splash of olive oil
Fleur de sel
Mint leaves
Instructions
The Asparagus: Prepare the asparagus spears by bending the stems until they snap, then discarding the woody ends. Then, using a small knife, remove the "scales" on the remaining stems so they are smooth. Put a saucepan over a high heat, add the olive oil and saute the asparagus all over, without letting it color too much. Add the vegetable stock and the mint leaves. Cook for another 3-4 minutes (the asparagus should still be slightly crunchy). Drain over a bowl, reserving the cooking liquid, then chill the asparagus in the fridge. Remove the mint from the cooking liquid.
The Hollandaise Sauce: Melt the butter over a gentle heat, then remove from the heat. Using a spoon, skim the foam from the top, then pour off the yellow clarified butter and discard the white milk solids that will have separated out. In a saucepan, whisk together the egg yolks, the 2 Tablespoons asparagus-cooking liquid and a pinch of salt. Place over the lowest heat possible and whisk rapidly for 3-4 minutes. As soon as the sabayon is good and foamy, remove from heat and gradually mix in the warm clarified butter. Finally, stir in the lemon juice and finely chopped mint. Check the seasoning.
Finishing off and plating up: Heat oven to 300 degrees F. Put the asparagus in a baking dish, cover with damp kitchen paper and reheat for 2 minutes. Divide between 4 plates. Using a pastry brush, coat the asparagus spears with a little olive oil to make them glossy, then scatter over the fleur de sel and a few mint leaves. Serve immediately with the hollandaise sauce.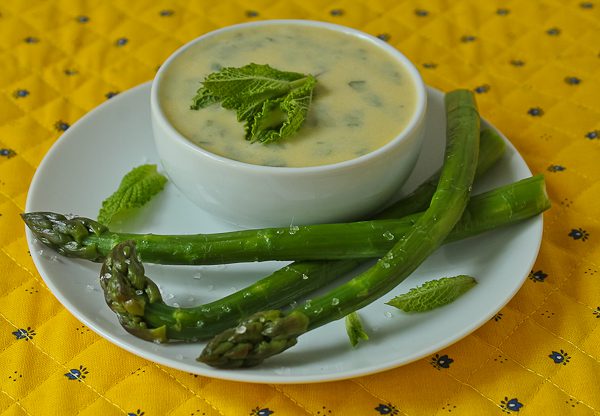 Check out Anne-Sophie Pic on Facebook, Twitter, and Instagram.