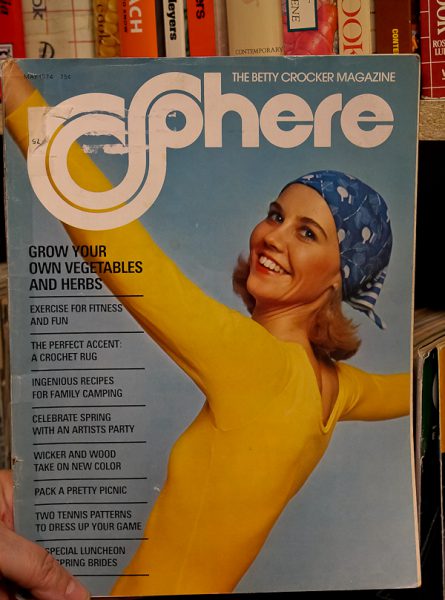 Once again, the month got away from me in my monthly vintage Sphere reports.  All of a sudden it's May 31st and my time is out.  In part, I can blame this silly Springtime flu I have had for more than a week now.  I rarely get flu in the winter, but for some reason it appears in the Spring,  With nothing much else to do, I found something fun and a little fussy to make in this issue, plus I had to find a recipe that had ingredients on hand. But that's what I do-  if I feel good I cook, if I feel bad I cook.  Somehow both ways make me feel better.
The first couple articles I came across were for outdoor cooking or outdoor enjoyment like picnicking, and planting a garden or herbs for the summer, none of which I could do with the flu.  The last article in the magazine was for planning a bridal luncheon.  The menu suggested a choose-your-own-chef's-salad with assorted homemade dressings like Thousand Island, Creamy Garlic, and Chunky Blue Cheese; crusty rolls, and some luscious-looking chocolate eclairs.  Yes, I did have the ingredients for those, including the use of optional banana liqueur in the filling which I happened to have from a dessert I made a year ago and it's been sitting in the pantry waiting for a new recipe to come along.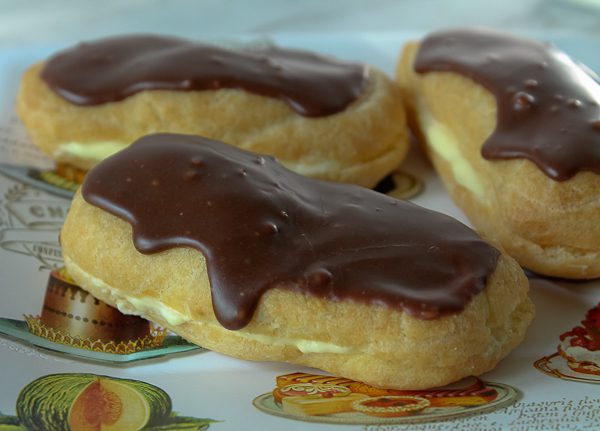 The filling is simply packages of vanilla cook-and-serve pudding with the banana liqueur stirred in and chilled, then whipped cream folded in.  It's a very subtle banana flavor but really good.  I wasn't sure if I was going to like it, but I would definitely make it this way again.  The chocolate icing comes out nice and glossy.  The recipe makes 16 eclairs, not too big which is nice.  Only problem with these is that they must be eaten within 24 hours of making as the filling will start to weep and the eclairs will get soft, so plan carefully.  You can make the pudding the night before to save time, but don't fold in the whipped cream until ready to fill.  Everything else has to be made the same day.  I think you will find that they are worth it and since they are so good, they won't last long anyway.

Chocolate Eclairs
Author:
Sphere Magazine, May 1974
Ingredients
2 packages (3 ounces each) vanilla cook-and-serve pudding and pie filling (do not use instant)
3 cups whole milk
6 Tablespoons banana liqueur, optional
1 cup water
½ cup butter
1 cup all-purpose flour
4 eggs, room temperature
1 cup chilled whipping cream
⅓ cup semisweet chocolate chips
¼ cup evaporated milk
1 cup powdered sugar
1 teaspoon light corn syrup
½ teaspoon vanilla extract
Instructions
Heat oven to 400 degrees. Line a large baking sheet with parchment paper; set aside.
Prepare pudding mixes according to package directions except only use 3 cups whole milk, not 4 cups. Remove from heat. Stir in banana liqueur. Cool slightly and refrigerate, covered until cold. (I made early in the day or you can make the night before)
Heat water and butter in a 3-quart saucepan to boiling; reduce heat. Stir in flour. Stir vigorously over low heat until mixture leaves sides of pan and forms a ball. Remove from heat. Beat in eggs, all at once. Beat until smooth.
Shape dough by scant 3 Tablespoonfuls about 3-inches apart on prepared parchment-lined baking sheet (or ungreased baking sheet) into finger-like shapes, 3-1/4 inches long and 1-1/2 inches wide, making 16. Bake about 30-35 minutes or until golden. Cool completely away from drafts.
Beat whipping cream in chilled bowl until stiff. Fold in cold vanilla pudding mixture. Cut large tops off eclairs with a sharp serrated knife. Remove soft dough inside shell by pulling out with your fingers and discard. Fill eclair bottoms with generous amount of filling. It will seem like there is a huge amount of filling but surprisingly it comes out just right. Don't be afraid to fill them each with a lot!
Heat chocolate pieces and evaporated milk over low heat until chocolate is melted. Remove from heat. Stir in powdered sugar, corn syrup, and vanilla until smooth and glossy. Frost eclair tops and place on top of filled bottoms. Chill at least 2 hours, but no longer than 24 hours. Makes 16 eclairs. Note: I frosted the tops first, then made and filled the bottoms, so the filling wouldn't have to sit there while I made the frosting.