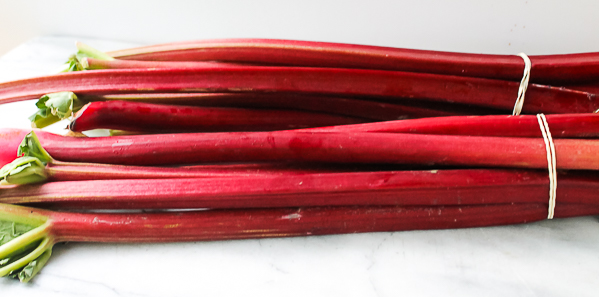 Many people look forward to bright and beautiful rhubarb in the Spring.  My friend Jean gives me some  from her garden and I love trying something new every year.
This year I tried a recipe for a moist buttermilk cake with diced fresh rhubarb and a vanilla sauce drizzled over the sugary crisp topping.  It was wonderful!
I had never tried a topping like this one which was just melted butter and granulated sugar.  It made a beautiful golden crispy top.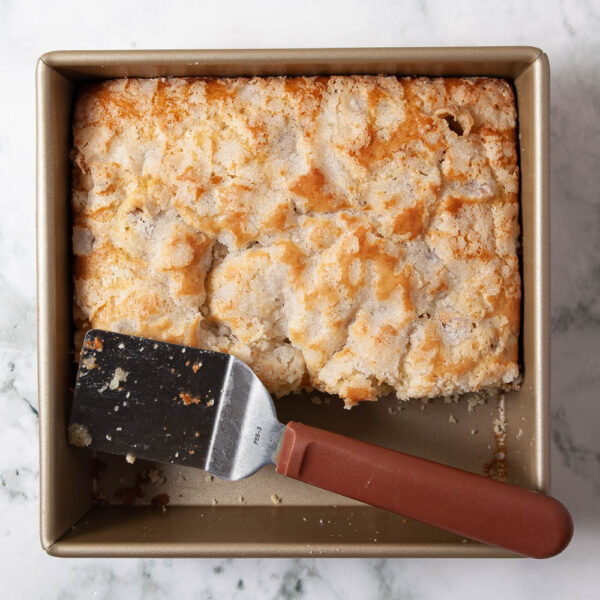 The vanilla sauce can be made first and chilled while you bake and cool the cake, or it can even be made a day ahead and refrigerated.  To serve, the cake is cut into squares and the sauce drizzled over the top.  It's yummy!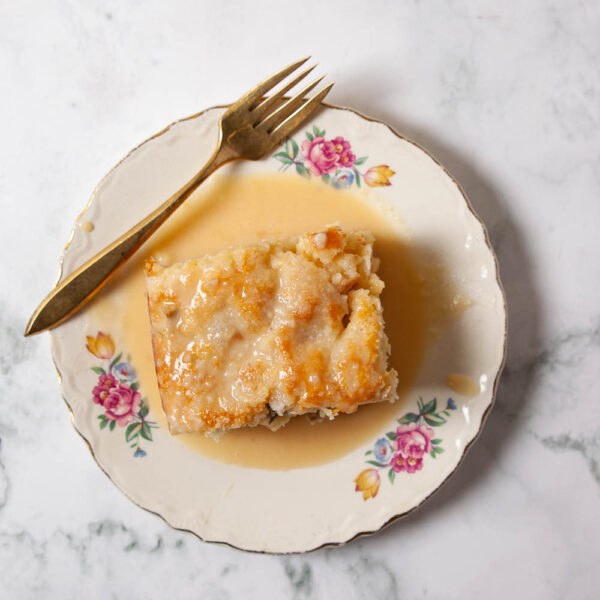 Use pretty plates for serving and maybe decorate the table with Spring flowers and you have a beautiful dessert and setting.  This lovely antique plate belonged to my husband's aunt from Wisconsin.
Buttermilk Rhubarb Cake with Vanilla Sauce
Author:
Adapted from Taste of Home
Ingredients
Cake:
1 cup granulated sugar
1 egg
2 Tablespoons butter, melted
1 cup buttermilk
2 cups all-purpose flour
1 teaspoon baking powder
½ teaspoon baking soda
½ teaspoon salt
1 cup fresh diced rhubarb
Topping:
2 Tablespoons melted butter
½ cup granulated sugar
Vanilla Sauce:
½ cup butter
1 small can (5 ounces) evaporated milk
½ cup granulated sugar
1 teaspoon vanilla extract
Instructions
For cake: Heat oven to 350 degrees F. Grease an 8-inch square pan; set aside. In bowl of electric mixer blend together sugar, egg, and butter. Beat in buttermilk until smooth. Stir together dry ingredients and add to mixer. Mix well. Stir in rhubarb. Pour batter into prepared baking pan
For Topping: Combine the topping ingredients and sprinkle over top of batter. Bake for 35 to 38 minutes or until a pick inserted in the center comes out clean. Remove from oven and place on wire rack to cool.
For sauce: Place the butter, milk, and sugar in a small saucepan over medium heat. Bring to a boil and boil for 1 minute, stirring constantly. Remove from heat and stir in vanilla. (Note: The sauce can be drizzled over the cake after it has cooled, or you can make the sauce ahead of time and refrigerate until ready to serve.)
To serve, cut into squares and place on dessert dishes. Drizzle each cake piece with vanilla sauce.