I received the sweetest note from a reader who lives in Tennessee after the flood of The Culinary Cellar that destroyed my cookbook library and all my filed recipes.  Margaret McNeil is a Field Editor from Taste of Home magazine, and also writes her own recipe blog called Margaret's Morsels.  Margaret not only sent a box of cookbooks to help build a new collection, but also recipe cards for me to start a new file.  The cards were for French Dip Sandwiches, and Pork Chops with Mushroom Sauce.  I had decided earlier yesterday that I was going to make a recipe from one of her books.  When I opened the book, her recipe cards fell out and I had to laugh at the coincidence that French Dip Sandwiches were what my husband Bill had just asked for to have for dinner!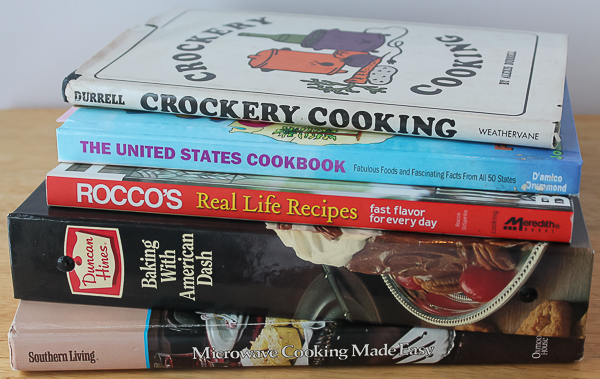 Here are the books sent by Margaret.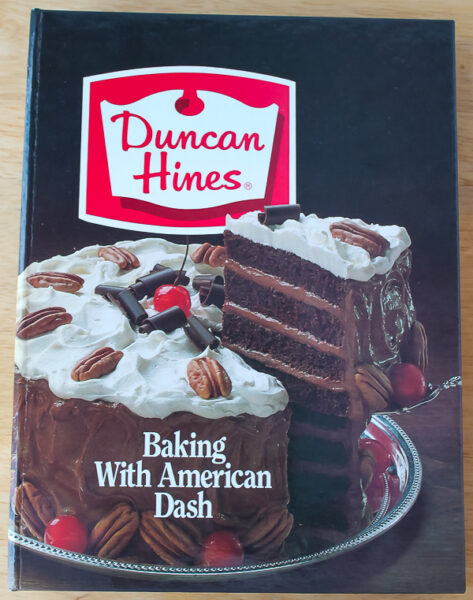 I decided on this book because I remembered seeing ads in magazines and commercials talking about "American Dash" recipes.  On another note, did you know Duncan Hines was an actual person?  Many believe he was a made-up person for advertising like Betty Crocker, but he was for real.  Hines was a pioneer of restaurant ratings for travelers, and later became the name of his food products.
I felt like making a cake and turned to the "Take-Alongs" chapter.  I had Memorial Day on my mind and now that the country is starting to open up for some gatherings, many people will probably be having picnics or backyard barbecues.  Here is something to "take along" to share.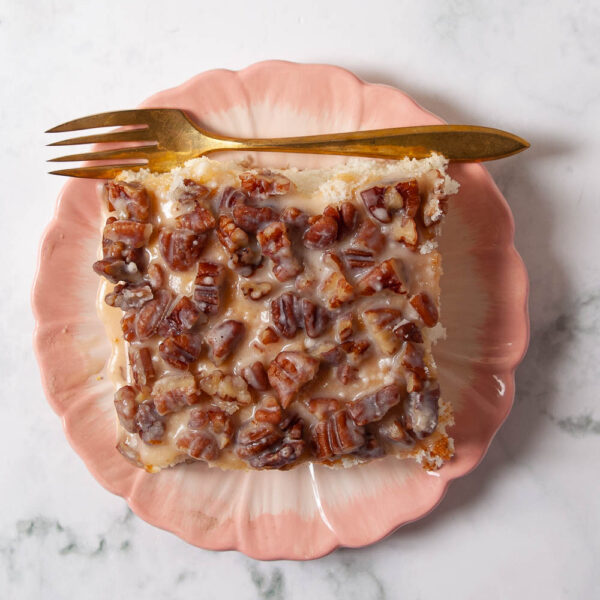 The cake is called "White Cake with Toasted Pecan Topping."  The cake base is prepared aa directed on the package for a 9-by-13-inch pan. When the cake has cooled, butter and coarsely chopped pecans are heated and stirred together until fragrant and the nuts are toasted.  The pan is removed from the heat and half-and-half, vanilla extract, and confectioners' sugar are stirred in.  The warm mixture is quickly poured evenly all over the cooled cake.  It eventually hardens and tastes like a praline!  Bill liked it best chilled and said it tasted even better the next day.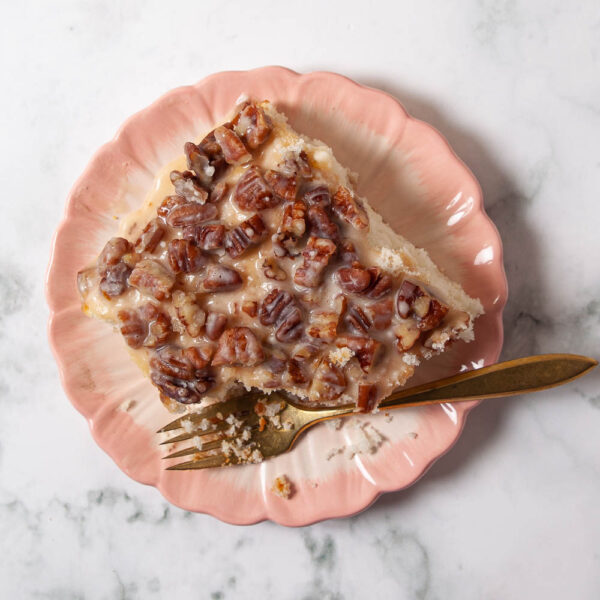 The pecans are deliciously crunchy  You could probably use the topping for cookies too.
The book has eight chapters of ideas, from breakfast (like muffins) to ideas for kids for making fun shapes of cakes for parties.
Thank you, Margaret!  I am making your pork chop recipe next.

White Cake with Toasted Pecan Frosting
Author:
Baking with American Dash by Duncan Hines
Ingredients
1 package Duncan Hines White Cake Mix
1 cup coarsely chopped pecans
¼ cup (4 Tablespoons) butter
½ cup half-and-half
1-1/2 teaspoons vanilla extract
3-1/2 cups confectioners' sugar
Instructions
Preheat oven to 350 degrees F. Grease and flour a 9-by-13-inch baking pan.
Prepare, bake, and cool cake as directed on package.
For frosting, heat and stir pecans and butter in a skillet or large saucepan until pecans are toasted. Remove from heat and stir in remaining ingredients until well-mixed. Immediately evenly pour over cooled cake and spread quickly, distributing pecans. Let cool until frosting is well-hardened. Can serve from 12 to 16.