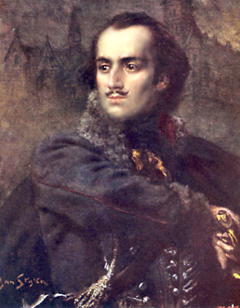 Meet Casimir Pulaski.  He was a Revolutionary War cavalry officer born in Poland.  Pulaski is praised for his contributions to the U.S. military in the American Revolution and known as "The Father of the American Cavalry."  His memory is officially observed in Chicago and a few other cities where there is a large Polish population, on the first Monday of every March.  When my girls were young, it was an official holiday, so they got a day off school.  It's also the perfect day to celebrate Polish food!
My daughter Kristina and husband Bill happened to be in Chicago a couple weeks ago on Fat Tuesday when Chicagoans love to enjoy eating Polish paczkis (pronounced poonch-keys) which are fruit-filled pastries, sort of like a doughnut but better!  Bill and Kristina didn't want to buy paczkis just anywhere, they wanted a real Polish deli where they could also buy some Polish sausages.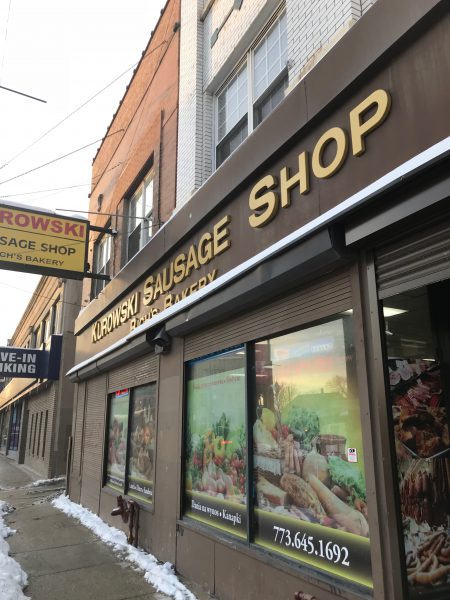 They decided on Kurowski Sausage Shop.  It was a great choice!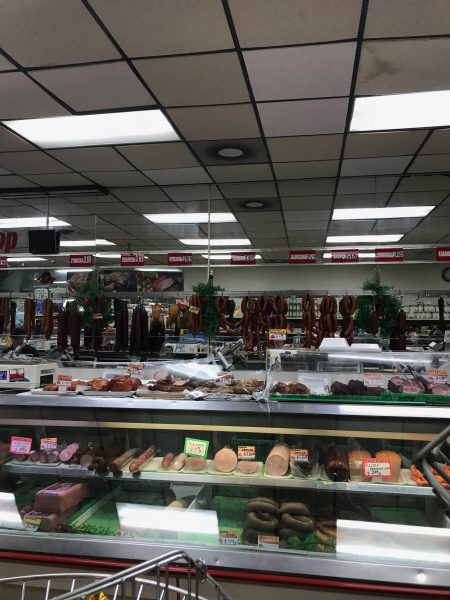 You can buy any kind of delicious Polish food here.  First they headed straight to the paczki area because they sell out fast, especially on Fat Tuesday.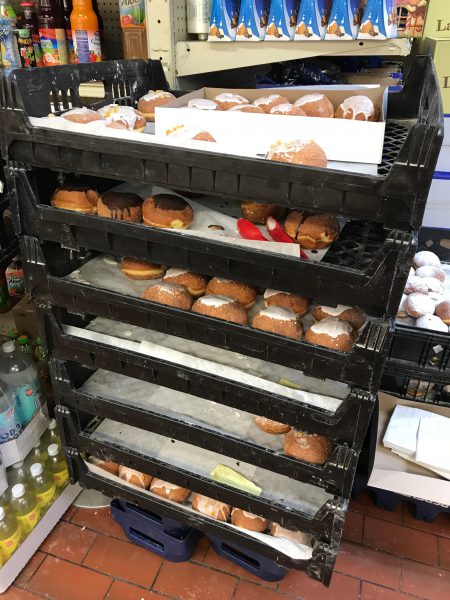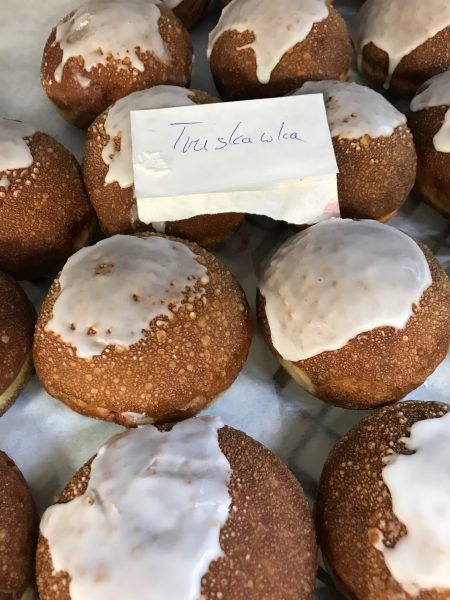 I have no idea what that word is!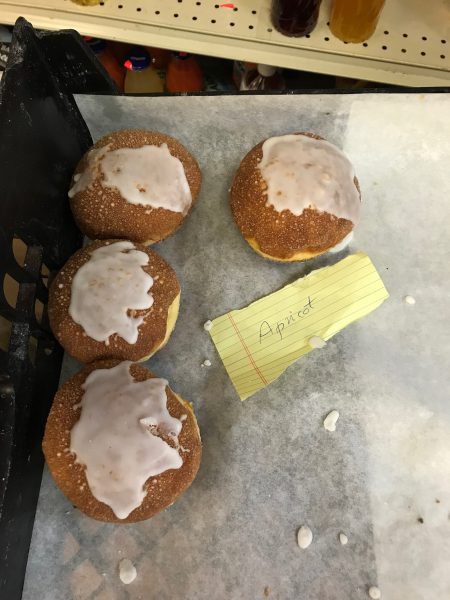 There were so many flavors to choose from!  They settled on these four.  Don't they look delicious? The apricot was incredible!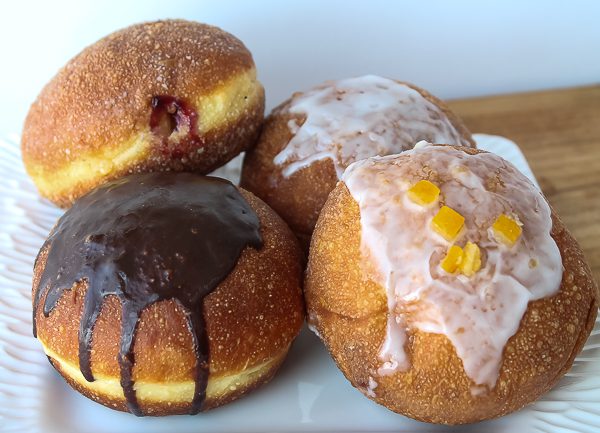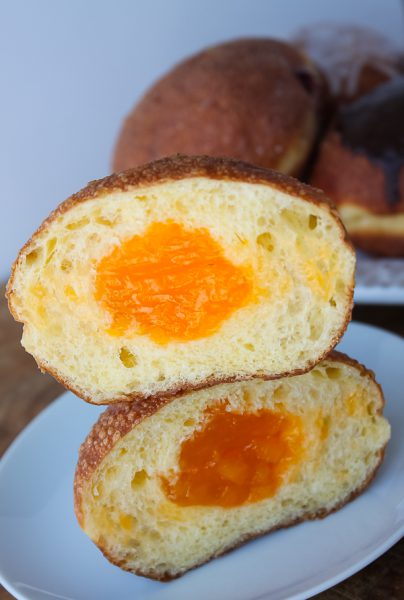 Next was the sausage.  Talk about a variety!  Bill and Kristina didn't know where to begin, but settled on two kielbasa's, lensa and piwna, and of course I have no idea what those are, but I can tell you they were so incredible!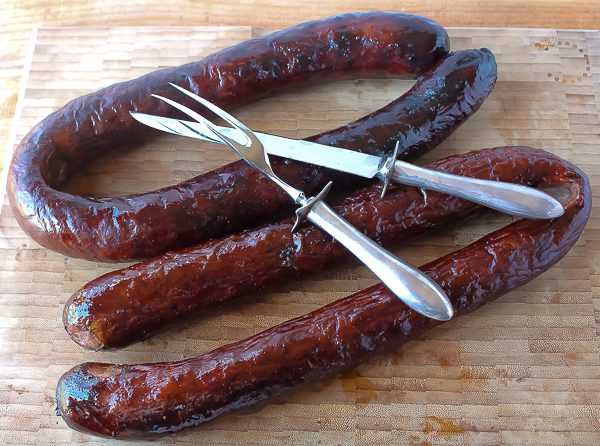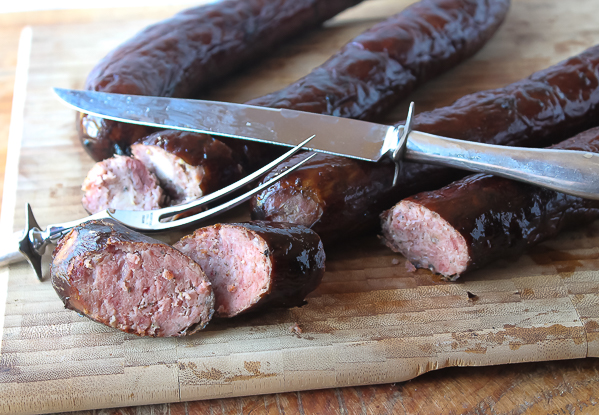 Don't they look tempting?  They were both so good.  (P.S. to my mom –  Do you recognize the vintage carving set of yours from Peacock's in Chicago?)
For dinner tonight, I decided to make a cabbage side dish and heat up some wonderful potato pierogies.  I just buy the frozen ones.  They are really good and cooked in minutes.  The whole meal will be ready to serve in about 30 minutes.  A hot potato salad would be good too, instead of the pierogies in case you can't find them.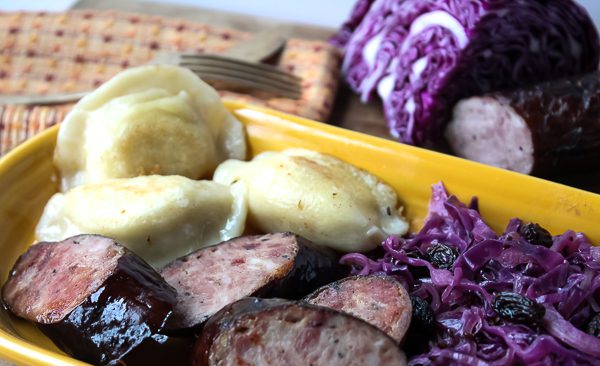 The delicious sweet-sour cabbage salad has onion, apple, raisins, cider vinegar, brown sugar, and caraway seeds.  It's so flavorful and pairs perfectly with the smokiness of the sausage and the creamy potato pierogies.  A great meal for Pulaski Day!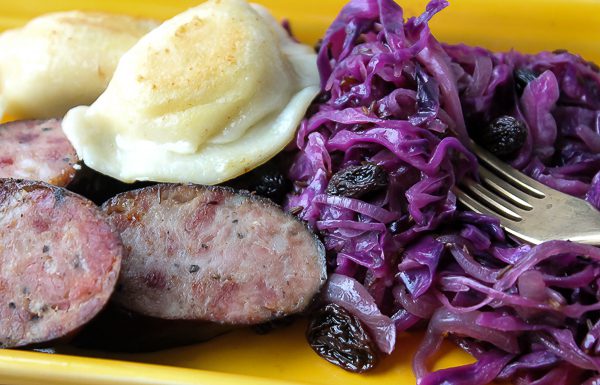 Sweet-Sour Red Cabbage
Ingredients
3 Tablespoons butter
1 large onion, sliced
9 cups shredded red cabbage
1 large tart apple, diced or sliced thin
3 Tablespoons cider vinegar
1 cup water
½ cup raisins
3 Tablespoons packed brown sugar
1 Tablespoon caraway seeds
1-1/4 teaspoons salt
¼ teaspoon pepper
Instructions
Heat butter in a large skillet over medium heat. Add onions and cook for 5 minutes, stirring often. Add shredded cabbage, cover, and cook for 5 minutes, stirring occasionally.
Add all remaining ingredients and stir. Cover skillet and simmer for 8-10 minutes until cabbage is just softened. Makes 6 servings.