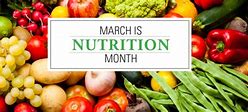 March is National Nutrition Month and a perfect time to offer this delicious lentil soup.  Lentils are loaded with important nutrients and health benefits. They are important sources of fiber, protein, folate, magnesium, iron, potassium, zinc, copper, phosphorus, and many more micronutrients.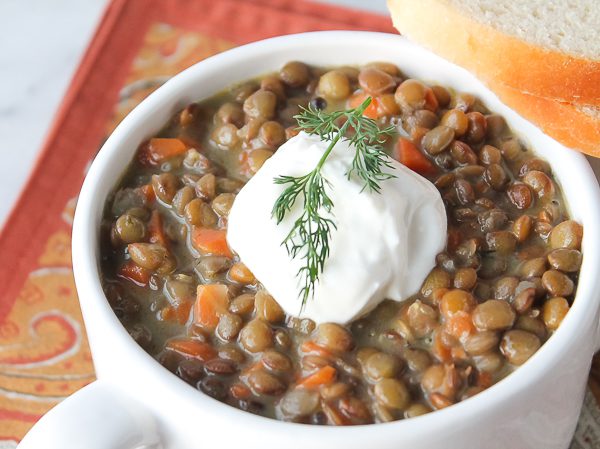 You will receive all this and more with this wonderful lentil soup.  In addition to the lentils, the soup also contains toasted cumin seeds, vegetable broth, carrots, garlic, lemon, dill, and topped with a dollop of Greek yogurt.  It's so good!
This one is for my mom, who always had soup on Saturday nights when she was young.  It was during the depression and my grandmother used to save all the leftover meal scraps from the week and put them in Saturday night soup.  Needless to say, each time the soup was different!
Lemony Lentil Soup with Dill
Ingredients
2 Tablespoons extra-virgin olive oil
1 teaspoon cumin seeds
1-1/2 cups chopped carrots
½ cup chopped onion
2 cloves garlic, minced
1 container (32 ounces) vegetable broth
2 cups water
1-1/2 cups French green lentils, rinsed
2 Tablespoons chopped fresh dill
1 bay leaf
½ teaspoon kosher salt
3 Tablespoons freshly squeezed lemon juice
¼ cup cream, half-and-half, or fat free half-and-half (optional)
2 green onions, finely chopped
Greek yogurt, to top soup
Additional sprigs of fresh dill for garnish
Instructions
In a large saucepan or soup pot over medium-high heat, add olive oil and heat until hot. Add cumin seeds and cook for about 30-45 seconds until toasted and fragrant.
Add carrots, onion, and garlic to pan. Cook, stirring constantly, for 2-3 minutes.
Stir in vegetable broth, water, lentils, 2 Tablespoons dill, bay leaf, and salt. Bring to a boil, reduce heat and simmer, covered, for 25 minutes or until lentils are tender. Remove bay leaf.
Add lemon juice to pot. Stir in optional cream or half-and-half if you like a creamier soup. Season to taste with salt and pepper.
Ladle into serving bowls and sprinkle each with some chopped green onion, top with a dollop of Greek yogurt and a sprig of fresh dill. Serve immediately. Serves 4.