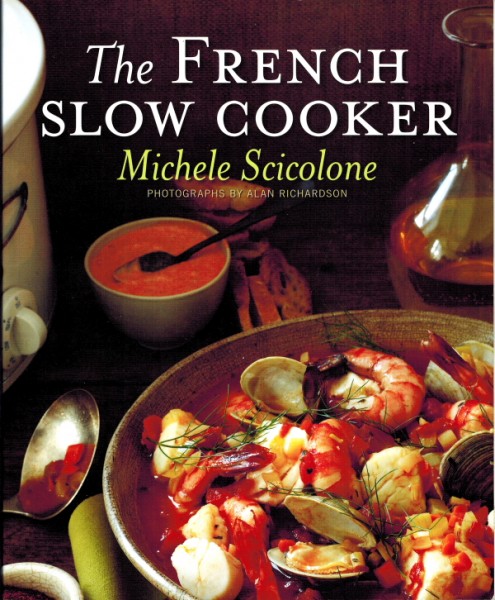 With the arctic weather all over many parts of the country, and especially here in the Chicago area, what better time to use a slow cooker for hot, comforting meals to keep us warm inside.  With Michele Scicolone's French Slow Cooker cookbook, even a novice cook can turn out dishes as though they came out of the kitchen of a French grandmere.  Dishes such as red wine braised beef, bouillabaisse, and even creme brulee go beyond what you usually expect from a slow cooker.
The author tells you what items to keep handy in your pantry to prepare a French meal anytime.  Read the wonderful recipes for soups, poultry, meats, seafood, souffles, quiches, vegetables, legumes, grains, and desserts and decide what you should keep on hand.
Since I have actually been snowed in here and there in the last month, I had to use what ingredients I happened to have in the refrigerator and pantry.  Since my husband had just bought a ham the day before a blizzard, I decided to make a potato dish to go with it.  I settled on the Potatoes Piperade, which has a colorful sauce of bell peppers, tomatoes, onion, and a little chopped ham layered with the potatoes.  It was a wonderful accompaniment to the spiral ham.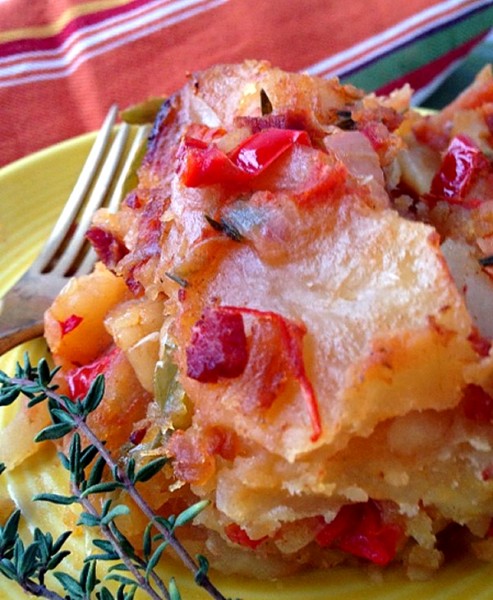 Knowing I would most likely still be snowed in the following day, or at least did not want to venture out to the store with the weather at 20 degrees below zero, I checked out my freezer and found a rump roast and took it out to thaw in the refrigerator.  I found a Red Wine-Braised Pot Roast that sounded great.  I wanted to serve it with garlic mashed potatoes, but I had used up all my potatoes for the piperade, and had to settle for some noodles.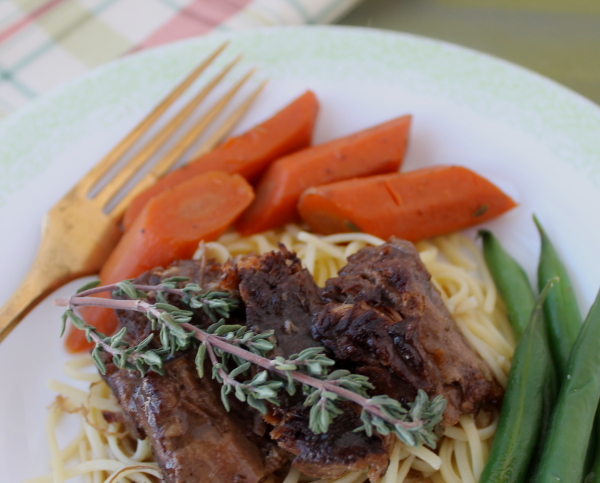 The meat was very tender with a rich, thickened broth.  We loved it with some carrots and green beans, but wished we also had some mushrooms.  Next time.  The aroma from this dish was heavenly, which is another great thing about slow cookers; the whole house smells wonderful all day long.  Next on my list is the Chouroute Garni, that is whenever I can fight my way through the icicles outside the front door.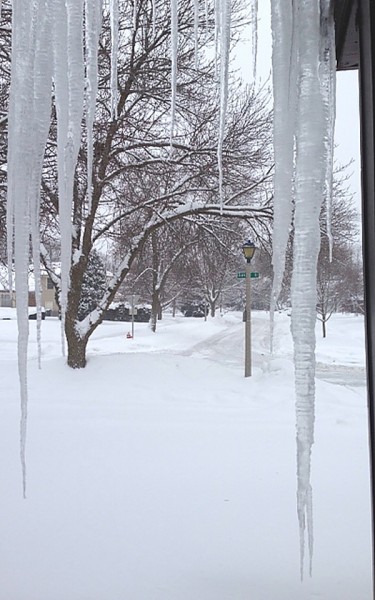 Potatoes Piperade
Olive oil
Piperade (recipe follows)
6 medium russet potatoes, peeled and sliced
Salt and pepper, to taste
Oil the insert of a large slow cooker.  Spoon about one-third of the piperade into the bottom of cooker.  Arrange half the potatoes on top.  Sprinkle with salt and pepper, to taste.  Make a second layer with one-third of the sauce, the remaining potatoes, and salt and pepper, to taste.  Spoon remaining sauce over the top.  Cover and cook on high for about 3-1/2 to 4 hours, or until the potatoes are tender.  Serve hot.  Serves 8.
Piperade:
2 Tablespoons olive oil
4 ounces chopped ham
2 medium onions, halved and thinly sliced
3 garlic cloves, minced
2 red or green bell peppers, seeded and thinly sliced (I used one of each)
1-1/2 teaspoons chopped fresh thyme (I used a little more because I love thyme!)
Salt, to taste
2 cups chopped peeled and seeded tomatoes, or canned tomatoes, drained and chopped
2 teaspoons paprika (or if you have it, piment d'Espelette)
Heat oil in a large skillet over medium-high heat.  Add the ham and cook, stirring occasionally, until lightly browned; remove with a slotted spoon and set aside.  Reduce heat to medium and add onions, cooking until tender and golden, about 8 minutes.  Stir in garlic and stir for a minute, then add peppers, thyme, and salt to taste.  Cover and cook, stirring a few times, until the peppers are softened, about 8-10 minutes.  Add the ham, tomatoes, and paprika; stir to combine.  Bring to a simmer and cook for 10 minutes or until the sauce is slightly thickened.
Red Wine-Braised Pot Roast
about 4 pounds boneless beef chuck, rump, or bottom round
2 Tablespoons olive oil
3 large carrots, peeled and chopped
2 medium onions, chopped
2 celery ribs, chopped
2 garlic cloves, chopped
2 fresh thyme sprigs
1 bay leaf
pinch of ground cloves
2 cups dry red wine
2 cups homemade or store-bought beef broth
2 Tablespoons cornstarch mixed with 1/4 cup cold water, to thicken
Pat the meat dry with paper towels, then sprinkle all over with salt and pepper.  Heat the olive oil in a large skillet over medium-high heat.  Add the beef and brown on all sides.  Scatter the carrots, onions, celery, garlic, thyme, bay leaf, and cloves into the bottom of the slow cooker.  Place browned beef on top.  Pour the wine into the skillet and cook, scraping the bottom of the pan to release any beef bits, and bring to a simmer.  Cook for 1 minute, then pour wine over the beef.  Add the beef broth to the slow cooker and season with salt and pepper, to taste.  Cover and cook on low for 8-10 hours or until the beef is tender.  Remove beef to a platter and cover to keep warm.  Skim fat off top of pan juices.  Strain the cooking liquid into a saucepan and discard the solids.  Add the cornstarch mixture and cooking, stirring, until thickened, about 2-3 minutes.  Taste for seasoning.  To serve, slice the beef and spoon sauce on top.  Serves 8.  The beef and sauce are good with mashed or baked potatoes, or buttered noodles. Serve with your favorite vegetables on the side.