The classic Super Bowl dip using Velveeta cheese and a can of Rotel tomatoes (or sometimes salsa) has been around forever.  I used to make it for one of my college boyfriends and his frat brothers and they thought I was a genius.  Little did they know.  I suppose that was because they would eat anything.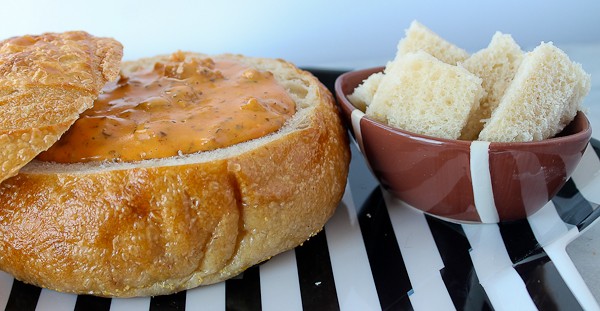 It's the recipe that won't die.  I don't know why people are so obsessed with it, but it will probably be around for a long time.  If that's the case, I thought why not try to add something to it-   just because.  You can always go back to the original. Not like it's hard to remember.
Start by adding some Italian sausage.  Lots of flavor there and also a popular game day item.  We'll stick with the Velveeta and salsa, but how about some fresh garlic and a little freshly ground fennel seed and aniseed?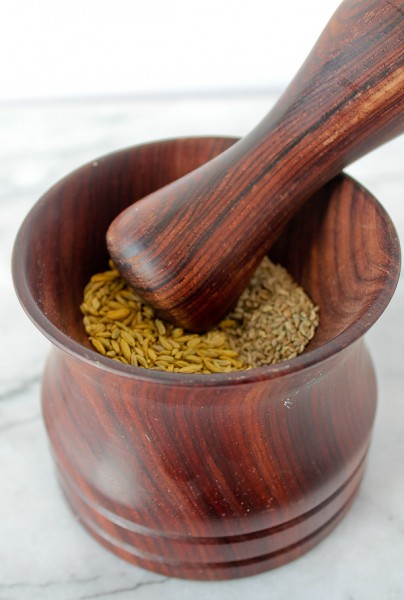 Get out that mortar and pestle you have been meaning to use and get busy.  The aroma of those two seeds is intoxicating!  Adding fresh garlic and freshly ground seeds will make a big difference in flavor.
Serve the dip with slices of bread, breadsticks, or unsalted nacho chips or other chips.  The dip is very salty from the cheese, so you probably don't want any more added salt from chips or crackers.  I like it with bread and breadsticks the best.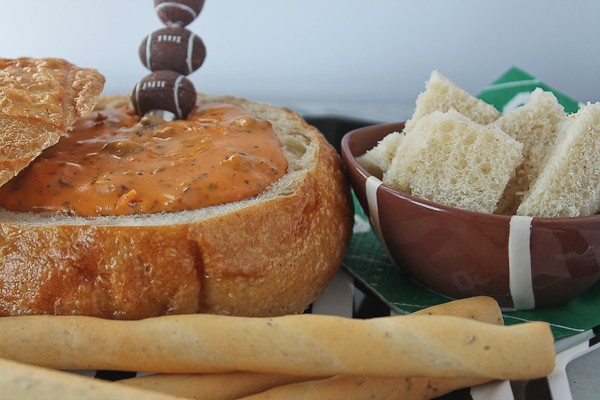 Italian Sausage and Velveeta Dip
Ingredients
1-1/4 pound mild Italian bulk sausage
1 package (32 ounces) Velveeta cheese, cubed
1 jar (16 ounces) chunky-style salsa
3 cloves garlic, minced
1 Tablespoon fennel seed, ground with a mortar and pestle
1 teaspoon aniseed, ground with a mortar and pestle
½ teaspoon dried basil
To serve: round loaf of bread, breadsticks, unsalted chips or crackers
Instructions
Crumble the sausage into a skillet and cook over medium heat until browned, stirring often and breaking up with a spoon. Remove with a slotted spoon to a paper towel-lined plate to drain; set aside.
Place the cheese cubes in a large microwave-safe bowl and microwave on high, stirring every two minutes, until melted. Add the salsa, garlic, ground seeds, basil, and sausage. Microwave on high until hot. Serve dip in a hollowed out round loaf of bread and using the insides for dipping, or slice a long loaf of Italian bread; can also offer breadsticks, chips, or crackers.
As for me, I am more of an onion dip girl.  Here is my favorite.  I didn't make it, so there is no photo, but you know what onion dip looks like.  And I guarantee you it's better than the pre-made dip you buy in the grocery store.
Onion Dip
8 ounce package block-style reduced fat cream cheese, room temperature
1/2 cup reduced fat sour cream
1 Tablespoon olive oil
1 cup chopped onion
1/2 teaspoon each of salt and pepper
3 green onions, thinly sliced
Stir cream cheese and sour cream together in a medium mixing bowl until blended; set aside.  Heat olive oil in a skillet.  Add onion, salt, and pepper, and cook, stirring occasionally until onion is soft but not browned, about 8 minutes.  Set aside and let cool completely.  Stir into cream cheese mixture along with the sliced green onions. Cover and refrigerate at least 30 minutes for flavors to blend.  Makes about 2 cups.
On another note, today would have been my Dad's 93rd birthday, but he died at age 58, much too young.  Here is a photo of me with my young Dad.  It looks like he was having a hard time holding down his active little girl!  He would have loved the first dip because he loved cheese.  Dad was one of those who ate apple pie with a slice of cheddar, something I never understood and still don't!
Happy Birthday, Dad…