My husband Bill requested a chocolate pie for New Year's Day.  I didn't want to do an ordinary chocolate pie, not that they aren't great, but I wanted something with a little more interest.  I found one in my recipe box that I hadn't made in years.  This pie was all the rage at one point from Blum's restaurant in San Francisco.
Look at my card!  All yellowed, smudged, and I had to write in amounts because they had faded away.  But those are the best kind, don't you think?  Tried, true, and loved recipes.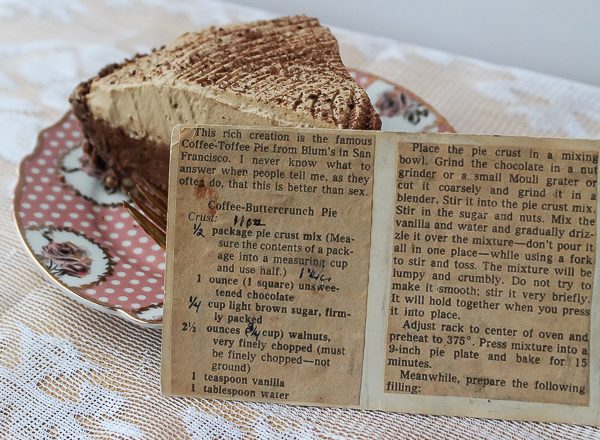 The pie has a press-in and baked crust of grated chocolate, brown sugar, nuts, and vanilla, and uses a dry pie crust  mix.  The no-bake filling is melted chocolate, butter, more brown sugar, pasteurized eggs, and instant coffee powder, then chilled overnight.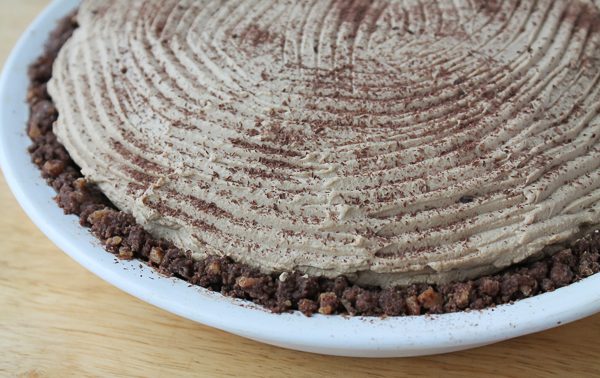 The topping is cream whipped with coffee powder and powdered sugar and spread over the chilled pie.  It is chilled again, then sprinkled with more grated chocolate before serving,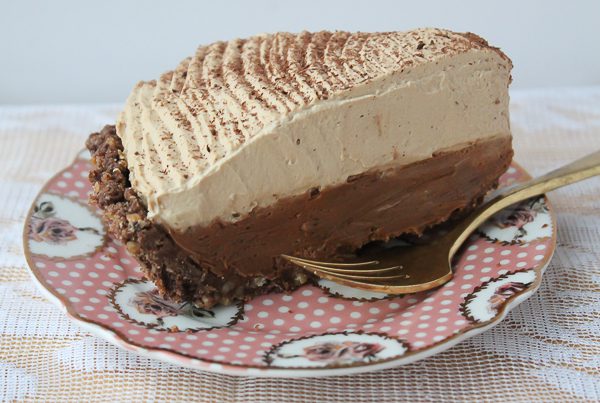 Note:  The 11-ounce pie crust mix is exactly enough to make two pies.  I just put the other half in a small container and toss in the freezer until Bill decides he wants another one.

Coffee Buttercrunch Pie
Author:
Blum's restaurant, San Francisco
Ingredients
Crust:
½ of an 11-ounce package pie crust mix (1-1/4 cups)
1 ounce unsweetened chocolate
¼ cup firmly packed light brown sugar
¾ cup walnuts, very finely chopped
1 Tablespoon water
1 teaspoon vanilla
Filling:
1 ounce unsweetened chocolate
½ cup butter, room temperature
¾ cup firmly packed light brown sugar
2 teaspoons instant coffee powder
2 pasteurized large eggs
Whipped Topping:
2 cups whipping cream
2 Tablespoons instant coffee powder
½ cup confectioner's sugar
Additional grated chocolate for sprinkling on top
Instructions
Heat oven to 375 degrees. Have a 9-inch pie plate ready to use.
Place the measured out pie crust mix in a mixing bowl. Grind the chocolate and add to the bowl. (I use a microplane to do this - so easy!). Stir in brown sugar and nuts.
Mix the vanilla and water and gradually drizzle it over the crust mixture; don't pour it all in one place, while using a fork to stir and toss. The mixture will be very crumbly, but do not be tempted to add more water. Stir it briefly; it will hold together as you press it into place.
Press the mixture evenly into the pie plate, pushing up to the sides. Bake for 13-15 minutes. Remove to a wire rack to cool completely.
For Filling: Melt the chocolate over hot water and set aside to cool. In an electric mixer, cream the butter. Gradually add the brown sugar and beat for 3 minutes.
Mix in the cooled melted chocolate and the instant coffee powder.
Add the eggs, one at a time, beating for 5 minutes after each egg, and scraping the bowl occasionally. Pour filling into the cooled crust. Refrigerate at least 6 hours or overnight (preferred).
A few hours before serving, prepare the whipped topping: Whip the cream with the coffee powder and confectioner's sugar until firm peaks form. Spread over top of pie and chill. Right before serving, sprinkle with more grated chocolate. Refrigerate any leftover pie.